New Steam Clients Available with Faster Game Downloads
From LinuxReviews
Jump to navigation
Jump to search

Valve has released both a new stable and a new beta version of their immoral Digital Rights Management riddled game store. The new clients have better logic for choosing what servers it's clients use to download games and updates which should result in faster downloads for those who happen to live close to one of their servers. This is good news for those willing to trade freedom for hours or weeks of temporary entertainment.
Steam 1563346602 (Stable)
The new stable Steam client which was released on July 17th fixes a crash that would occur when starting steam with no active audio card port. It's also got better detection of the specific Linux version it is running on.
The Steam Linux version will now look for and use the handy little dialog display program zenity to display basic dialog boxes on startup. Why Valve prefers to use this simple program for displaying gtk dialogs is unclear but that's what the new version does. You can try this handy little program if you have it. It's basic syntax is zenity followed by --text="something" followed by a dialog type. There are many dialog types such as --info, --error, --warning and many more available.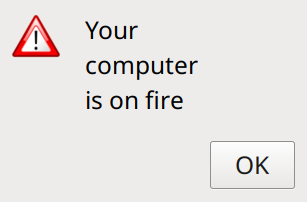 Output of zenity --text="Your computer is on fire" --warning
There are two network-related changes in the new Steam client. P2P connections are now migrated to other relays if the relay you are using goes down. Steam will also better choose servers used for the rather large downloads some games require. This should result in faster downloads if Steam has a mirror near your location.
There's also a lot of input related changes. Counter-Strike: Global Offensive no longer crashes when the game is started with a joystick plugged in. That particular game is better played with a keyboard and mouse anyway so it was not a huge deal - but having to unplug the gamepad to play it was annoying. There is no specific mention of this in Steam's Client Update announcement but there is a list of Input-related fixes. One of those probably resulted in this bug being fixed.
The rest of the changes to Steam's new stable client are dull and not interesting. There are some fixes for Steam Remote Play, the Big Picture mode and Shader Pre-Caching.
Steam 1563411792 (Beta)
Steam's new Beta version of their client, released on July 18th, fixes the "details" button not working in the grid game view. It also blacklists a "problematic" USB device but does not admit which. And there's a fix for Steam Controllers sometimes turning off when reconnecting a wireless dongle. And that's it, that's all the new features in their shiny new beta version.
Steam is available in the repositories of most Linux distributions. You can simply install steam on Fedora, Ubuntu and even Debian if you enable "non-free" repositories. Manjaro Linux installs it by default as part of the base installation.
published 2019-07-18 -  last edited 2019-07-18