Mousepad 0.5.3 Is Released
From LinuxReviews
Jump to navigation
Jump to search

The new version brings a handful of very minor improvements to this very plain text-editor for the Xfce desktop environment. There's a new keybinding for resetting the font size and four small fixes. It still lacks everything beyond the ability to edit text and load and save files.
written by 윤채경 (Yoon Chae-kyung)  2021-03-01 - last edited 2021-03-01. © CC BY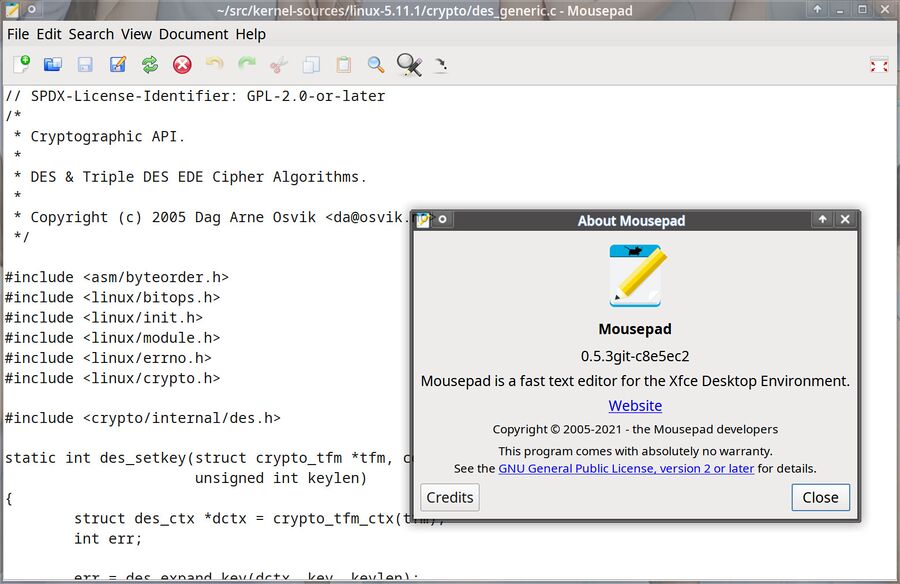 Mousepad 0.5.3 git editing des_generic.c from the Linux kernel.
The complete changelog for the latest version of the Mousepad text editor for Xfce, or any light-weight desktop environment, is as follows:
Add a keybinding to reset font size
Fix inverted return value of scroll event handler
Various small improvements regarding accels
Block the right signal handler for tooltip updates
A clarification about action groups
Mousepad still lacks all the features other simple text-editors like KWrite have beyond the very basic ability to edit text. There is no syntax high-lighting, there is no spell-checker, you can't select text and make it uppercase or lowercase or much else for that matter. It does have a search-and-replace function, and you can load and save files, and you can even have multiple files open in tabs. It does have those things going for it even though it is severely lacking in all other areas.
The source code can be acquired from archive.xfce.org/src/apps/mousepad/0.5/ and there is some sparse documentation at docs.xfce.org/apps/mousepad/.