KWrite
From LinuxReviews
Jump to navigation
Jump to search
KWrite
Developer(s)
Christoph Cullman, Dominik Haumann, Anders Lund, Joseph Wenninger, Hamish Rodda, Waldo Bastian, Charles Samuels, Michael Bartl, Michael McCallum, Jochen Wilhemly, Michael Koch, et al.
Operating system
Cross-platform (KDE Plasma)
Type
Text editor
License
LGPL
Website
kate-editor.org

KWrite is a simple lightweight text editor made with the K Desktop Environment in mind. It leverages the KDE KPart framework to use the kate text editor engine for the actual text editing. This gives KWrite a lot of powerful features like spell checking, syntax high-lighting for most file types, easy to use text zoom with mousewheel++ and -, code folding, text bookmarks and more. It does lack the ability to open multiple files in tabs in the same window.
KWrite does a nice job if you want to open a single file and make some quick changes. It is primarily made for the KDE Plasma desktop environment but it works just fine under any other desktop environment such as LXQt and Xfce as long as you have the KDE libraries installed.
Features
Highly configurable. You can, for example, enable a Vi Input Mode if you like Vi(m).
Text file preview as scrollbar
Can open remote files using the KDE kio framework (ssh, samba, etc)
Spell checking
Block selection mode
Code folding
Bookmarks
Syntax highlighting
Encoding selection
End-of-line mode selection (Unix, Microsoft Windows, Apple Macintosh)
Word completion
Syntax highlighting
Notable Missing Features
KWrite will only let you open one file in a single window. You can have multiple windows open, but you not have multiple files open in tabs in a single window.
The KParts Technology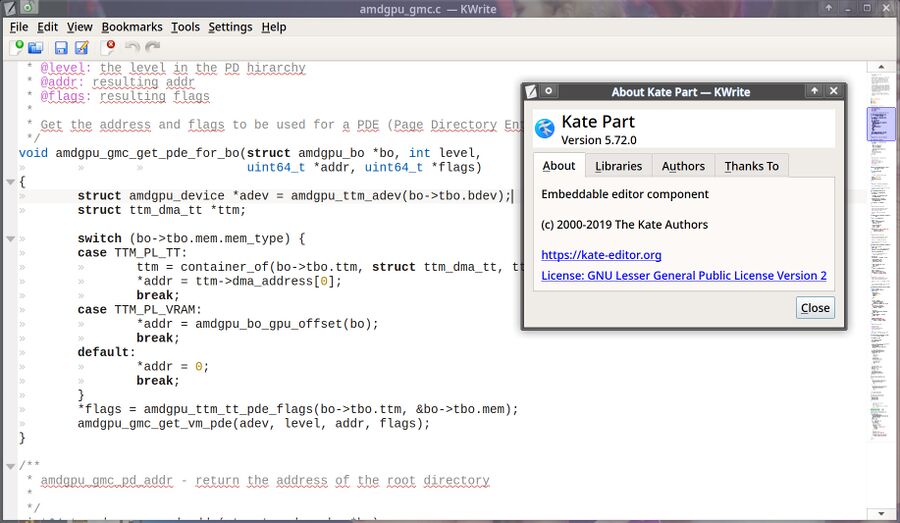 KWrite 20.04.3 using the KDE Frameworks v5.72.
KWrite has been using the KParts kate editor component technology to do the actual editing since KDE 3.x. This is why it supports advanced syntax highlighting and it is why KWrite is very configurable. You can configure font, schema and so on as you wish and even make it use Vi Editor Mode.
Notable Bugs
Most programs built on the KDE frameworks will assume the QT_AUTO_SCREEN_SCALE_FACTOR environment variable should be interpreted as 0 if it unset. KWrite and Kate will act as if it is set to 1. That means that if you open a KWrite window next to a Kcalc window under a non-KDE desktop environment you'll get a KWrite window with much bigger text and icons compared to what Kcalc and most other KDE frameworks programs get. A simple solution to this inconsistency is to actually set QT_AUTO_SCREEN_SCALE_FACTOR to either 0 (no zoom) or 1 (zoom) depending on your preferences.
Official Websites
Alternatives