Mesa 20.0.0-rc1 Is Released With Vulkan 1.2 Support and Iris As New Default Intel OpenGL Driver
From LinuxReviews
Jump to navigation
Jump to search

Linux machines with Intel graphics chips are currently using the aging i965 Mesa graphics driver for OpenGL. Intel has been working on a fancy new OpenGL driver called Iris for some time. That driver will be the new default driver for gen8+ Intel graphics chips in Mesa 20. Iris brings slightly better performances compared to the old i965 driver. There will also be full Vulkan 1.2 support in Mesa 20.
written by 林慧 (Wai Lin) 2020-01-31 - last edited 2020-02-02. © CC BY
Intel planned to make the shiny new Mesa Iris OpenGL driver for Intel graphics cards the default for supported Intel GPUs earlier but those plans were scrapped due to stability concerns. A patch making Iris the default on gen8+ (Broadwell and newer) was merged into Mesa master six days ago.
The Iris OpenGL driver performs marginally better than the old i965 driver.


UNIGINE Superposition with results using the old i965 driver and the new Iris driver.
A score of 1525 vs 1519 in the UNIGINE Superposition on 720p low is not a huge deal, that is barely a 0.4% improvement. But it's there.


The Unity 2018 WebGL Browser benchmark in Chromium 79.0.3945.130.
The difference is larger when it comes to WebGL in Chromium. The Unity 2018 WebGL browser benchmark is 8.8% faster when the new Iris driver is used.
Do note that none of the above comparisons are against currently commonly used Mesa versions, both Intel drivers were tested against the same Mesa 20 git snapshot.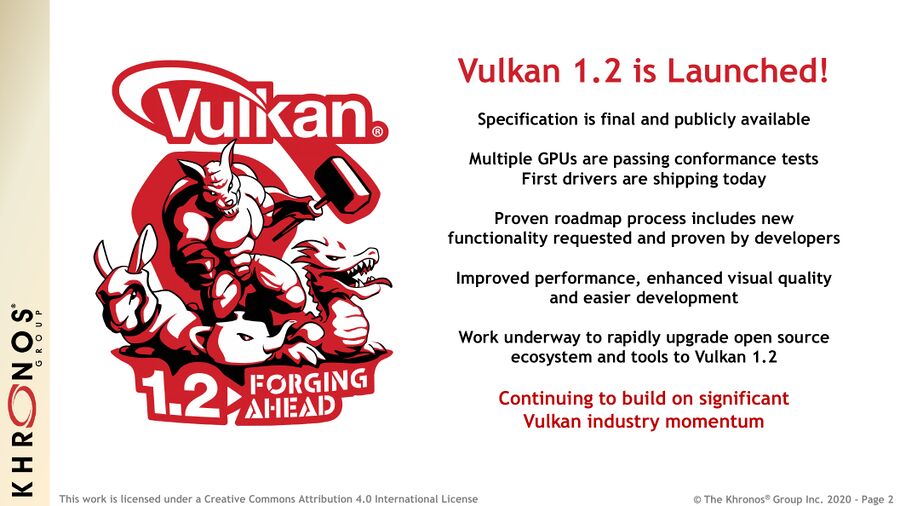 Mesa 20 has support for Vulkan 1.2 for Intel and AMD graphics chips.
Full support for the new Vulkan 1.2 specification announced earlier this month on Intel gen8+ graphics and all GCN/Navi[1] (not the ancient pre-GCN Radeon HD 5000-7600 series) AMD graphics cards is another highlight in the upcoming Mesa 20 release. The Vulkan 1.2 specification added 23 optional extensions to the core specification. Support for those extensions was already in place when Vulkan 1.2 was announced. "Adding" Vulkan 1.2 support to the RADV driver for AMD and the ANV driver for Intel was a simple matter of changing the version number and re-naming some existing extensions.
Enabling Vulkan in Chromium 79 still results in a total disaster as of Mesa 20.0.0-rc1. Steam games with native Linux and Vulkan support such as Dota 2, Windows games using the newly released DXVK 1.5.3 Direct3D To Vulkan Translation Layer and everything else appears to work flawlessly with Mesa 20.0.0-rc1.
Mesa 20 will either be released February 19th or February 26th depending on how many release-blocking bugs are reported in the upcoming rc2 and rc3 release-candidates.
Notes
↑ Southern Islands and Sea Islands will only support Vulkan if you use the amdgpu kernel driver, RADV can not be used with the radeon driver. See AMD graphics for details.