Richard Stallman
From LinuxReviews
Jump to navigation
Jump to search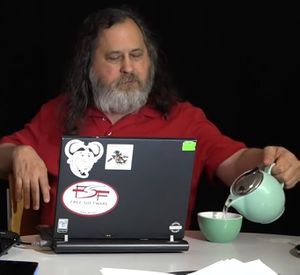 Honorary doctor Richard Stallman is a free software activist who will be seen as one of the most important figures in the late 20th century. He started the free software movement in 1983 and he begun creating the GNU operating system in 1984. Stallman founded the Free Software Foundation in 1985.
The Father of the Modern Free Software Movement
"When we call software "free," we mean that it respects the users' essential freedoms: the freedom to run it, to study and change it, and to redistribute copies with or without changes. This is a matter of freedom, not price, so think of "free speech," not "free beer.""
Stallman founded the GNU Project 1984 as well as the Free Software Foundation the following year. He served as the president of the FSF until 2019. He is the principal or initial author of GNU Emacs, the GNU C Compiler, the GNU Debugger GDB and parts of other software packages found in most GNU/Linux operating systems.
Achievements
Richard Stallmans contributions to free software includes the GNU GPL license, popular emacs editor and the GCC compiler as well as other important pieces that are part of modern GNU/Linux distributions.
Recognition for his work includes:
1986: Honorary lifetime membership of the Chalmers University of Technology Computer Society
1990: Exceptional merit award MacArthur Fellowship ("genius grant")
1990: The Association for Computing Machinery's Grace Murray Hopper Award "For pioneering work in the development of the extensible editor EMACS (Editing Macros)"
1996: Honorary doctorate from Sweden's Royal Institute of Technology
1998: Electronic Frontier Foundation's Pioneer award
1999: Yuri Rubinsky Memorial Award
2001: The Takeda Techno-Entrepreneurship Award for Social/Economic Well-Being (武田研究奨励賞)
2001: Honorary doctorate, from the University of Glasgow
2002: United States National Academy of Engineering membership
2003: Honorary doctorate, from the Vrije Universiteit Brussel
2004: Honorary doctorate, from the Universidad Nacional de Salta
2004: Honorary professorship, from the Universidad Nacional de Ingeniería del Perú
2007: Honorary professorship, from the Universidad Inca Garcilaso de la Vega [es] Universidad Inca Garcilaso de la Vega
2007: First Premio Internacional Extremadura al Conocimiento Libre
2007: Honorary doctorate, from the Universidad de Los Angeles de Chimbote
2007: Honorary doctorate, from the University of Pavia
2008: Honorary doctorate from the Universidad Nacional de Trujillo, in Peru
2009: Honorary doctorate, from Lakehead University
2011: Honorary doctorate, from National University of Córdoba
2012: Honorary professorship, from the Universidad César Vallejo de Trujillo, in Peru
2012: Honorary doctorate, from the Universidad Latinoamericana Cima de Tacna, in Peru
2012: Honorary doctorate, from the Universidad José Faustino Sánchez Carrió, in Peru
2014: Honorary doctorate, from Concordia University, in Montréal
2015: ACM Software System Award "For the development and leadership of GCC"
2016: Honorary doctorate, from Pierre and Marie Curie University
2016: Social Medicine award, from GNU Solidario
Personality
"Richard does not relate to people in the way most of us do. Most of us put up a shield between ourselves and others. We act the way they expect us to act, whether we really empathize with them or share their point of view. This is what we have learned is the way to get ahead in life. Richard does not seem to have developed this shield. He takes everything literally and doesn't necessarily take feelings and the reactions of others into account when making statements that are outside the bounds of his expertise in free software."
Quotes
On free software with restrictions:
Authors of such restrictive software argue that it is still free software because more technically adept users are able to download the source, remove the built-in censorship blacklists and recompile their own non-censoring version.
"That is correct."
Others argue that the distributed binaries are not free software even though they have a GNU GPL license because they do place restrictions on the user, restrictions most of the people using the software are not able to by-pass since they do not know how to compile software.
"Someone can publish a modified version which works with any web site, and distros can include that. Then non-wizard users will get around those restrictions."
On binary firmware drivers:
"non-free drivers are a way of giving up your freedom."
"Re: Debian & BSD concerns" on the Debian mailing list February 19th, 1999
On the importance of using Copyleft licenses:
"LLVM is a big step backwards from GCC because it is not copylefted.
That has been a major setback for our freedom. Nvidia took advantage of it to make a nonfree oompiler based on LLVM, and conceal the processor's instruction set. It was able to keep all the users under its domination because of LLVM."
Lectures / Videos
Documentaries
Richard Stallman is featured in the documentary film Revolution OS.
Perspective on China
Richard Stallman gave this statement when we asked for a comment on the IEEE's decision to freeze out Chinese scientist from their organization:
"I am not sure what that means, concretely. So all I can say is that China is a tyranny that is a harmful influence in the world."
Richard Stallman, in an e-mail on Sunday June 2nd, 2019
Image gallery
Notes
Links
Richard Stallman's personal website is at https://stallman.org/