Kdenlive
From LinuxReviews
Jump to navigation
Jump to search

Kdenlive is a decent video editor and the most advanced and mature mature free software video editing program for computers running GNU/Linux, Windows and BSD. It is pretty easy to use once you learn the basics. It has a lot of effects and compositions available, a strait forward linear timeline with support for multiple audio and video tracks, easy access to a online library with sound effects, speech to text support for making sub-titles, webcam and screen recording support and a lot more.
Kdenlive uses the MLT framework for the heavy video related lifting. The graphical interface is made with the KDE Frameworks and the Qt libraries. It is fully free software licensed under the GNU GPL v2 license.
Features and usability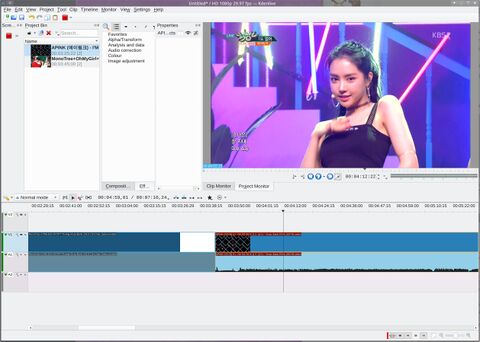 Kdenlive version 19.04 on GNU/Linux.
Kdenlive is a easy to use video editor with the features hobbyists need to make all kinds of videos. It does lack some of the features and, in some areas, the user friendliness commercial video editors have.
The interface is pretty strait forward. You have an area where you can add clips to your project, a timeline you can drag those clips to and small preview players for your clips and your timeline. The View menu lets you add and remove more components like a audio mixer, effects selector, text editor, library and a lot more.
Kdenlive has a annoying "bug" when it comes to organizing views: There is no way to remove many of the interface components if you turn View ▸ Show Title Bars off. It needs to be on to get a close button visible in the upper right corner of each component. Leaving the title bars off gives you a bit more space and you can safely remove it if you are happy with your editor layout - as long as you remember that you will need to turn View ▸ Show Title Bars on again if you want to change it.
Kdenlive supports all audio and video formats the FFmpeg library supports. That would be all of them, though it does somewhat depend on what FFmpeg version/build your GNU/Linux distributions ships. Individual video clips can be transcoded and fixed directly from the project bin clip list.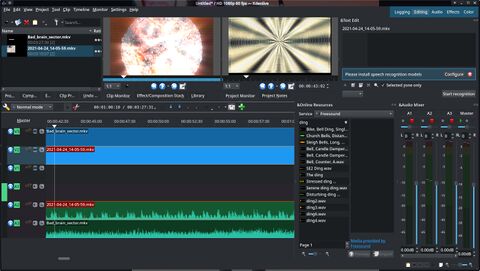 Kdenlive v21.07.70 git with the default color scheme and style.
Kdenlive defaults to a dark and depressing color scheme. It can easily be changed to something better suited for people who are not conically depressed with the menu items Settings ▸ Color theme and Settings ▸ Style.
Kdenlive is a bit crash-prone, and that's a problem. You don't have to use very much in terms of effects and other beyond the very basics to make it crash. Saving your project regularly is a good idea, and that's specially true if you decide to randomly explore the available effects in the middle of a big project you are working on.
Kdenlive is overall a perfectly fine video editor for simpler tasks. However, professionals tend to say that it is not "good enough" for them. That may be true; people who edit videos all day every day tend to know what they want and need, and more importantly, how a video editor like kdenlive compares to the software they use on a daily basis. It is hard to judge how a video editor compares to professional software without being a video editor by profession, so we will simply take their word for it. That being said, kdenlive does have everything you need if you are a casual hobbyist who wants to or needs to make a video project now and then.
There Are Many Effects Available, But Use Them With Caution

Some of the Kdenlive effects
Adding and configuring effects is a simple matter of dragging the effect you'd like to the part of the timeline where you want it. This functionality does have pitfalls which plague other free software editors as well: some of the effects are single-threaded and very CPU-demanding. Add the effect "K-Means Clustering" to a segment in the timeline and browsing on that segment will be slow, sluggish and unresponsive. Playing back a segment with such an effect will look like a slide-show. It also results in rather long rendering times when demanding but single-threaded effects are used. You will have to learn which effects can be used and which simply can't.. This is not a hardware issue, it's a code design issue. Upgrading from a four-core CPU to a Threadripper with 32 cores does not help when something is single-threaded and all but one core remain idle.
Visual effects are divided into the categories "Alpha/Transform", "Analysis and Data", "Colour", "Image adjustment", "Misc" and "Motion". There are quite a lot to choose from. Learning which effects do what and which of them can be used without problems takes some time.
There is also a decent selection of audio effects.
Encoding Performance
Kdenlive is somewhat slow when it comes to video encoding. This is due to a single-threaded design and it is very apparent if you use VAAPI hardware accelerated video encoding to encode your videos (only available in Kdenlive 20.08.2 and newer): What you will see if you use GPU accelerated encoding is a single-threaded MLT process running at 100% of one CPU core. The result is that you may not see any video rendering time improvement at all if you use GPU accelerated video encoding if you have a multi-core machine due to how single-threaded kdenlive is.
Enabling GPU video encoding will help if you have a slower dual-core machine. It really won't make any difference at all on a machine with 6+ cores. That's a bit sad, and it is something that could and should be improved.
Verdict And Conclusion
Kdenlive is a decent video editor for casual hobbyist projects. It is fine for vlogging, uploading simpler videos to BitChute and YouTube and those kinds of sites and home video projects. It is a bit crash-prone, so you may want to remember to save your project from time to time. It's possible to avoid frequency crashes once you learn what effects are more likely to make it crash; but that does require you to spend a bit of time learning the quirks.
Professional video editors will find it to be somewhat lacking, Kdenlive simply does not compare to professional video editing software. That being said, it is the best free software tool there is and it is perfectly fine for hobbyist projects.
Tips And Tricks For Using Kdenlive
Kdenlive supports GPU processing for various effects, but you may not want to enable in Configure Kdenlive ▸ Playback and enable ▸ Use GPU processing (Movit library). GPU processing does not play well with many of the effects. You will very likely experience crashes if you enable it. The developers are aware of how buggy it is and they are working on it.
Be aware that it is somewhat misleading that the Use GPU processing option is in the Playback section; it enables GPU processing of all kinds of things like effects, creation of title clips and other features - and it doesn't work right with half of them.
Links
full-featured timeline video editors:
Kdenlive: Solid feature-rich video editor built using MLT and KDE libraries
Pitivi: Video editor made for GNOME
simpler tools for cutting / cropping single files or clips:
avidemux: graphical tool for cutting files, cropping, removing black borders from single files
ffmpeg: powerful command-line multimedia toolbox for converting, merging and simpler editing
See also: Music players | Media/Video players