Gooroom Cloud OS v2.0 RC1 Is Released With Focus Server-Side "Apps"
From LinuxReviews
Jump to navigation
Jump to search

The latest version of the Debian-based South Korean Gooroom operating system is even more like Google's ChromeOS than the previous versions were. All the regular software packages from Debian can be installed on Gooroom but that's not where it's focus is. This is foremost a "cloud"-based OS where closed-source proprietary "apps" are used from it's own re-branded Chromium web browser.
written by 윤채경 (Yoon Chae-kyung)  2019-12-11 - last edited 2020-02-12. © CC BY
Gooroom 2.0 highlights how free open source software like the Debian operating system can be twisted into something which is outright evil. All the locally installable packages from Debian are present but that's not where Gooroom's focus is. Gooroom is all about cloud based "apps" in it's web browser that are running server-side on Gooroom's "cloud". The source-code for the server-side "cloud" parts are not available, they are secret proprietary programs.
Gooroom 2.0 is based on Debian 10. The previous 1.5 release was based on Debian 9. It uses version 3.30 of the GNOME desktop environment. A very limited number of GNOME-focused programs like GNOME-mpv and GNOME Image Viewer are pre-installed. The base system is the same as Debian 10 Buster version-wise. Gooroom has a 4.19-series kernel.
Debian's apt command is present and it can be used to install everything you can install on a regular Debian system.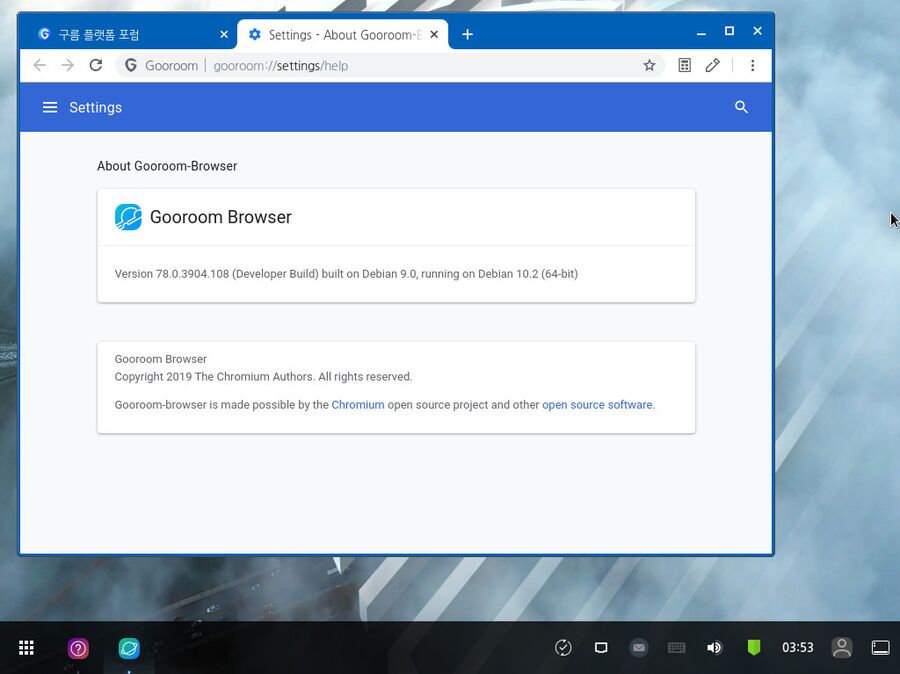 Gooroom's web browser is a Chromium-fork which does not appear to have any changes beyond Gooroom's custom branding.
Gooroom comes with their own web browser which is only separated from the regular Chromium web browser by Gooroom's branding. This is the browser they are tying into their proprietary "cloud" services.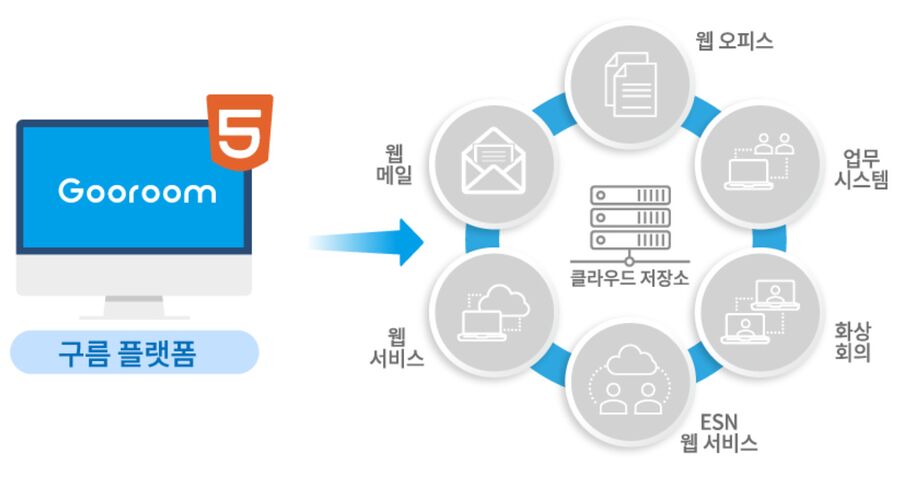 Gooroom is all about cloud services.
Gooroom's goal is not to be a fully usable operating system running locally installed software. It's aim is to provide a secure platform for running cloud-based applications. Enterprise administrators may find it to be a quite nice and useful operating system.
Gooroom's approach is one which inevitably leads to immoral abuse of end-users. You will be running free software on your machine but the "cloud" services it promotes will be non-free software. Richard Stallman would not approve and neither do we.
The 구름 플랫폼 ("cloud platform") page on Gooroom's website explains that their reasoning for developing a South Korean cloud platform client operating system is to reduce South Korean's dependency on foreign devil services and infrastructure. This is an admirable goal but the approach is questionable. They should not be trying to duplicate other operating systems reliance on cloud services, the right thing to do would be to make an alternative which does not rely on or use server-side "cloud" infrastructure.
Home users and small business users are much better off running the Linux Mint based South Korean HamoniKR operating system (not to be confused with the Chinese Harmony OS from Huawei). HamoniKR is a solid and user-friendly OS with focus on locally installed programs. The public version lacks most of the the security addons the Ministry Of Defense has added to the HamoniKR version they use but it's solid enough for home users.
The installable Live ISO image for Gooroom 2.0 rc1 is available at gooroom.kr/content/downloads/iso.php. It is 1.2 GB and it is only available as a https download (no torrent).