Google Summer of Code 2020 Announced
From LinuxReviews
Jump to navigation
Jump to search

Google has announced that their GSoC program will keep going for it's 16th year in 2020. This a program where free software projects can have Google pay students to work on their software as long as they provide a helpful mentor and follow some basic guidelines. Big and small free software project participated in it in 2019 with fruitful results for KDE, GNOME and other projects.
written by 林慧 (Wai Lin) 2019-12-17 - last edited 2019-12-17. © CC BY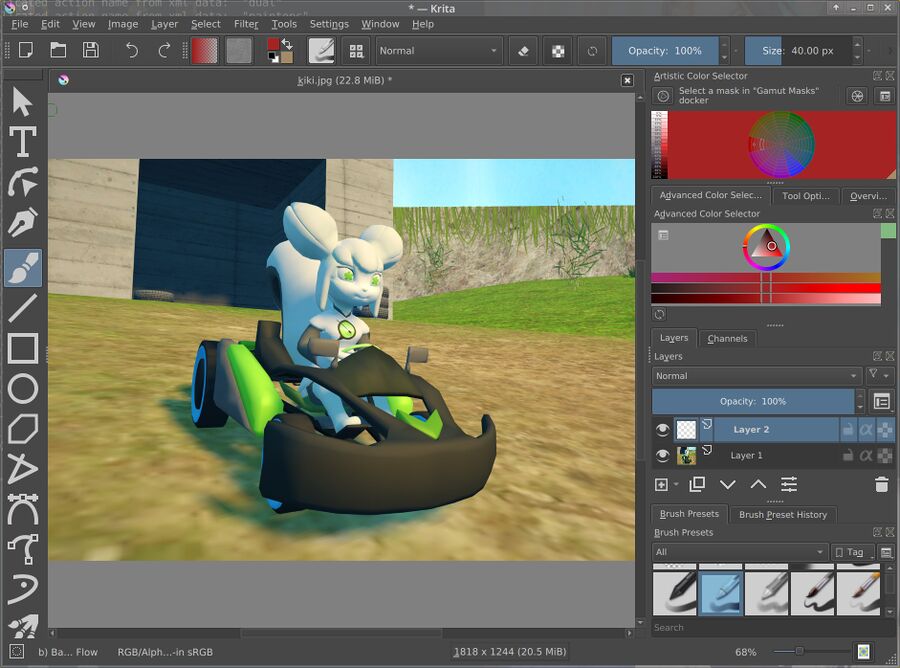 The popular free software painting program Krita was one of the free software programs which was improved by GSoC students in 2019.
Google announced GSoC 2020 on December 9th, 2019. "Open source" organizations can apply to participate from January 14th, 2020. Student applications open up on March 25th.
The KDE project about two dozen students working on everything from Krita to Windows and Mac support in KDE connect to a WYSIWIG markdown viewer as a part of GSoC 2019.
Anonymous KDE project sources have confirmed that they will "Of course :)" be applying to participate in GSoC 2020. Several different projects are planned.
An anonymous Xfce project source stated that "there is nothing planned" regarding any Xfce participation in GSoC 2020.
The GNOME project were not asked for comment. Perhaps they will so a GSoC project on removing themes functionality and other basic features like setting a custom wallpaper so GNOME can provide a "more consistent GNOME experience" on all desktops. This has been planned for some time but not implemented due to a vocal minority who rightly points out that it would end what little reason there is to use that smart-TV desktop.
Students who participate in the program get paid for their participation. The free software projects they work with provide mentors and some, like KDE, provide teams to with. Most of the work is done remotely; students do not need to worry about excessive travel costs.
Google will be accepting "40-50 new organizations" to participate in GSoC 2020. This is an opportunity smaller free software projects should consider and the time to start preparing is now.
More details on this program can be found at summerofcode.withgoogle.com/how-it-works/.