Endless OS
From LinuxReviews
Jump to navigation
Jump to search

Endless OS from Endless Computers is a GNU+Linux flatpak operating system loosely based on Debian with a tablet-like skin on top of a customized GNOME 3 desktop environment. It is designed to be very easy to use and people with little to no computer skills who are somewhat familiar with smartphones and tablets may feel right at home. It has automatic updates with no user interaction and license terms which are so bad they make the licenses of competing operating systems like Windows and MacOS sound free in comparison.
Endless OS Foundation LLC is a program of Endless Network Inc. being a "social-welfare" (so-called) non-profit under U.S. law chapters 501(c)(4) by a still capitalist corporation. This motivates their license shenanigans. So it is not user-driven but the plaything of some rich man called proprietor / owner, i.e. Matt Dalio, founder of Endless.
Endless OS is for you if you are somebody who wants zero control over their software. This means that for example, you have no url to the app store and you do not know whether any app will run on a different debian installation, once the CEO took the liberty to revoke your license for any or no good reason.
We used Endless OS 3.6 for the purpose of this review.
Introduction
Endless OS is made using Debian as a base but it is nothing like Debian in terms of both technical aspects and philosophy. Endless uses a technology called OSTree to manage the base system and applications are installed and managed using Flatpak. OSTree works somewhat similarly to how a git repository is updated; the whole system is synchronized and updated in one go like a "git pull" command updates a source repository. There are very few similarities to Debian. The catalog of software programs, called "apps", are installed using a graphical software manager which uses Flatpak under the hood. apt is present but you can not do much with it and you're not meant to use it at all.
Endless OS's license terms is also very different from Debian's philosophy. Endless Computers have put a license on Endless OS which looks and sounds a lot like the very restrictive and user-trampling licenses competing desktop operating systems like MacOS and Windows have.
The desktop is something which really sets Endless OS apart from other GNU+Linux distributions and it is immediately visible. The custom GNOME skin looks very similar to what you would find on a tablet or a smartphone; it is nothing like the typical traditional desktop experience distributions running desktop environments like Xfce and KDE Plasma offer.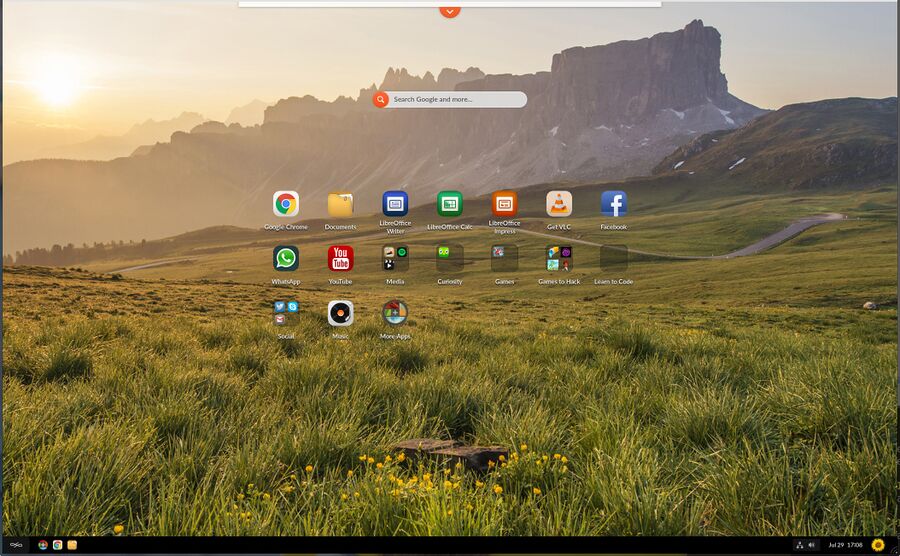 The default desktop experience on Endless OS 3.6. Android users will likely feel right at home.
Installation
Endless OS has the absolute simplest and easiest to use installer we have ever seen. The installation image boots, loads the OS and asks what language you would like to use. It then asks if you want to try the OS or "reformat this computer with Endless OS".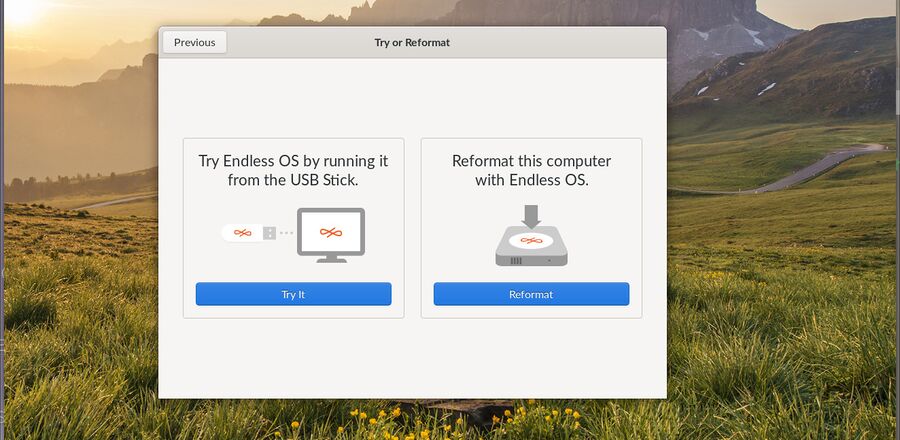 The next question is simply "Select Disk" where you get to pick a whole harddrive to use as installation medium. There is a "[x] I agree to erasing all of my files and apps" checkbox and a "next" button below. There is no "advanced" option, there is no configuration of full disk encryption or any other options. You can choose a disk and agree to erase it and click next and that's it, that's your options. Wizards may find the lack of advanced options to be disturbing and security-aware users will find the lack of encryption support to be unacceptable. The installer is clearly made with computer novices in mind and it is quite fool-proof.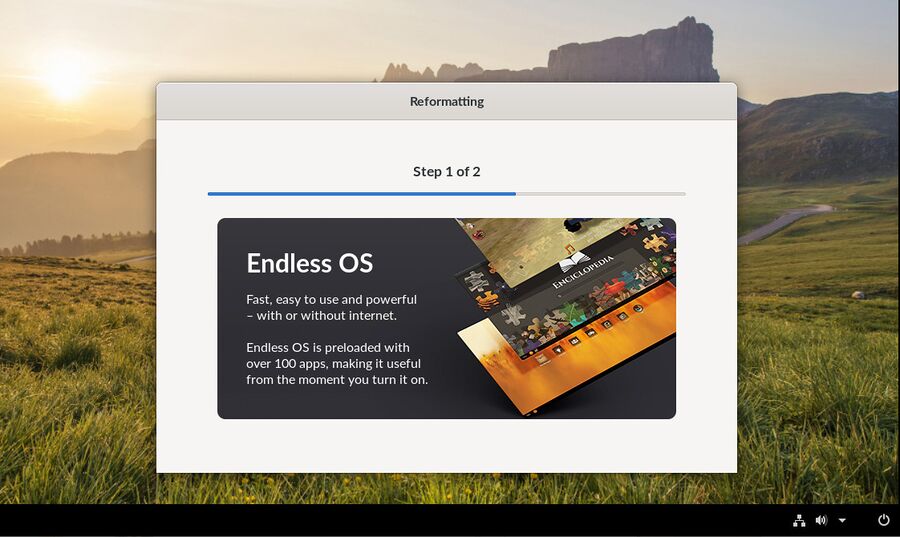 The installation process itself does not take long.
The installer spends some time formatting and copying files and then it's done: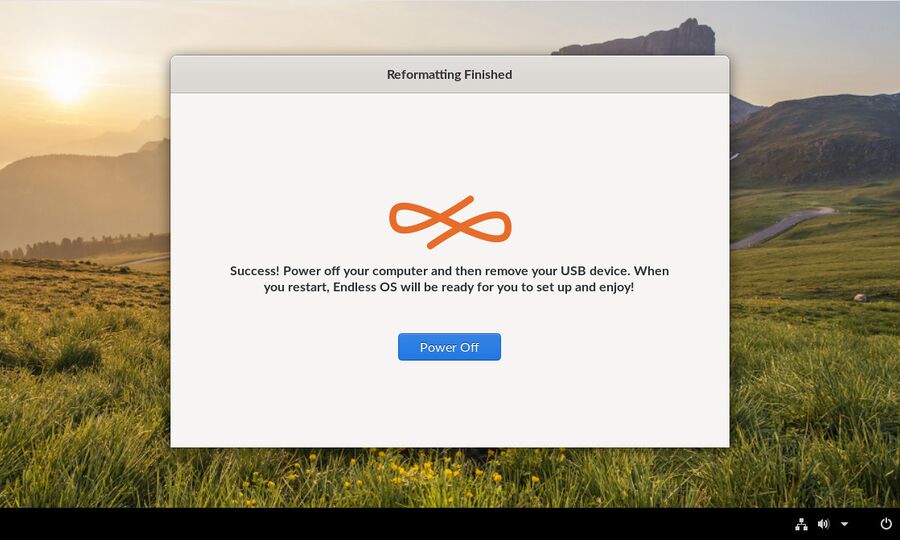 The installer leaves you with a blue "Power Off" button and a message encouraging you to "enjoy!".
The License
Endless OS asks a few questions before presenting a usable desktop the first time you boot it. It starts out innocently with benign questions about your preferred language and your keyboard layout. Only then are you presented with their horrific, immoral and outright nightmarish license terms.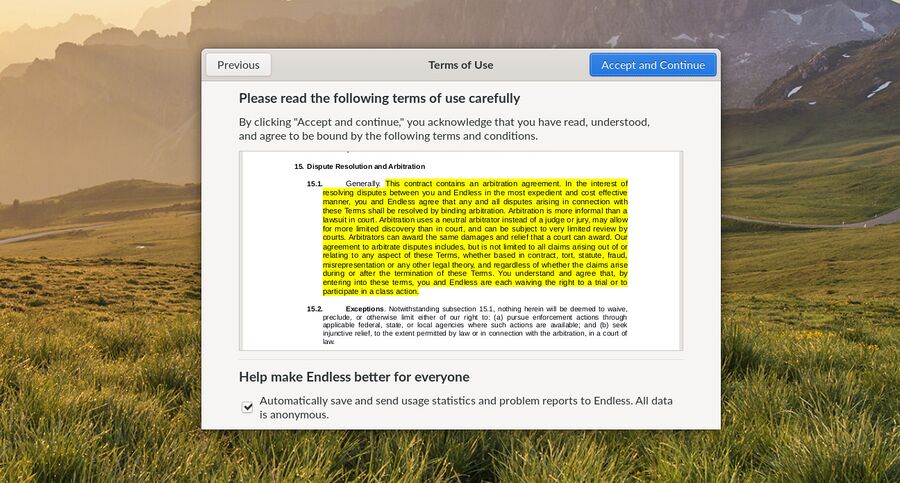 The hellish license terms are shown with a small font in a small box which can not be resized.
The terms are shown in a small box with a very tiny font. The box can not be resized. It is not possible to open other applications and copy-paste the terms at this point.
The terms state that:
"4.1 Default. Certain information is reported to Endless periodically by the Service. This information includes the version of the OS which was installed and is currently being used, the device that is being used to run the OS and its approximate location, how the OS was installed, and how long the OS has been installed on that device."
Endless OS license terms "last updated 2 June 2017".
It also has a whole section of "Prohibited Conduct" which includes:
"5.2. violate the rights of third parties, including by infringing or misappropriating third-party intellectual property rights;
5.3. attempt to do any of the foregoing in this Section 5, or assist or permit any persons in engaging or attempting to engage in any of the activities described in this Section 5."
Endless OS license terms "last updated 2 June 2017".
Section six of the terms states that they claim the right to deny you access to your own computer at any time for any or no reason:
"Termination of Use; Discontinuation and Modification of the Service. If you violate any provision of these Terms, your permission to use the Service will terminate automatically. Additionally, Endless, in its sole discretion may suspend or terminate your access to the Service at any time, with or without notice. We also reserve the right to modify or discontinue the Service at any time (including, without limitation, by limiting or discontinuing certain features of the Service) without notice to you."
Endless OS license terms "last updated 2 June 2017".
The full license document can be found as a file named /usr/share/eos-license-service/terms/eos/C/Terms-of-Use.pdf. They don't tell you this anywhere but it is there to be found - which made it easy to make it available here so you can download it and actually read it with a sensible font in a PDF reader: Endless-Terms-of-Use.pdf
Endless OS will ask a few more questions if you do agree to their terms. We did to test the distribution but we absolutely do not recommend doing so on a computer you will be using on a regular basis.
Next, Endless OS asks you to "Connect Your Online Accounts" and the choices are Facebook, Google, Microsoft and Nextcloud. Nextcloud appears to be the only acceptable choice. It then asks for a "Full name" and gives you option of setting a password. The slider for doing so is, by default, set to disabled. That's it for the initial configuration upon first boot and you are presented with a desktop which looks very much like something you find on a typical Android tablet.
The Desktop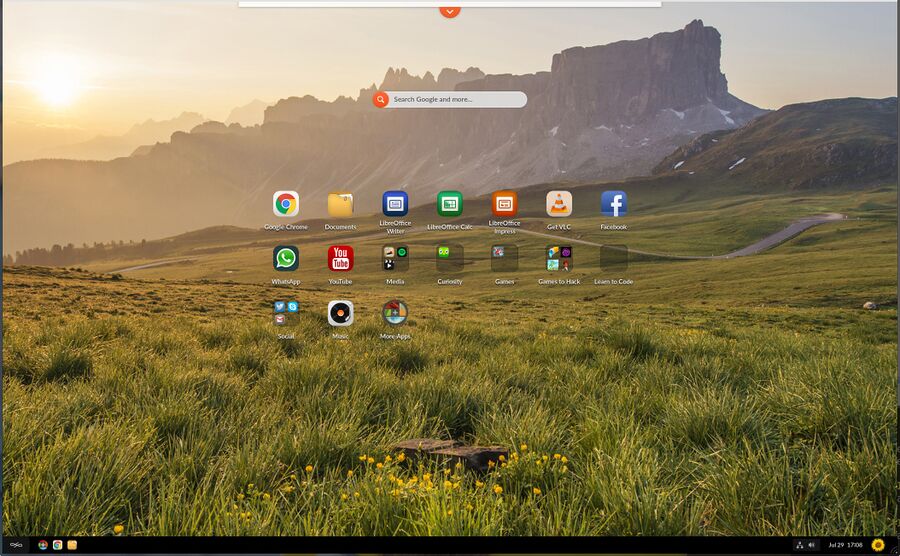 The default desktop on Endless OS
Endless OS's desktop has a search-bar on top, "app" icons and folders in the middle and a toolbar on the bottom. The toolbar has a button to "Show apps" and launchers for "App center", Google Chrome and Documents on the left side. The right side has a button for configuring network connections, a field with the current time and date and a flower which, when clicked, gives you access to Settings, Social Accounts and logout, lock and power off buttons.
The icons on the desktop can be sorted into folders. The folders can not have sub-folders.
Right-clicking icons gives the options of "New Window" and "Remove from desktop".
Typing into the search bar presents a list of matching installed applications, settings, available applications which can be installed and, of course, an option to search the Internet. Web searches default to using the Google's search engine.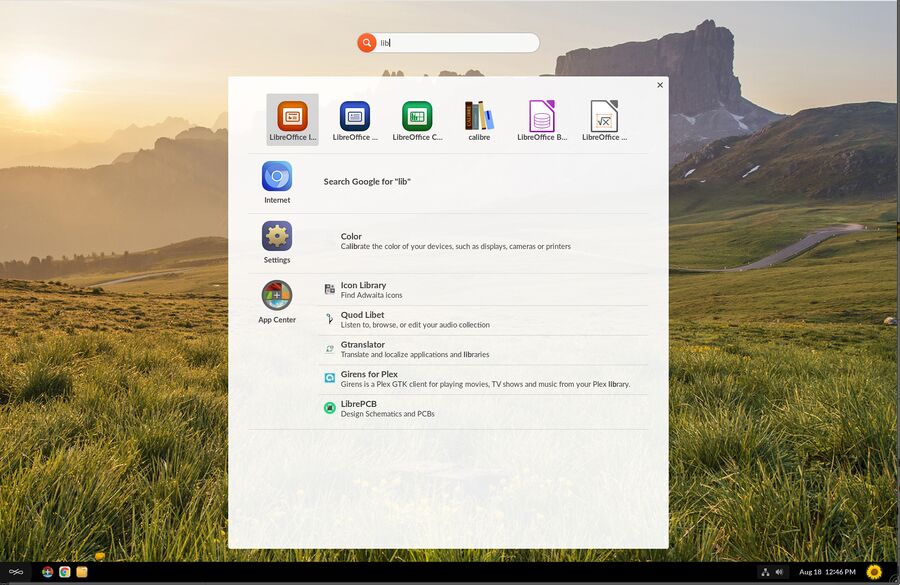 The search box gives you quick access to installed software as well as available software.
The window manager has a button to maximize or un-maximize, minimize and close. There is no virtual desktop support so there's no button to make windows sticky. Open programs are represented as new icons next to the existing icons on the left side of the toolbar. Windows can be re-sized and moved around. Alt+Tab ↹ presents a list of icons for open applications.
The desktop experience is, overall, fine. It is simple and easy to use. It does somewhat feel like a toy OS for a 6 year old's tablet. Endless Computers has managed to make a nice interface which is self-explanatory and easy to use for people who have no computer experience. Kids who got a smartphone before trying their first computer will probably feel right at home.
Software management
Adding or removing software, or "apps" as this OS refers to software programs, is done by clicking the "App Center" in the bottom left corner.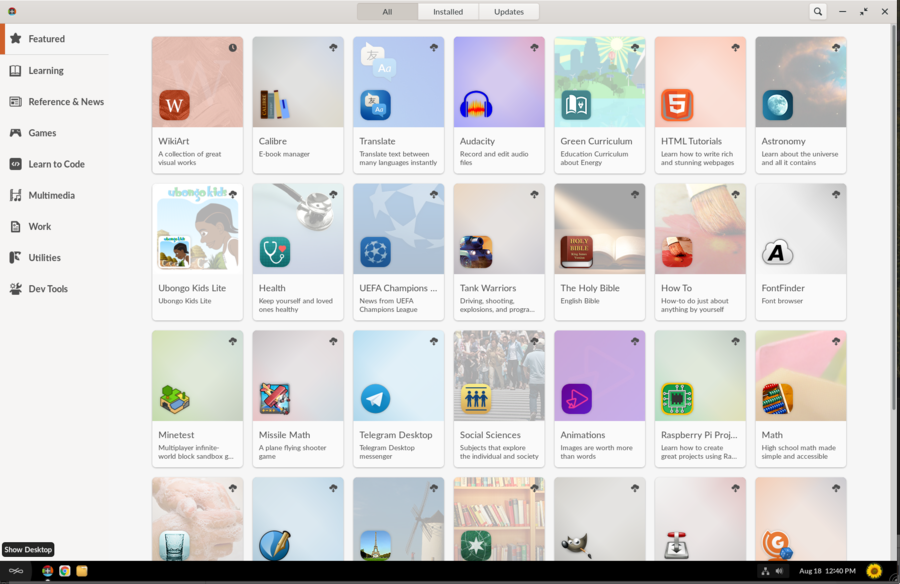 The "App Center" is very easy to use. Click the program you want, click "Download" and a new icon magically appears on the desktop.
The app center has three tabs: All, Installed and Updates. There is a handy search icon which makes it easy to find games like SuperTuxKart if you know what you are looking for. The "Installed" tab lists the installed programs with a "Uninstall" button for the programs you have installed next to it. The "System Applications" like Evince, Selfie and Videos can not be removed. The updates tab allows you to manually update single applications and the "Endless Platform" base system. There is also an option of turning automatic updates, on by default, off in this tab.
Under the hood
Endless OS never asks you to set a root password but it does have sudo so you can sudo -i to get a root shell.
Endless OS does not have any security framework like AppArmor or SELinux. Some AppArmor profiles are installed but they are not used and there are no AppArmor user-space utilities like aa-enabled or apparmor_status.
Verdict and conclusion
Endless Computers has managed to do something different with the Endless OS and their tablet-like desktop is very intuitive and easy to use. It is quite nice. This is a GNU+Linux distribution well suited for people with little to no computer skills and technical knowledge. It may be a good alternative to Google's Chrome OS. However, we do find that the license terms this OS is distributed under are totally unacceptable. It is like buying a car with "terms" which state that your car will be confiscated if you drive above the speed limit or the car dealership suspects that you may have driven above the speed limit.
Note that Gnome ver.40 has significant improvements over Gnome 3. On any Gnome3 such as the "Endless" one feels like the user has zero control over his stuff.
Acquisition
Endless OS can be acquired from endlessos.com. There is a 2 GB "Basic" multi-language image available and "Full" images in the 10-16 GB range for English, Spanish, French, Indonesian, Portuguese, Thai and Vietnamese. These larger images do not install all the available programs ("apps") by default but they do include the Flatpak files required to install everything making installation quick and download-less. The smaller 2GB image is fine unless you know you will be frequently installing software with a slow or no Internet connection.
It is also possible to buy computers with Endless OS pre-installed. Sarah Lord at Tom's Hardware has written a review of a "Hack kids laptop" with Endless OS and some additional applications pre-installed.
There's also Pay As You Go computers with Endless OS pre-installed. Endless Solutions, which appears to be the same company as Endless Computers, brags that these computers will lock and "stay locked" if you do not pay the rental fee on time:
"A locked PC stays locked. Endless Solutions has developed proprietary technology to defend against hacks and workarounds. Security threats we address include but are not limited to:
OS reflashing
Internal Clock tampering
Hard drive removal/wiping

"
We do not recommend using a rental computer on a "Pay As You Go" - specially not one with a admitted back-door which can make the computer lock up even if you do pay on time.
We also do not recommend installing Endless OS or other software such horrifying dictatorial nightmarish license terms. The Endless OS itself is quite nice but it's unacceptable license terms simply rules it out as a viable choice for anyone, anywhere.