Debian Buster is Released
From LinuxReviews
Jump to navigation
Jump to search

The Debian Project has released a new stable version of their distribution. It comes with now old versions of Xfce, GNOME and KDE as well as the Linux kernel and other components; the versions included are, however, newer than the versions Debian 9 Stretch used. Debian 10 Buster uses Wayland as the default display server if you use the GNOME desktop option. It has AppArmor security enabled by default.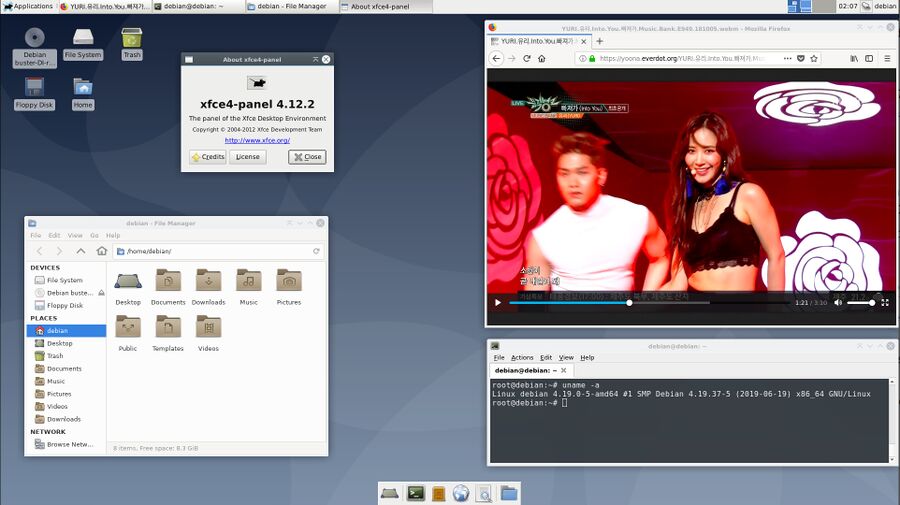 Debian 10 Buster running Xfce 4.12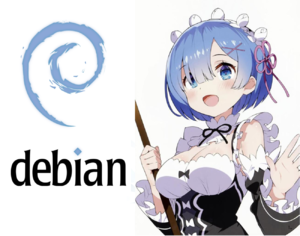 As with previous releases, Debian Buster's range of supported devices and architectures is huge. Debian Buster can be used on just about everything from low-end devices like the Raspberry Pi 4 to high-end servers like AMDs EPIC platform. There is official support for:
32-bit PC (i386) and 64-bit PC (amd64)
64-bit ARM (arm64), ARM EABI (armel), ARMv7 (EABI hard-float ABI, armhf)
MIPS (mips (big-endian) and mipsel (little-endian)), 64-bit little-endian MIPS (mips64el),
64-bit little-endian PowerPC (ppc64el)
IBM System z (s390x).
Debian Buster has a wide range of desktop environments available. The installer lets you choose between GNOME, Xfce, KDE Plasma, Cinnamon, MATE, LXDE and LXQT.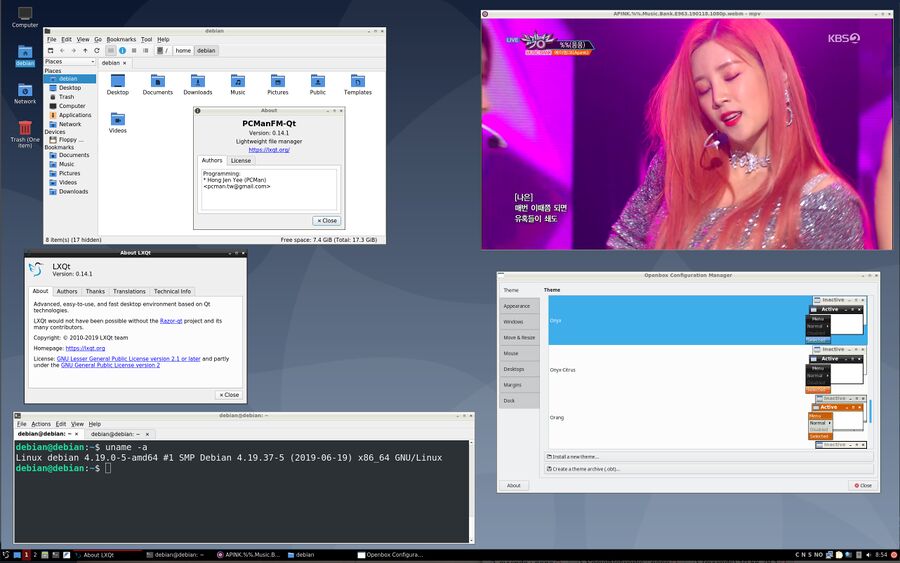 LXQt on Debian 10. There is a wide range of desktop options available.
Wayland is now the default display server if you choose the GNOME option. X is still available and used if you choose Xfce. It is possible to login to "GNOME on Xorg" from the login-managers session-menu if you do not want to use Wayland.
New release, old versions
Debian is a "stable" distribution and as such the new Debian 10 Buster release is filled with old and somewhat outdated stable versions of the software it includes.
The included Xfce desktop environment is Xfce version 4.12.2, not the current Xfce 4.14pre2. Similarly, there's GNOME 3.30, KDE Plasma 5.14, LXDE 0.99.2 (there will be no more LXDE; it's dead), LxQt 0.14 and Mate 1.20.
The kernel included is 4.19.0, GCC 7.4 and 8.3 - not 9.x - and the Mesa version is 18.3.6.

Debian Buster comes with a software package manager called "Synaptic"
The included Mozilla Firefox is 60.7.2esr - that's Firefox's long-term support version. The story's similar when it comes to other software programs, old and very stable versions have been chosen over new and potentially buggy software.
If you prefer older and stable software or bleeding edge software is, of course, entirely up to you. It is a very personal choice.
There are two install media options, a larger Live image which includes most files needed for installation and a net-install image which is a initially small download - but installation will take longer since everything is downloaded on-the-fly.
You can download the new Debian Buster release from https://cdimage.debian.org/cdimage/release/
There is alternative install-media to be found at https://www.debian.org/distrib/ and a installation manual - which you probably do not need - at https://www.debian.org/releases/buster/installmanual
Those of you who are using an earlier version of Debian may be interested in the release-notes chapter on upgrading: https://www.debian.org/releases/buster/amd64/release-notes/ch-upgrading
Debian's release announcement can be read at https://www.debian.org/News/2019/20190706
You can find our full review of Debian Buster here.