Cine-encoder 3.1 Is Released
From LinuxReviews
Jump to navigation
Jump to search

cine-encoder is a handy tool for quickly converting between video formats. It support for preserving HDR meta-data and hardware encoding on Nvidia, and only Nvidia, graphics cards. The latest version has a "improved" design, bug-fixes and support for drag and drop.
written by 윤채경 (Yoon Chae-kyung)  2021-02-21 - last edited 2021-02-21. © CC BY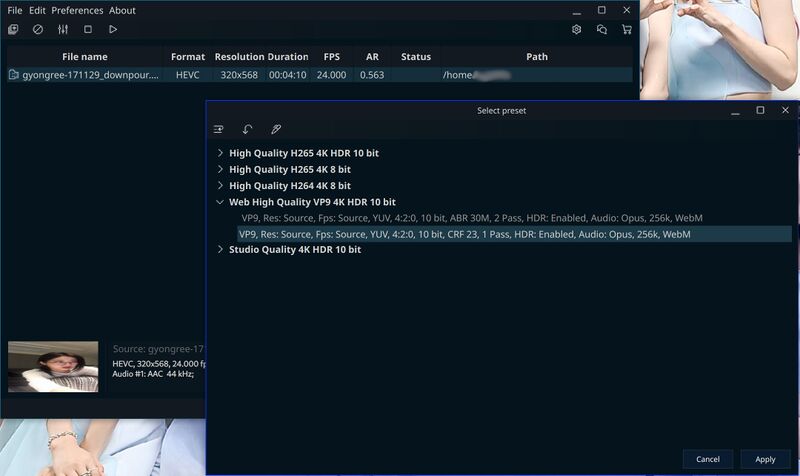 Cine-encoder 3.1.
Cine-encoder is a simple program designed with one purpose in mind: Converting files between video formats. It is not a linear video editor like kdenlive and it's not useful for splitting or editing audio like you can with avidemux. Cine-encoder is much more similar to Video Trimmer in terms of features: It lets you re-encode video files and that's all it does.
The supported encoders are, as of version 3.1:
H265 NVENC (8, 10 bit)
H265, CPU (8, 10 bit)
H264 NVENC (8 bit)
H264, CPU (8 bit)
VP9, CPU (10 bit)
AV1, CPU (10 bit)
DNxHR HQX, CPU 4:2:2 (10 bit)
ProRes HQ, CPU 4:2:2 (10 bit)
ProRes, CPU 4444 4:4:4 (10 bit)
Keen observers will notice the severe lack of support for VAAPI hardware encoding on Intel and AMD hardware, NVENC is the only hardware encoding mode it supports. It is very apparent that Ukrainian developer Oleg Kozhukharenko, who wrote Cine-encoder all on his own using the Qt toolkit, is using nvidia graphics hardware combined with the proprietary closed-source binary blob nvidia graphics driver.
cine-encoder uses ffmpeg to do the actual video encoding, it is just a front-end, it does not have any encoding skills of it's own.
The latest version supports drag and drop, in case you do not want to use the Qt file picker, and parts of the graphical interface has been re-designed.
You can acquire it from the cine-encoder releases page at GitHub if you want a simple and easy to use tool for re-encoding video files using either NVENC with a Nvidia graphics card or raw CPU power.