BlackArch Linux 2020.01.01 Is Now Available
From LinuxReviews
Jump to navigation
Jump to search

The latest release of the penetration testing distribution BlackArch Linux comes with Linux Kernel 5.4.6, an updated installer, several minor bugfixes and updated packages. Its 14 GB Live ISO image meant to be used directly from a USB stick has a total of 2428 security-related tools, 120 of which are new in this release.
written by 윤채경 (Yoon Chae-kyung) . last edited 2019-12-29. © CC BY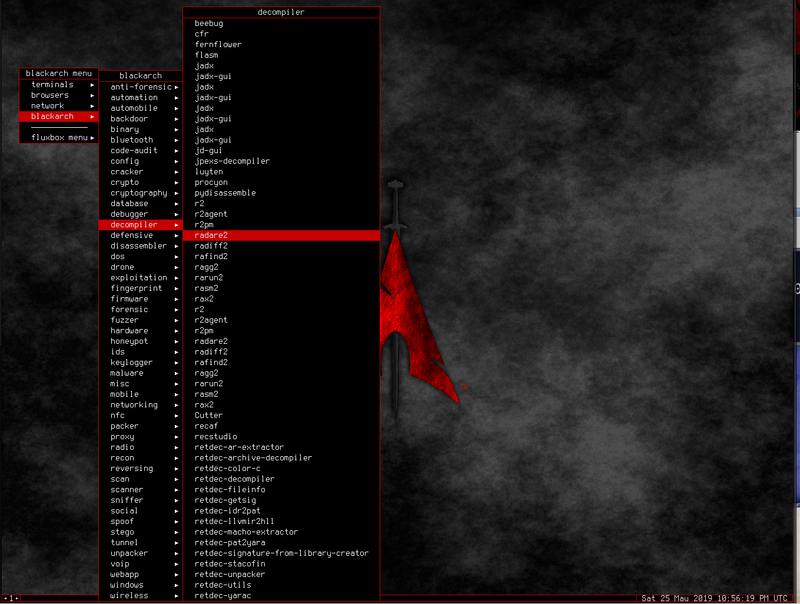 BlackArch Linux provides a simple desktop with Fluxbox. The menu is populated with a metric ton of interesting tools.
BlackArch Linux is, as the name implies, a GNU/Linux distribution based on Arch Linux. It comes as a ISO (and OVA) image you can put on a bootable USB stick which brings up a fluxbox desktop you can use to test your network security. BlackArch Linux does come with an installer you can use to install it on a laptop dedicated to penetration testing. It is not meant to be a general-purpose distribution for games or regular office work with spreadsheets. Manjaro Linux would be a better choice if you are looking for a user-friendly GNU/Linux distribution for those kinds of purposes.
The vast amount of tools readily available is what sets BlackArch Linux apart from other penetration testing distributions. There are 2428 security-related tools included, 120 of which are new to version 2020.01.01. Other similar distributions will have the tools to find many known security vulnerabilities. BlackArch Linux will have those tools and much likely have several tools to take advantage of those vulnerabilities. The more commercialised and "white-hat" penetration distributions do not have those kinds of tools and it appears to be due to concious choices by their developers.
Highlights in BlackArch Linux 2020.01.01 include an updated Linux Kernel 5.4.6, which is currently the latest version, updated system packages, updated tools and configuration files, an updated installer and updated menus for the included fluxbox (the default), openbox and awesome window managers.
The release announcement can be found at blackarch.org/blog.html. BlackArch ISO and OVA images are available as torrents at blackarch.org/downloads.html and there is also a long list of mirrors all over the world for those who prefer to download using ftp or http.