BlackArch Linux
From LinuxReviews
Jump to navigation
Jump to search

BlackArch Linux is a special purpose Penetration Testing distribution which comes as a 12 GB ISO meant to be put on a bootable USB stick. It includes a huge as in gigantic collection of more than 2000+ security-related softwarez. The latest version 2019.06.01 was released on May 25th, 2019.
Features and usability
First of all: This distribution is meant to be put on a USB stick and used for security research on systems in hostile or friendly environments. It is not meant to be a desktop OS used to browse Instagram (It can be installed and it does come with Firefox and Chromium so you could use it for that purpose too).
The initial boot-screen when put on a USB stick and booted into from a system of interest gives you the option of booting "BlackArch Linux" or "BlackArch Linux (non-free)". The non-free option will load the proprietary Nvidia drivers. There is also the option of running memtest, "Hardware Information", "Boot existing OS" and reboot and power-off.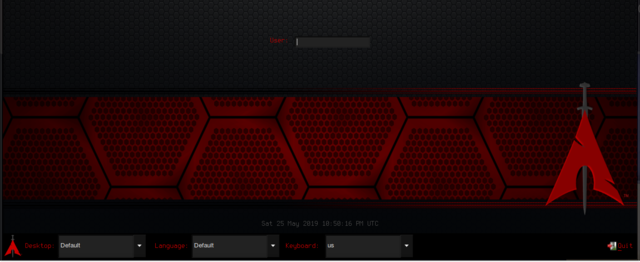 Booting BlackArch takes you to a login screen where you have to use root as username and blackarch as password. You will find yourself in fluxbox once you have logged in.
Fluxbox is configured with a nice-looking theme and it's menu is populated with security-software divided into logical categories.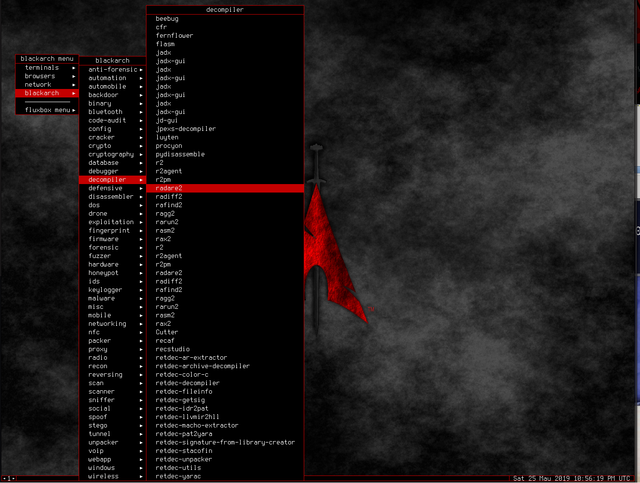 Starting the majority of items in the menu will simply launch xterm with with a help-text explaining the syntax of the program you ask for. This is to be expected as the majority of the included tools are command-line tools.
BlackArch's no-desktop with fluxbox window-manager interface and do it in a terminal approach makes this distribution hard to impossible to use for most people while it is also very user-friendly for it's target audience. It has exactly what you need in terms of both tools and interface.
So much software
There is a very long list of tools at the BlackArch Linux here: https://blackarch.org/tools.html
Many books can and probably are being written about all these tools. There are a lot. If you've heard rumors of some piece of security-related software you'll very likely find that it is included in this distribution. It's clearly got that area covered.
Conclusion
If you need to do some security-research or simply forgot your Windows password or your WIFI password and you are looking for a Live distribution then you will probably find that BlackArch has everything you need and more.
You can download it from https://blackarch.org/downloads.html
You will want to use the "torrent" download option as that's much faster. It's a big download, so it will take a while regardless of what you choose.