AMD RX 5700 and 5700 XT GPUs launching with No Linux Support
From LinuxReviews
Jump to navigation
Jump to search

AMD is launching two new GPUs on July 7th. There is zero Linux Kernel support for these two GPUs and there is also no Mesa support at all. There is no hint of them in the Linux git kernel, not even in header files, and there are no patches submitted to the Linux Kernel Mailing List. The same is true for the Mesa graphics stack. Version 19.1 launched with zero support for these cards and 19.2 isn't due until the end of August.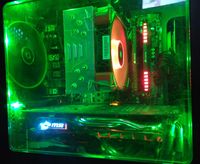 Our close-up inspection of the current mesa git tree reveals that there's absolutely no code related to the fancy new "NAVI" RX 5700 and 5700 XT GPUs which will launch in just a few days. There is also nothing in Linus Torvalds kernel git tree. AMD has added a lot of Navi-related code to agd5f's drm-next kernel tree the last two weeks. They will likely try to sneak that code into the mainline kernel during the upcoming 5.3 merge window.
We do not have to wait for these cards to launch to provide Linux benchmarks, we already know exactly how they will perform on GNU/Linux the coming weeks: zero frames per second at 1080p, 1440p and 4k with low, medium and high settings. Support will simply not be there for some time.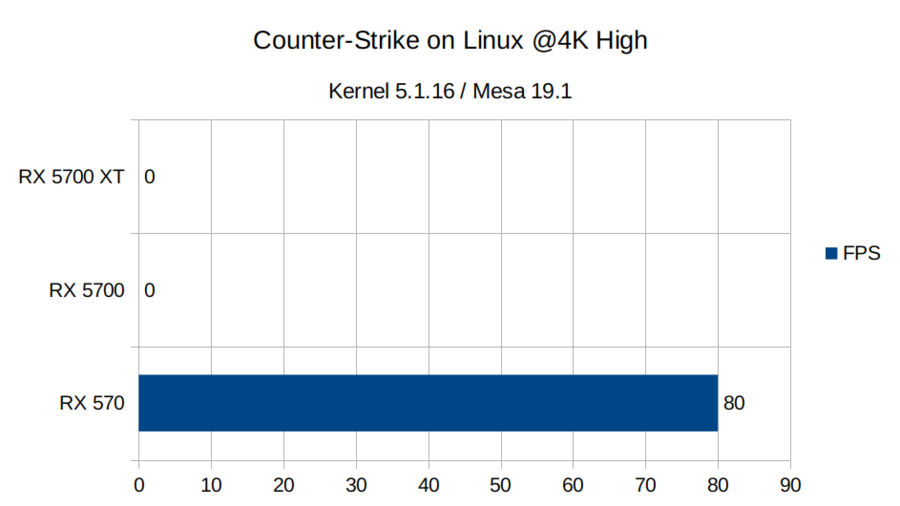 This really is what you get if you buy these fancy new Navi cards at launch: 0 FPS. You get expensive bricks and that's it. You can use them as door-stops, nothing more. Buying the cards for the purpose of using them as door-stops would obviously be foolish, there's plenty of much cheaper technology which can be used for that purpose. Seagate ST3000DM001 harddrives (those with a 40-80% failure rate during the first 6 months) can be had on the cheap.
The bad news is that Mesa 19.2 will not be released until the end of August and it is not even clear that it will support these cards.
AMD will likely try to get support for Navi into the git kernel during the next merge-window. That would make Linux Kernel 5.3 the first kernel with Navi support - if they are successful. AMD GPU code has previously been rejected upstream for several kernel versions before it eventually got accepted. It is less likely to happen this time around as AMD has gained more experience since those dark times.
This means that Linux distributions will, at best, get AMD Navi support in early September and there is a chance it will take longer. There will be no launch-date support for these new Navi GPUs when they hit retail stores on the 7th - just 4 days from today.
You absolutely should not buy these cards any time in the foreseeable future.
published 2019-07-03 -  last edited 2019-07-04