AMD Launches Ultra-budget A520 Motherboards For Third and Fourth Generation Ryzen On A Budget
From LinuxReviews
Jump to navigation
Jump to search

AMD has launched a new A520 motherboard chipset that replaces the now rather old A320 ultra-budget chipset. A520 motherboards have PCIe 3.0 going to all the PCIe slots. PCIe 4.0 is not supported. The vast majority of the announced A520 boards have 4 SATA ports, Realtek ALC887 audio and 1 Gigabit Realtek network connectivity. Third and fourth generation Ryzen APUs and CPUs are supported by A520 motherboards, first and second-generation Ryzen chips are not. A520 AM4 boards are available in the $70-80 price-range.
written by 윤채경 (Yoon Chae-kyung)  2020-08-21 - last edited 2020-08-21. © CC BY

The A520 chipset is a new chipset for those who want to build a Ryzen CPU powered machine on a very tight budget. If it makes sense even if you are on a very tight budget will depend on your needs and your local prices.
A520 motherboards have a very limited set of advantages over the aging A320 budget chipset it replaces.
The chipset-provided PCIe lanes lanes are PCIe 3.0 (x6 total)
Zen 2 (Ryzen 3000) and upcoming Zen 3 (Ryzen 4000) processors are supported. Zen 1 and Zen+ (Ryzen 1000&2000) are not.
The maximum number of USB ports is the same as it was on A320 boards: one USB 3.2 Gen 2 port, two 3.2 Gen 1 ports and six USB 2.0 ports is all you can get. Some of the A520 boards have less than that, how many you actually get depends on the motherboard vendor.
A520 boards can have a maximum of only four SATA ports and there are no overclocking features. The A320 and A520 motherboards are the only AMD motherboards without overclocking support.
The PCIe connectivity on A520 boards is limited to PCIe 3.0 on all slots and you only get six lanes from the chipset. That is a step down from B550 and X570 boards who feature PCIe 4.0. It is kind-of a step up from B450 and X470 motherboards. The more expensive last-generation mid and high range boards have more PCIe slots and lanes but all but the first x16 slot are limited to PCIe 2.0. Six PCIe 3.0 lanes from the A520 chipset may sound like it is very little but it is not that bad since you get a total of 26 PCIe 3.0 lanes when the boards are paired with a Ryzen 3000 series CPU.
A520 motherboards can only be used with Ryzen "Zen2" and "Zen3" APUs and processors. That translates to Ryzen 3000 and 4000 series processors but not Ryzen 3000 series APUs like the Athlon 3000G and the Ryzen 5 3400G. Those APUs are actually Zen+ chips, they are "3000-series" in name only. The 4350G, 4650G and 4750G "Renoir" APUs are the only APUs supported by the A520 chipset as of today and none of those are available in retail channels.
Chipset
Release Date
PCI Express (PCIe)
USB:
3.2 Gen 2 + 3.2 Gen 1 + 2.0
Storage features
Overclocking
TDP
CPU support
PCIe lanes[x 1]
AMD CrossFireX
SLI
SATA ports
BIOS RAID
StoreM
Zen 1
Zen+
Zen 2
Zen 3
A320
February 2017
PCIe 2.0 ×4
1 + 2 + 6
4
0, 1, 10
~5 W
Varies[x 2]
B350
February 2017
PCIe 2.0 ×6
2 + 2 + 6
X370
February 2017
PCIe 2.0 ×8
2 + 6 + 6
8
B450
March 2018
PCIe 2.0 ×6
2 + 2 + 6
4
Yes + Template:Abbr
Varies[x 3]
X470
March 2018
PCIe 2.0 ×8
2 + 6 + 6
8
A520
August 2020
PCIe 3.0 ×6
1 + 2 + 6
4
B550
June 2020
PCIe 3.0 ×6
2 + 2 + 6
6
Yes + Template:Abbr
X570
July 2019
PCIe 4.0 ×16
8 + 0 + 4
12
~15 W
The New Motherboards
All the big motherboard vendors have one or more A520 boards ready, though most of them are not yet available in retail stores.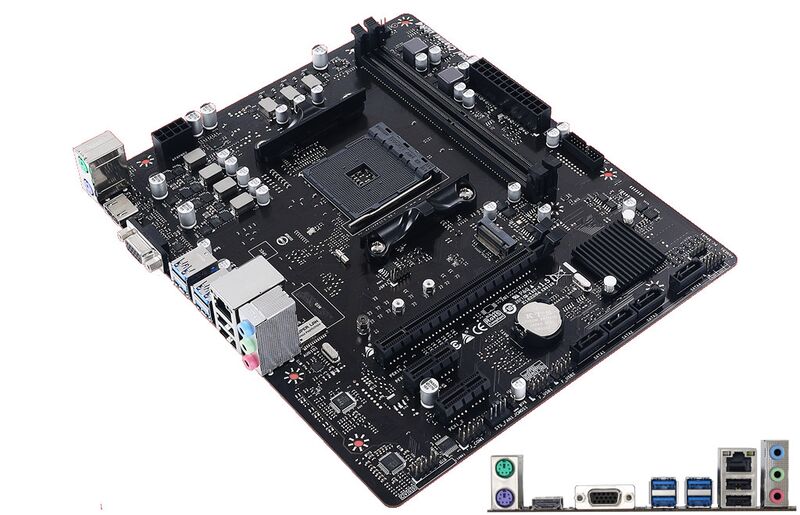 Biostar A520MH motherboard.
A520 motherboards that are announced and on their way to your local retail store include:
Most of the A520 based motherboards support HDMI 2.1 (4K 60 Hz) which is a step up from every single B350, X370, B450 and X470 motherboard. That is a nice improvement if you plan on using a modern AMD APU. You won't be able to play games at 4k 60fps with any AMD APU, but is a must-have feature if you plan on building a HTPC.
The motherboard audio chips on the A520 boards are all low-end Realtek "High Definition Audio" chips with ALC887 being the most common chip listed. The Linux kernel has had great support for ALC887 audio for a very long time. The same applies to the network chips, all the A520 boards list "Realtek" network interfaces running at 1 Gigabit. There is a near-100% chance those are Realtek RTL8111 chips with 4k non-prefetchable memory and just 16k prefetchable memory.
It makes a lot of sense to buy a A520 motherboard in the $70-80 price-range for a new build even if boards like the ASRock B450M-HDV with the B450 chipset are available for $72. Most B450M boards are limited to 4K 30Hz if you use an APU and the PCI slots, apart from the first x16 slot, are PCIe 2.0. And the cheaper B450 boards are usually limited to two DDR4 RAM lots, just like all the A520 boards. The only case where it makes sense to buy a cheap B450 board is if you want to buy a 3000-series AMD APU like the 3000G or the 3400G since chose won't work with B450 boards (unlike the 3000 series CPUs who do work with A520).