Advanced Micro Devices
From LinuxReviews
Jump to navigation
Jump to search
Advanced Micro Devices (AMD) is an American computer electronics corporation who designs and cells computer processors and graphics card chips. Their chip designs are manufactured at TSMC and GlobalFoundries.
GNU/Linux Support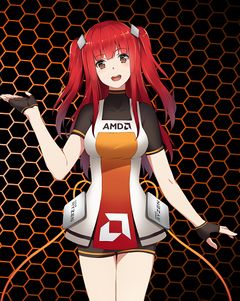 AMD is generally absent from Linux kernel development and the GNU/Linux ecosystem in general.
AMD is very actively involved in the Linux kernels graphics stack and the user-space Mesa graphics stack. AMD has a team of about a dozen people working full-time on the free software driver stack for their graphics cards.
You will rarely, if ever see anyone from @amd.com take the lead in areas like watchdog drivers, hardware sensor drivers or any other drivers for chips and features on their motherboard chipsets. AMD does contribute to both the Linux kernel and the Linux userland - but their involvement is restricted to areas which involve graphics cards.
AMD Graphics
AMD's newer graphics cards are very well supported by the amdgpu kernel driver. Older graphics cards (pre RX 400-series cards) are decently supported by the by AMD abandoned "radeon driver. It is possible to use the amdgpu kernel module with older cards but they will not have features like hardware video decoding. AMD is fine with owners of older AMD GPUs and APUs being stuck with the abandoned legacy amdgpu driver.
AMD Processors

There has been issues like not being able to boot Linux distributions with every single new generation of AMD Ryzen CPUs.
The first generation Ryzen CPUs caused random hangs on GNU/Linux. This problem was later fixed with BIOS updates.
AMD CPUs work very well with GNU/Linux - but DO NOT buy a brand new CPU generation from AMD at launch. Waiting a few months after launch is a good idea, AMD does make sure problems are fixed with either BIOS updates or kernel updates - but it will typically take a while.