AMD Announces Four 5000-Series Ryzen CPUs
From LinuxReviews
Jump to navigation
Jump to search

AMD announced four new 5000-series Zen3 processors in a marketing presentation titled "Where Gaming Begins" today. The processors have 6 to 16 cores and base clocks between 3.4 and 3.8 GHz with boost clocks up to 4.9 GHz. TDP is listed as 105W for all but the 6-core model. The new processors will have a MSRP between $300 and $800 when they reach stores on November 5th, 2020. AMD claims the processors will have a 19% IPC performance uplift.
written by 윤채경 (Yoon Chae-kyung)  2020-10-08 - last edited 2020-10-09. © CC BY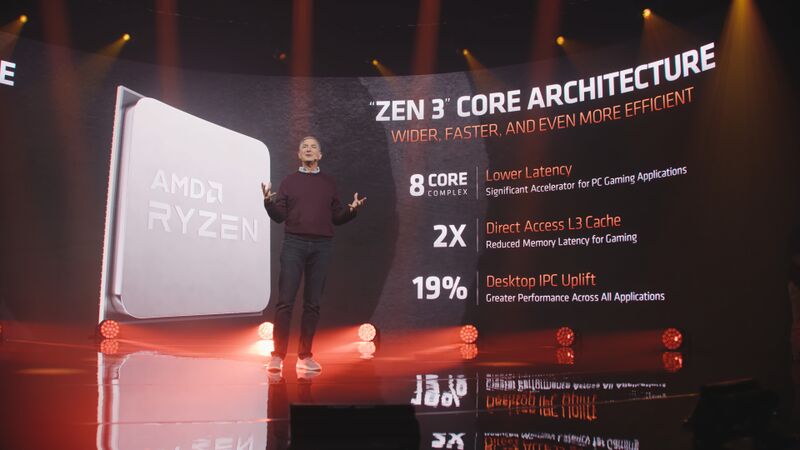 AMD spokesperson Mark Papermaster talking about the "Wider, Faster and Even More Efficient" new AMD Zen3 processors in a AMD "Where Gaming Begins" marketing video.
AMD revealed four desktop 5000-series "X" desktop processors coming early November 2020 in a marketing video titled "Where Gaming Begins" today.
Model
Release date
and price
Process
Cores
(threads)
Clock rate (GHz)
Cache memory
Socket
PCIe
lanes
Memory
support
TDP
Stock cooler (box)
Base
Boost
L1
L2
L3
Ryzen 5 5600X[1]
November 5th, 2020
US $299
TSMC
7FF
6 (12)
3.7
4.6
32 KiB

instructions
32 KiB

data
per core

512 KiB
per core
32 MiB
AM4
24
DDR4-3200
dual-channel
65 W
Wraith Stealth
Ryzen 7 5800X[2]
November 5th, 2020
US $449
8 (16)
3.8
4.7
105 W
N/A
Ryzen 9 5900X[3]
November 5th, 2020
US $549
12 (24)
3.7
4.8
64 MiB
Ryzen 9 5950X[4]
November 5th, 2020
US $799
16 (32)
3.4
4.9
AMD spokesperson Mark Papermaster claimed the new 5000-Series "Zen3" Ryzen CPUs will have "higher frequency, higher instruction per clock with design improvements across all of the CPU components and lower latency on top of that".
The new processors will have 8-core core complexes, in contrast to the existing 4-core chiplets AMD deploys on their current processors. The 6-core part will therefore have to be one with either two defective, or two disabled, cores. The new core layout means that the 6 and 8 core Ryzen 5 5600X and Ryzen 7 5800X will have a single core-complex with 32 MiB cache while the Ryzen 9 5900X and the Ryzen 9 5950X will have two core-complexes with 32 MiB each.
AMD showed slides with a claim that the new processors will have a "19% Desktop IPC Uplift" for "Greater Performance Across All Applications".
You can watch a seven minute long clip with the Ryzen 5000-series specific technical information below:

The Ryzen 5000-series Zen3 processors segment from "Where Gaming Begins"
AMD showed a slide showing the Shadow of the Tomb Raider Definitive Edition benchmark with a FPS average of 141 using the Ryzen 9 3900 XT and 181 using the Ryzen 9 5900X. AMD did not mention what graphics card they used to archive these frame-rates, only that it was "two otherwise identical systems".
The 5000-series Ryzen processors will be manufactured on a "improved" 7nm process at TSMC.
The new processors will officially only be supported by the X570 and B550 motherboards. Some motherboard vendors will be providing BIOS support for B450 and X470 boards even though it won't be "officially" supported by AMD. Features like PCIe gen4 will not be available to those who go that route.
You can watch the full "Where Gaming Begins" video at YouTube if you enjoy AMD marketing videos for some reason. It's about 25 minutes long.
Footnotes