AMD Announces Record High Q3 2020 Profits And $35 Billion Deal To Buy Xilinx
From LinuxReviews
Jump to navigation
Jump to search

AMD announced their Q3 2020 quarterly results early due to an all-stock acquisition of the American semiconductor company Xilinx for $35 billion. AMD pulled in $2.8 billion in revenue in Q3 2020, up 58% compared to Q3 2019. Their quarterly earnings were even more impressive. Q3 2020 was AMD's best quarter in history in terms of both revenue and earnings.
written by 윤채경 (Yoon Chae-kyung)  2020-10-28 - last edited 2020-10-28. © CC BY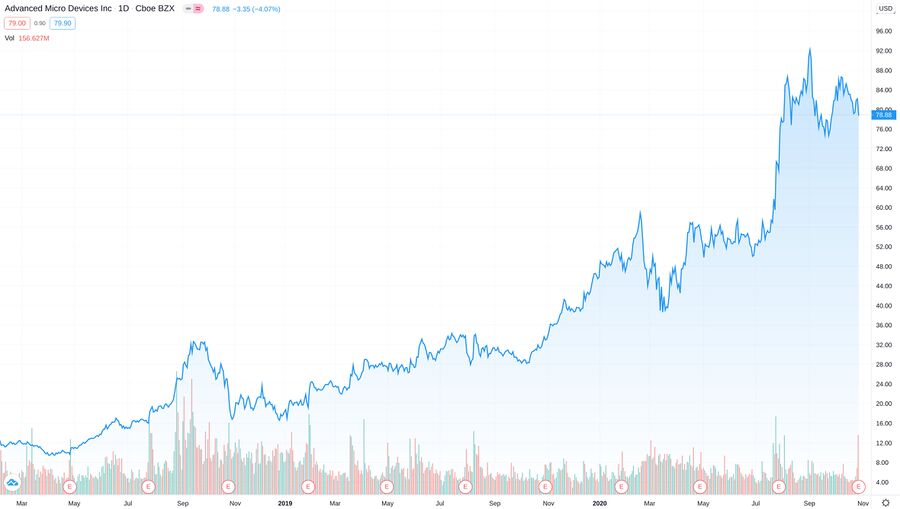 AMD stock price from March 2018 to October 2020.
AMD was trading at just $1.83 per share in February 2016. AMD had nothing competitive either the CPU or the GPU markets at the time. That changed with the launch of their Ryzen consumer chips and their Epyc data-center chips. AMD's stock price is currently sitting at at $78.88 with a 43x increase since the 2016 low.
AMD's Q3 2020 results shows that AMD is still gaining momentum thanks to strong consumer demand and to some degree a larger foothold in the lucrative data-center market.
AMD Q3 2020 Financial Results

| | Q3'2019 | Q2'2020 | Q3'2020 |
| --- | --- | --- | --- |
| Revenue | $1.8B | $1.93B | $2.8B |
| Gross Margin | 43% | 44% | 44% |
| Operating Income | $186M | $173M | $449M |
| Net Income | $120M | $157M | $390M |
| Earnings Per Share | $0.11 | $0.13 | $0.32 |
AMD's net income Q3 is even more impressive than it's increased revenue. AMD made $390M million Q3 2020, more than three times the Q3 2019 figure. AMD's gross margin did not increase, their increased bottom line comes from increased sales, not increased margins. AMD's CEO Lisa Su released this statement along with their numbers:
"Our business accelerated in the third quarter as strong demand for our PC, gaming and data center products drove record quarterly revenue. We reported our fourth straight quarter with greater than 25 percent year-over-year revenue growth, highlighting our significant customer momentum. We are well positioned to continue delivering best-in-class growth as we further extend our leadership product portfolio with the launches of our next generation Ryzen, Radeon and EPYC processors."
Dr. Lisa Su, president and CEO of AMD
Intel's Q3 numbers, released last week, showed a four perfect drop in year over year revenue and double-digit drops in enterprise-related earnings. AMD appears to have gained at Intel's expense.
AMD's segmented numbers indicate that AMD has gained a bit of a foothold in the laptop and pre-built OEM markets. AMD has so far made most of their revenue in the CPU segment from enthusiasts building their own systems. That seems to be changing.
AMD Q3 2020 Computing and Graphics Segment

| | Q3'2019 | Q2'2020 | Q3'2020 |
| --- | --- | --- | --- |
| Revenue | $1276M | $1367M | $1667M |
| Operating Income | $179M | $200M | $384M |
It's interesting that the Computing and Graphics Segment is still a much larger market for AMD compared to their data-center offerings. AMD lists Enterprise, Embedded and Semi-Custom as one segment. This includes chips in semi-custom products like the Xbox and the Playstation.
AMD Q3 2020 Enterprise, Embedded
and Semi-Custom

| | Q3'2019 | Q2'2020 | Q3'2020 |
| --- | --- | --- | --- |
| Revenue | $525M | $565M | $1134M |
| Operating Income | $61M | $33M | $141M |
AMD announced their numbers early because they are buying the American semiconductor company Xilinx for $35 billion in a all-share deal. For reference, AMD's current market cap is just $92.6 billion. Xilinx is a FPGA company with a big presence in data-centers with a product they call Versal Adaptive Compute Acceleration Platform (ACAP). It's a die consisting of a FPGA with distributed memory and hardware-programmable DSP blocks, a multi-core ARM SoC and specialized AI accelerators.
Graphics seems to be the only area where AMD is not growing. They will launch their RX 6000 series graphics cards this week. It seems unlikely that they will beat Nvidia's latest RTX 3000 series graphics cards in the high-end, but they could decide to put mid-range cards with a better price to performance ratio out there.
A strong Advanced Micro Devices is good from a consumer perspective since the x86-64 market is practical duopoly. Intel won't be releasing "new" "high-end" quad-core chips with a 1% performance-increase and multi-threading as a "premium" feature as long as AMD keeps releasing new processors with higher core-counts and more instructions per clock.