AMD Launches 3 High-End RX 6000-Series GPUs For 4k Gaming
From LinuxReviews
Jump to navigation
Jump to search

AMD has announced 3 high-end graphics cards based on the RDNA2 architecture. Their new mid-range RX 6800 card, comparable to a Nvidia 2080ti, will cost $579 when it becomes available on November 18th. AMDs new RX 6900 XT flagship GPU will cost a whopping $999 when it launches on December 8th.
written by 윤채경 (Yoon Chae-kyung)  2020-10-28 - last edited 2020-10-31. © CC BY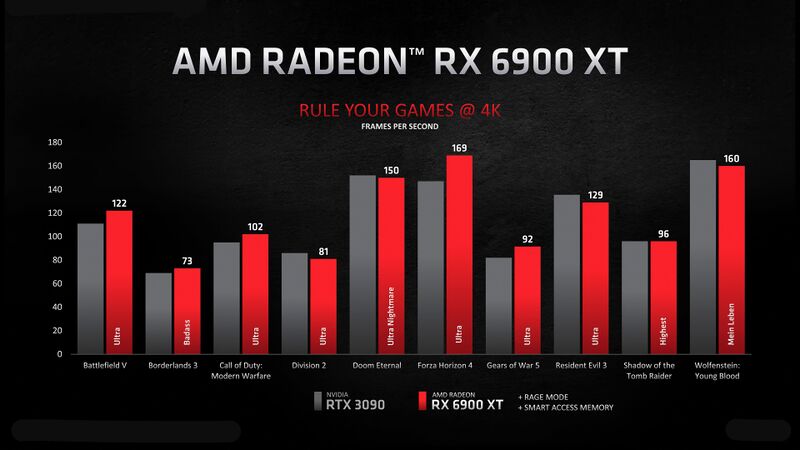 AMD marketing slide showing the new RX 6900 XT flagship to be comparable to Nvidia's best.
It has been more than a decade since AMD has had anything to show in the very high-end graphics market. Now they do if the marketing video AMD released today is anything to go by. Their new flagship GPU, the RX 6900 XT, is comparable to Nvidia's top-of-the-line RTX 3090 graphics card if the FPS numbers AMD presented are realistic.
AMD RX 6000 series GPUs

| Model | Compute Units | "Game" clock | Boost clock | ("Infinity") Cache | Memory | Power limit | Launch date | Price |
| --- | --- | --- | --- | --- | --- | --- | --- | --- |
| RX 6800 | 60 | 1815 MHz | 2105 Mhz | 128 MB | 16 GB DDR6 | 250W | November 18th | $579 |
| RX 6800 XT | 72 | 2015 MHz | 2250 MHz | 128 MB | 16 GB DDR6 | 300W | November 18th | $649 |
| RX 6900 XT | 80 | 2015 MHz | 2250 MHz | 128 MB | 16 GB DDR6 | 300W | December 8th | $999 |
AMD compared their new RX 6800 card to the Nvidia RTX 2080ti, they compared the RX 6800 XT to the RTX 3080 and they compared the RX 6900 XT to Nvidia RTX 3090 flagship.
An extra $350 for the eight additional compute cores you get if you pick the RX 6900 XT over the RX 6800 XT seems like a lot. That's $9 vs $12.48 per compute-core if you simply divide price by cores. Perhaps it doesn't matter if you actually have a thousand dollars of spending money and you really want the absolute best AMD has to offer for Christmas.
The FPS-chart AMD showed for the RX 6800 had it running above 60 FPS on 4k Ultra in all the games that were listed.
All the new GPUs have a memory cache which AMD compared to the L3 cache on a Ryzen CPU. AMD calls this cache a "Infinity Cache".
AMD mentioned that their RDNA2 graphics cards will support Microsoft's DirectX 12 "Ultimate" API and features such as DirectX RayTracing, Variable Rate Shading, Mesh Shaders and Sampler Feedback.
AMD did not mention what kind of Linux support the cards will have at launch. Some information about that is known. AMD added support for a RDNA2 based graphics family code-named Sienna Chichlid to Linux 5.9. There is also some initial support for Sienna Chichlid in Mesa 20.2.0. If that is enough to actually use RX 6000 series GPUs to play games on Linux isn't all that clear. Perhaps there's only partial support, perhaps the cards work as they should with a combination of the latest Linux firmware, the latest Linux kernel, the latest Mesa version and the latest LLVM compiler. That there's some supported added to all those components does not mean that the cards will all work as they should at launch. Distribution support is another question, LTS distributions with older kernels and older Mesa versions will obviously not work with brand new hardware.
AMD mentioned that the GPUs have a feature called "AMD Smart Access" that allows for faster memory access when they are paired with a AMD Ryzen 5000 series CPU. There does not appear to be any Linux support for this feature in the Linux git tree and there is no mention of "AMD Smart Access" on the Linux Kernel Mailing List. Perhaps it will be a Windows-only feature.
All the GPUs AMD launched today were higher mid-range to high-end cards price-wise. The Linux kernel lists six different PCI IDs for CHIP_SIENNA_CICHLID cards in amdgpu_drv.c. AMD will probably add three lower-end cards to the RX 6000 line-up at a later date. We can only hope that they will be more affordable, $999 seems like an awful lot to pay for a graphics card. The Nvidia 3090 AMD compares it to is currently priced at 1898 USD (converted since Nvidia's website refuses to show US prices) so perhaps AMDs prices aren't all that bad.