3rd Ova Magica Tech Demo Released
From LinuxReviews
Jump to navigation
Jump to search

Developer ClaudiaTheDev has released a third tech demo of a interesting new game called Ova Magica. The proprietary kick-starter funded game will be available for GNU/Linux, Windows and macOS. It is still in somewhat early stages of development, yet it is already playable with a small 3D world featuring a farm you can explore, good graphics and blob battle training.
written by 윤채경 (Yoon Chae-kyung)  2020-10-07 - last edited 2020-10-08. © CC BY
Ova Magica is an upcoming 3D game made with Unity 3D by ClaudiaTheDev. It features a 3D world with farming, "blob" battles, nice graphics and anime-style characters. The game is currently only available in the form of "tech demos". ClaudiaTheDev released a third "tech demo" on itch.io as freeware this week. There are packages for Linux (in the form of an tarball with a static executable and a data folder), Windows and macOS available.
"The game is being made in Unity, and because of this, we have the ability to natively export to the (Linux) platform. Both because of the technical capabilities to do so as well as because of the thriving gaming community on Linux, we thought it would be optimal to have the game available on as many platforms as possible within our capability."
ClaudiaTheDev
The hardware requirements are not very high, the game runs fine at 4K Medium on older mid-range graphics cards like the MSI RX 570. "4K High" is too much for an old card like that. Most older cards will be able to do 1080p at "High" settings.
The third tech demo is limited in what you can do. There's only a small 3D world to explore with a farm and a small forest you can explore. It does give you a sense of what the final will be like. You can also engage in "blob battles". The final game will be quite good and quite interesting if the third tech demo is anything to go by.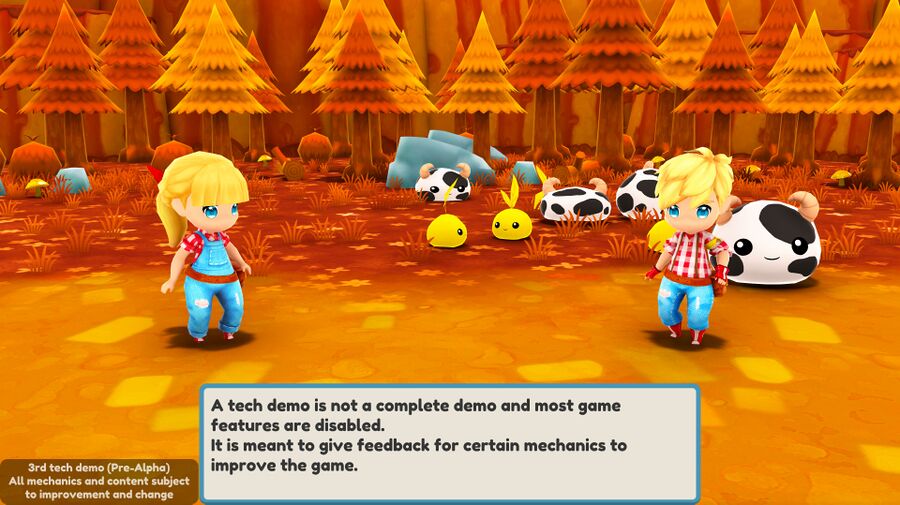 "A tech demo is not a complete demo and most game features are disabled". It does give you a sense of what the final game will be like.
Blob battle game mechanics will be a central part of Ova Magica. You've got a "blob" and your opponent has another "blob" and your goal is, of course, to kill the enemies blog while ensuring that yours stay alive.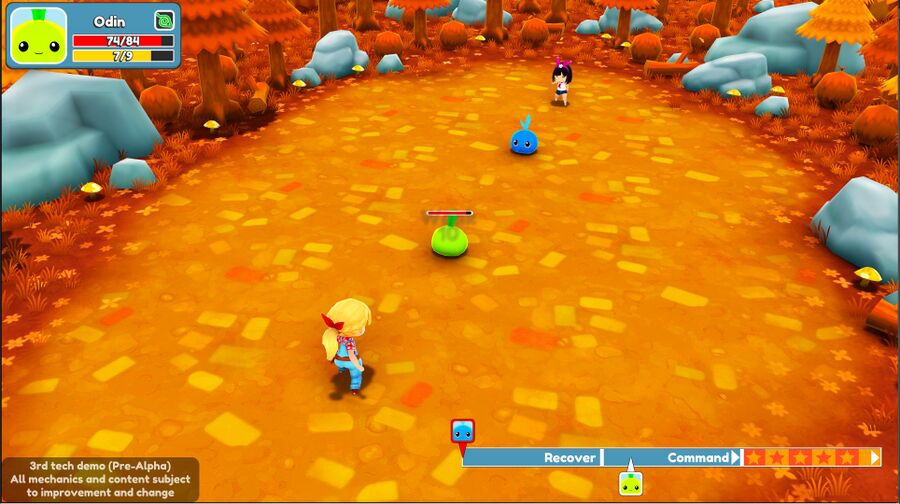 Blob battle training in Ova Magica.
The third Ova Magica tech demo has a nice tutorial that teaches you how to defend said blob, how to heal it if necessary and how you can use various attacks to eliminate the opponents blob.
You can also explore the small 3D world included in the tech demo and venture out to the forest where you can collect plants and dig for hidden treasure.

Digging for treasure in the forest.
Ova Magica has very nice graphics and it's got sweet anime-like characters. It looks like the final game will be pretty nice. Developer ClaudiaTheDev is trying to fund development with a kick-starter campaign. You can contribute there if you try the tech demo, available from claudiathedev.itch.io/ovamagica, and you would like to see a full game come about.
The full game will be proprietary commercial with a $30 price-tag and an estimated release date in 2022. Top Hat Studios will act as publisher.