Xfce is now the most popular desktop (among new Manjaro Linux users)
From LinuxReviews
Jump to navigation
Jump to search

The Arch Linux based distribution Manjaro has released download numbers for it's various editions in May and Xfce was the most popular Linux desktop choice - by a rather slim margin.
Xfce (33.48%) topped the chart with just 0.66% more downloads than Manjaro's KDE edition (32.82%). The least popular Linux desktop, GNOME, had about 14% less downloads than the editions with the leading Linux desktop environments with just 19.58% of the total Manjaro downloads.

The Xfce edition of Manjaro Linux v18.0.4 comes with a very polished version of Xfce 4.13.4, which was released just two weeks ago, compiled from git.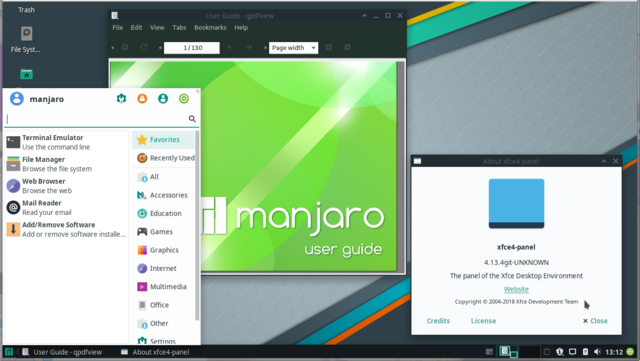 The fact that Manjaro Linux is providing a much better out-of-the-box experience for Xfce users compared to other distributions may explain why it's Xfce edition is so popular.
The Manjaro distribution itself is gaining popularity. It's Steam market share grew by +0.01% in May bringing it up to a total of 0.07% of all Steam users.
You can learn more about Manjaro at https://manjaro.org/