Thunar 1.8.8 released
From LinuxReviews
Jump to navigation
Jump to search

The latest version of the powerful Thunar file manager for the leading Linux desktop environment Xfce fixes six bugs. There is also translation updates for seven languages. There is nothing new in terms of features, just small fixes in preparation for the launch of Xfce 4.14 stable.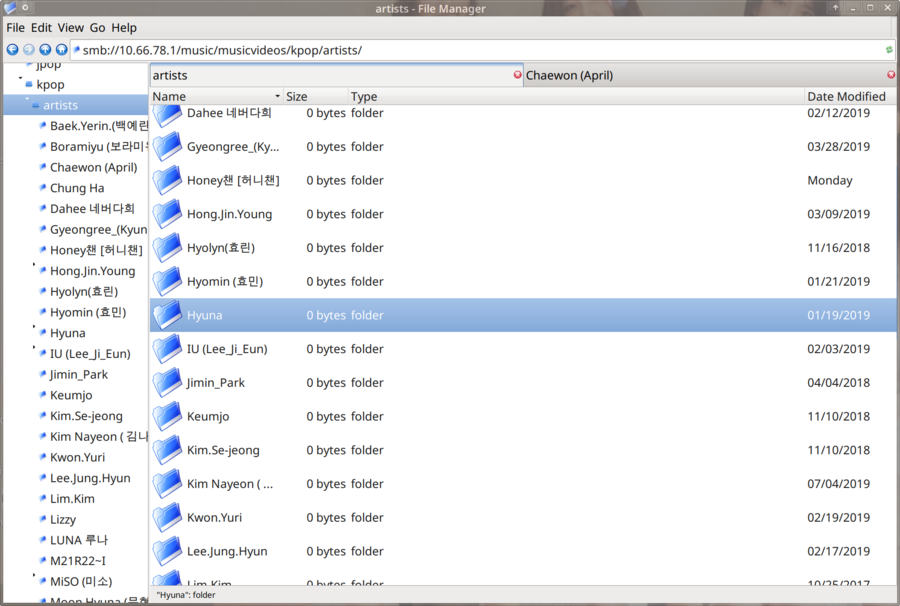 Thunar browsing a Samba share.
The bugs closed in this release are:
Do not register "send to" as last used app (Bug #14118)
Use https where possible
Dont restart the folder monitor on each refresh (Bug #13364)
Fix XML declaratation in uca.xml (Bug #13623)
Always show the executable checkbox (Bug #15605)
Replace Trash action with Delete as needed (Bug #15352)
And there's also translation updates for Armenian, Finnish, Kazakh, Portuguese (Brazil), Swedish, Thai and Turkish.
One of the bugs, #13364, caused "ghost files" to remain after moving files. That can still happen in some cases. Bug #13364 addressed the issues related to the folder monitoring technology. Other problems remain. The remaining corner-case problems are tracked as bug #15704. There is no fix for this bug in thunar 1.8.8.
You can acquire the new Thunar technology from archive.xfce.org /thunar/1.8/.
You can learn more about the Xfce file manager at https://docs.xfce.org/xfce/thunar/ and you can learn more about the Xfce desktop environment at https://www.xfce.org/
published 2019-07-20 -  last edited 2019-07-20