The Free Software Foundation Folds On Their Only Free Video Formats Policy
From LinuxReviews
Jump to navigation
Jump to search

The FSF has been advocating the use of free file formats for more than three decades. They have so far been true to their own ideals. Multimedia on their website has, until now, been served using entirely free file formats and codecs. The FSF is now embracing the proprietary patent-riddled MPEG-AVC (h264) video codec as well as the Advanced Audio Coding (AAC) audio codec that goes with it as fall-back option in order to reach more people.
written by 林慧 (Wai Lin) 2020-10-12 - last edited 2020-08-13. © CC BY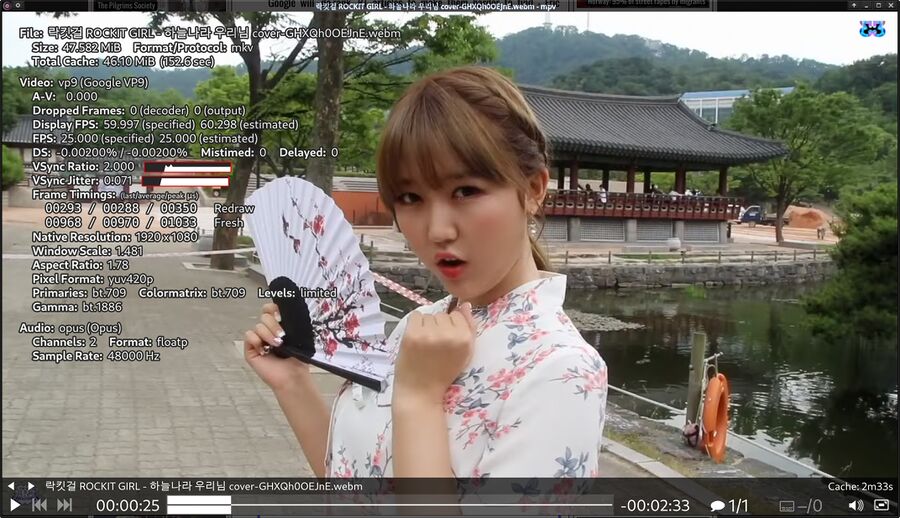 The mpv video player playing a Rockit Girl music video with on-screen information display, enabled by pressing i, showing that the file has video encoded using the free VP9 codec and audio encoded using the free Opus audio codec.
Free Software Foundation campaign manager cites the need to reach users of proprietary walled-garden devices from the American Apple corporation as the reason for the organizations sudden acceptance of non-free proprietary patent-riddled audio and video codecs:
"While we must continue campaigning against Apple and other companies for their support of software patents and insistence on trying to control users, we can't do that nearly as effectively if users of those platforms can't hear us. Without supporting video codecs other than those above, such as Advanced Video Coding (commonly called H.264), we run the risk of reaching only those who already know about free software."
Apple is the only major hold-out when it comes to embracing the free VP8, VP9 and AV1 video standards. The video players and web browsers bundled with their iOS and macOS operating systems lack support for the free video codecs all other major modern operating systems support. Apple users can play .ogv, .mkv and .webm video files with VP8, VP9 and AV1 encoded video files if they install a third party video player like mpv or VLC. Many Apple users do not have those players installed and they have to open video files embedded in web pages in one of those external players even if they do. It is therefore understandable that the Free Software Foundation, and others using video on the modern web, would want to make their video files available in proprietary formats iToddlers are able to use in addition to the free formats everyone are able to play.
Sticking with entirely free video formats is a bit problematic even if you ignore Apple users inability to play the video files. AMD graphics cards prior to their latest "Navi" line-up (GFX10) couldn't even decode VP9 video in hardware and no existing AMD graphics chips are able to encode VP9 or AV1 video. Intel processors with integrated graphics have been capable of VP9 decoding and encoding for quite some time. Those with AMD processors paried with AMD graphics cards have to use CPU-intensive software video encoding if they want to encode video using the free VP9 video format. As for the "next-generation" free AV1 video codec, that codec is currently simply not an option regardless of what hardware you have - unless you are willing to wait weeks for short video to be encoded at the near stand-still speed of half a frame per second.
The FSFs decision to make video files available in the proprietary MPEG/AVC video format in addition to free formats does not mean that they are going to stop promoting free file formats:
"The FSF will continue campaigning against software patents, and will always ensure that our materials can be viewed by systems that exclusively run free software."
We wish the FSF good luck in their campaigning. It would be very unfortunate if we were to find ourselves in a situation where only proprietary operating systems were able to play common audio and video formats.