Free Software Foundation
From LinuxReviews
Jump to navigation
Jump to search
Free Software Foundation
Abbreviation
FSF
Motto
Free Software, Free Society
Formation
October 4, 1985[1]
Type
American 501(c)(3) non-profit organization
Legal status
501(c)(3)
Purpose
Educational
Headquarters
Boston, Massachusetts, USA

Region served

Worldwide

Membership

Individuals

President

Geoffrey Knauth

Budget

Slightly more than one million USD/year

Staff

13[2]
Website
www.fsf.org
The Free Software Foundation is an American organization founded by Honorary Doctor Richard Stallman on October 4th 1985 for the purpose of supporting and promoting free software. The organization provides legal and structural aid to the free software movement, it runs campaigns promoting free software and free software related issues and it publishes a series of widely used free software licenses such as the GNU General Public License.
Richard Stallman was president until he was squeezed out and forced to resign in October 2019.
The Free software foundation holds the copyright to many core parts of the GNU operating system such as GNU C Library (glibc) and the GNU Compiler Collection (gcc).
Current Organization
President
Board
Alexandre Oliva, Red Hat Brasil.
Gerald J. Sussman, Professor of Electrical Engineering at MIT.
Henry Poole
Kat Walsh, American lawyer.
Odile Bénassy, long-time French free software activist.
Staff
The entirety of the current Free Software Foundation staff consists of:
John Sullivan, Executive Director, Clerk
Andrew Engelbrecht, Senior Systems Administrator
Craig Topham, Copyright & Licensing Associate
Dana Morgenstein, Outreach & Communications Coordinator
Donald Robertson, Licensing and Compliance Manager
Greg Farough, Campaigns Manager
Ian Kelling, Senior Systems Administrator
Jeanne Rasata, Membership Coordinator
John Hsieh, Deputy Director
Matt Lavallee, Operations Assistant
Michael McMahon, Web Developer
Ruben Rodriguez, Chief Technology Officer
Zoë Kooyman, Program Manager
There are, additionally, a number of unpaid and unemployed volunteers working for the FSF.
Certifications
The Free Software Foundation certifies hardware that is free from proprietary firmware and other non-free software as with a "Respects Your Freedom" certification. Hardware certified so far include motherboards like the Talos II Mainboard and Talos II Lite, re-branded Wi-Fi cards, USB audio cards and a limited amount of other hardware.
Current Campaigns
The free software foundation has many long-running area-specific freedom-promoting campaigns including:
History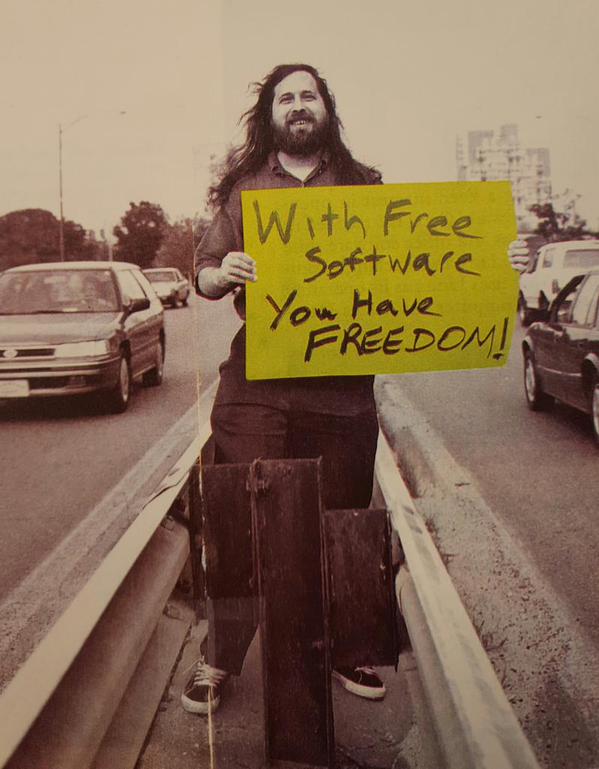 Richard Stallman holding a sign promoting free software.
The FSF was founded by Honorary Doctor Richard Stallman on October 4th, 1985. He remained president until October 2019. Geoffrey Knauth was elected new permanent president of the FSF in October 2020.
Latest FSF-Related News Stories
Footnotes