SeaMonkey 2.53.1 Beta 1 Is Released: Not Fully Abandoned Abandonware
From LinuxReviews
Jump to navigation
Jump to search
FreeBSD declared Seamonkey (and Pale Moon) to be "abandonware" in April 2019. The SeaMonkey Internet Suite is still alive as evidenced by a new beta release on January 18th, 2020. The web browser component uses the rendering engine from Firefox ESR 60.3 and the e-mail component uses code from Thunderbird 60.3. The user interface is still the same classic interface Seamonkey has had for 20+ years with one minor difference: The latest release uses GTK3 to draw it.
written by 윤채경 (Yoon Chae-kyung)  2020-01-19 - last edited 2020-01-19. © CC BY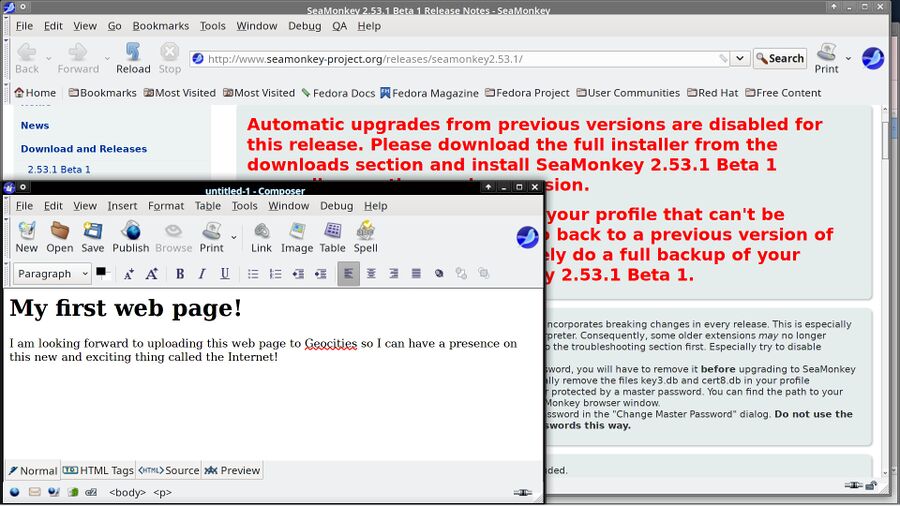 Seamonkey 2.31.1 beta 1 showing its release notes web page and the popular in the days of Geocities web page composer.
SeaMonkey is a continuation of the Mozilla Application Suite which was based on the Netscape Communicator source code open-sourced in 1998. Development has been stagnant for over a decade with occasional releases based on outdated Firefox and Thunderbird versions. The latest 2.53.1 Beta 1 release is no exception. Its web browser component is based on the already outdated Firefox ESR 60.3 release (Firefox ESR 68 was released 6 months ago) and the e-mail component is based on Thunderbird 60.3. The "Composer" component for making static web pages does not appear to have seen much in terms of updated code since the days when Geocities was the dominant web hosting solution.
There is one big change in this new release: The Linux version of SeaMonkey is now using GTK3 to draw the graphical interface.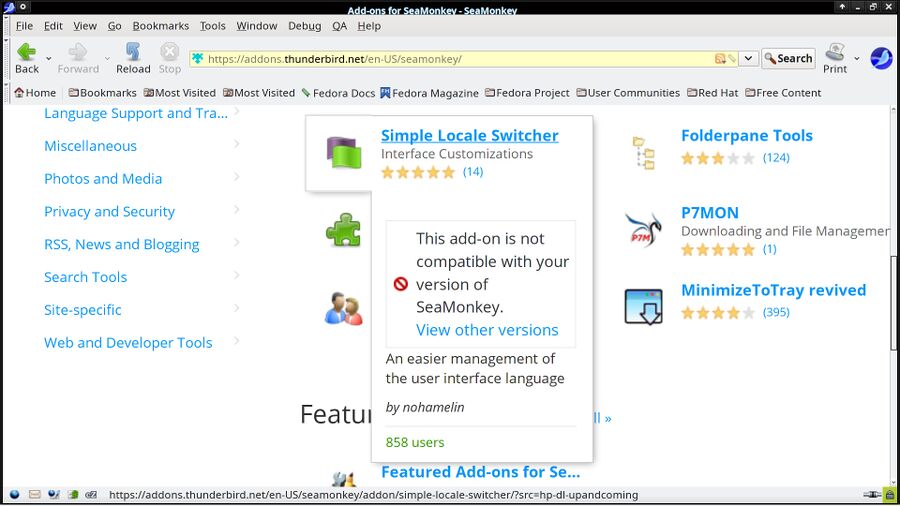 Most existing SeaMonkey extensions will not work with the latest SeaMonkey release. The majority of add-ons will show as "not available" in SeaMonkey 2.53.1 Beta 1.
SeaMonkey 2.53.1 Beta 1 does not support the "Webextensions" based add-ons current versions of Firefox use so Firefox addons are not compatible. Most of the existing SeaMonkey add-ons are also incompatible with this latest SeaMonkey release. The latest "firefox legacy" version of Ublock Origin does work with SeaMonkey 2.53.1 and there are a few other updated extensions which do work in [addons.thunderbird.net/en-US/seamonkey/ SeaMonkeys add-on catalog]. Don't expect all your existing extensions to just work if you use SeaMonkey and you upgrade to the latest version.
FreeBSD called SeaMonkey "abandonware" in April 2019. It's not entirely dead, developers are working on it as evidenced by this release. There is just not that much to be overly excited about in the rare incremental releases.
The SeaMonkey 2.53.1 Beta 1 release announcement is available at seamonkey-project.org/releases/seamonkey2.53.1/.
Versions for Linux, Windows and macOS can be downloaded from seamonkey-project.org/releases/2.53.1b1. The SeaMonkey add-on catalog is at addons.thunderbird.net/en-US/seamonkey/.