SeaMonkey
From LinuxReviews
Jump to navigation
Jump to search
SeaMonkey is a web browser based on Mozilla Firefox LTS releases with a e-mail client, a wildly outdated HTML web page editor and a decent IRC client. It has roots going back to the ancient Netscape Communicator "Internet Suite" from 1997. That suite was re-named Mozilla Application Suite and, again, renamed to "SeaMonkey". You can use it as a daily driver web browser if you really want to, but we can't see a single compelling reason to do so.
Features and usability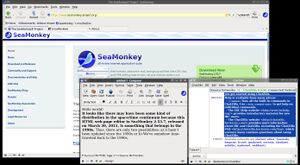 SeaMonkey v2.53.7 with a web browser window and the built-in HTML editor, and the buit-in ChatZilla IRC client.
SeaMonkey is primarily a web browser. The other "applications" in the SeaMonkey "application suite" are there and they can be used to read and write e-mail and chat on IRC. The non-browser parts have barely been maintained the last decade, they are nearly identical to what they were 20 years ago.
The Web Browser
The web browser part of SeaMonkey used to be used on its own thing. The rendering engine in modern 2.5x.x versions use the rendering engine from a recent Mozilla Firefox LTS release. SeaMonkey can render web pages as they should be rendered, and more advanced web pages relying on heavy JavaScript-use work fine.
Support for, or lack thereof, web browser extensions is the biggest flaw in SeaMonkey's web browser functionality. It used to support the same extensions as Firefox. Then Firefox went ahead and deprecated all the good extensions for that browser and required all new extensions to use a new API. SeaMonkey is unable to use these new extensions. This means that only older (outdated) no longer updated Firefox extensions can be used by SeaMonkey. There are some nice gems among those that are available to be used in SeaMonkey, but not current Firefox versions, but it makes it very hard to switch from Chromium or Firefox to SeaMonkey if there are 5-10 extensions you are accustomed to using.
The HTML Page "Composer"
SeaMonkey development has essentially stood still for decades. That is specially noticeable in the non-browser parts of the SeaMonkey "application suite". The HTML page editor is something that would have looked neat and impressive in the early 1990s. Today it's something those who lived through the 1990s can fondly look at as a reminder of those days; it has no other practical purpose what so ever.
There are a few odd bugs in the HTML editor that, if memory serves, were there in the late 1990s when what later became SeaMonkey was known as "Netscape Communicator".
The E-Mail Client
The e-mail client is largely based on older versions of the Thunderbird e-mail client. It has some shortcomings, but it works fine. It can be used to read and send e-mail. There is an address book for it that works alright.
Verdict And Conclusion
SeaMonkey is a .. working web browser based on the same rendering engine Mozilla Firefox uses. It is alright, but there isn't really any compelling reason to use SeaMonkey over Chromium based browsers or, if you want the same rendering engine Firefox uses, plain Mozilla Firefox.
The "applications" in the "Application Suite" aren't all that. These are what constitutes SeaMonkey's value proposition; you get a (barely) usable e-mail client and a barely usable IRC client built right into your web browser. If you compare that to something like NAVER whale, which has built-in video conferencing and much more, then it is hard to argue that the plain and wildly outdated applications in the SeaMonkey "suite" bring much to the table.
SeaMonkey exists, and it can be used as a web browser. That's about the nicest things we can honestly say about it.