Firefox 68 esr released with better Dark Mode, redesigned addons dashboard and more enterprise-policies
From LinuxReviews
Jump to navigation
Jump to search

This is both a regular release and a Extended Support Release which makes it more important than other releases since some distributions tend to use the ESR release for years. It is also the basis for Firefox re-brands like GNU IceCat.
The security vulnerabilities fixed in Firefox 68 appear to be the biggest reason to upgrade. Apparently, earlier versions have a sandbox escape vulnerability, a script injection problem, NPAPI plugins can do cross-origin POST requests and the list goes on and on.
There will hopefully be a new GNU IceCat release based on 68esr soon. IceCat is a GNU re-brand of Firefox ESR releases and the current IceCat is using 60esr.
The other changes in Firefox 68 seem insignificant compared to all the security problems that are fixed.
Better "Dark Mode"
"Dark Mode" is very popular these days. The latest Open Broadcaster Studio version changes the theme to a dark one even if another theme was chosen using an earlier version. Both Krita and GIMP has defaulted to dark themes for quite some time.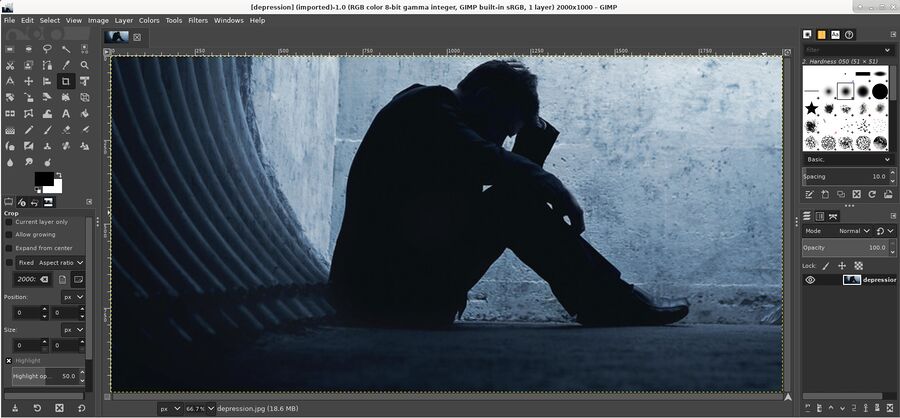 Being sad in a dark corner is very popular these days
GIMPs interface can easily be changed to a happy and colorful one. Luckily, you do not have to do anything to keep Firefox looking colorful and happy on Linux as of Firefox 68. It's sad and depressing dark mode has to be enabled by clicking the small "Reader mode" icon on the toolbar. Then you have to click the Aa control icon and choose Dark. Firefox 68 will now make makes sidebars, toolbars and other controls dark in addition to making the page dark when you enable dark mode. How well it works does depend on the theme, Firefox will not override the theme you are using if it has configured certain aspects.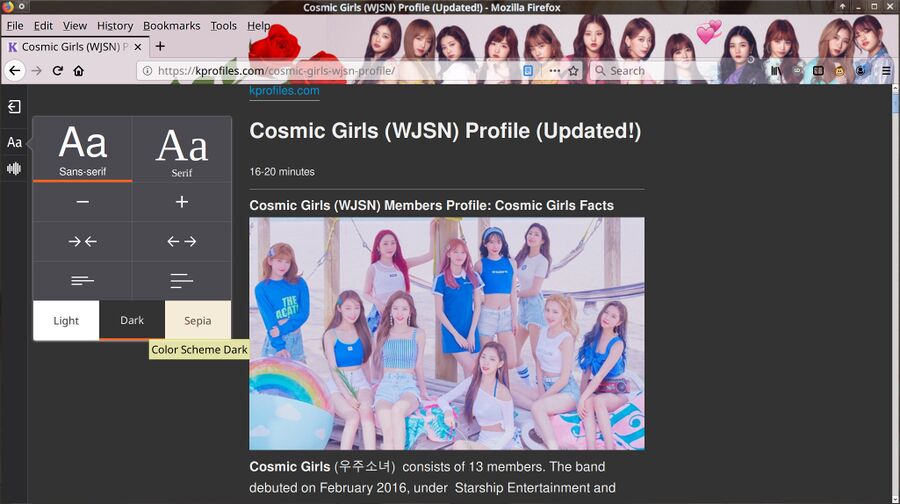 Better "Dark Mode" is among the high-lights of this new Firefox release
New Addons View
The about:addons page for managing Firefox addsons has been changed in several ways:
It has a new "report" feature which can be used to report security and performance issues.
There is also a new feature for viewing what data and settings extensions are storing.
The area below your installed addons is spammed with "recommendations" for additional addons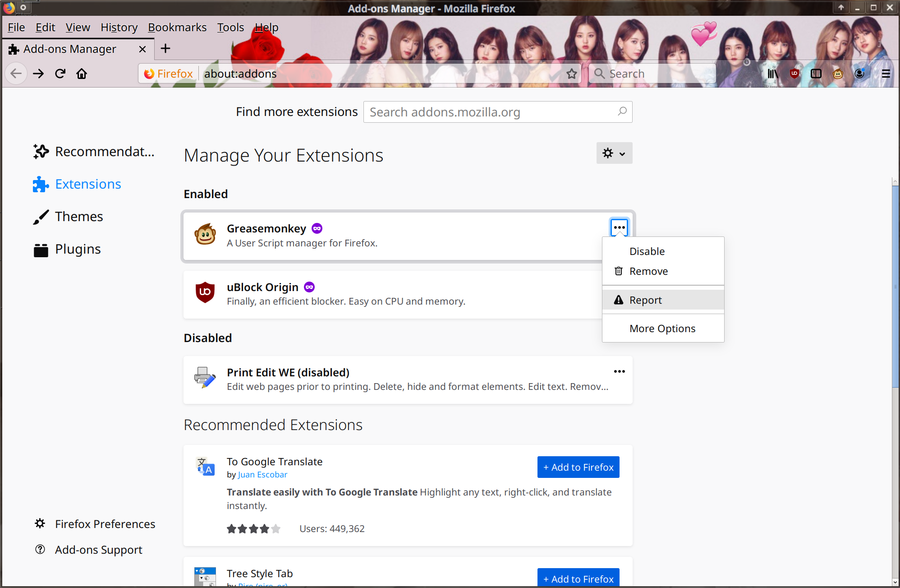 There is, of course, no mention of how Mozilla can remotely disable both addons and the Firefox browser itself "for your protection" on the addons-page. Their back-door is not new to this version of Firefox, it's just still there.
No WebRender rendering by default
Firefox's new WebRender rendering engine is still not enabled by default on Linux. AMD users on Windows 10 will have it enabled by default in Firefox 68. Linux users will still have to visit about:config and set gfx.webrender.enabled to get access to this new rendering technology. The special page about:support will tell you what kind of rendering Firefox is using.
Initial tests of Firefox 68 on a machine with a Intel GPU and a Ryzen machine with a RX570 reveals that Firefox 68 is actually slower when WebRender is enabled than it is when the default "Basic" rendering is used.
More Corporate Control Options
Enterprise IT administrators will be happy to learn that Firefox 68 has several new policies they can use to restrict employees. It is now possible to configure and disable
Local file links
Download behavior
Search suggestions
Managed storage for using policies in Webextensions
Extension whitelisting and blacklisting by ID and website
A subset of commonly used Firefox preferences
New Version, Same Browser
Using Firefox 68 esr for some hours reveals that it's basically exactly the same as it was in version 67. The about:addons page looks slightly different. And that's it. The security issues under the hood are, of course, nice even though they are not noticeable.
You can download the new Firefox 68 from https://www.mozilla.org/ if you do not want to wait for it to land in your favorite distributions repositories. However, if you are going that route you might as well go all-in and grab the bleeding edge Firefox 70.0a1 Nightly from https://www.mozilla.org/en-US/firefox/70.0a1/releasenotes/