Microsoft Edge For Linux Is Here
From LinuxReviews
Jump to navigation
Jump to search

Microsoft kept good on their promise to release a Linux version of their Edge web browser product in October 2020. It's here with packages available for Debian, Ubuntu, Fedora and OpenSUSE. The browser itself is not very unique or special, it's mostly just Chromium wrapped in a Microsoft-skin. There are some Microsoft-specific features tied to Microsoft's web services, and that's about it. Performance is about the same as what you get with other Chromium-based web browsers.
written by 林慧 (Wai Lin) 2020-10-21 - last edited 2020-10-21. © CC BY
Microsoft Edge for Linux has arrived. It is currently available Microsoft's Insider Channel. It's not a secret club, there is a regular download page you can use if you would like to try it.
The current version of Edge Microsoft has made available is based on the very latest Chromium beta version from the Chromium development channel.
The Edge browser starts full-screen with a really slow animation the first time you launch it. It then asks if you want to "send optional diagnostic data" to Microsoft. You have to "Accept and get started" to see what it looks like.
The first thing you will notice when you try Edge is that it looks, feels and behaves just like any other Chromium-based web browser. It's mostly just like Google Chrome, the Brave Web Browser and, to a large degree, NAVER whale. There are some minor differences, but it's nowhere near as extended and customized as NAVER whale is. It's mostly like a plain Chromium with a skin and a slightly different settings menu.
What you see in new tabs in Edge differs from other web browsers. It's got a search bar within the tab, a series of icons acting as short-cut to bookmarks near the bottom and at the very bottom there's a row of topics with links to something called "MSN". It's apparently some kind of mainstream news portal owned by Microsoft. It is possible to scroll down a new tab and get a variety of mainstream news at the bottom of new tabs. That content is provided by that "MSN" website.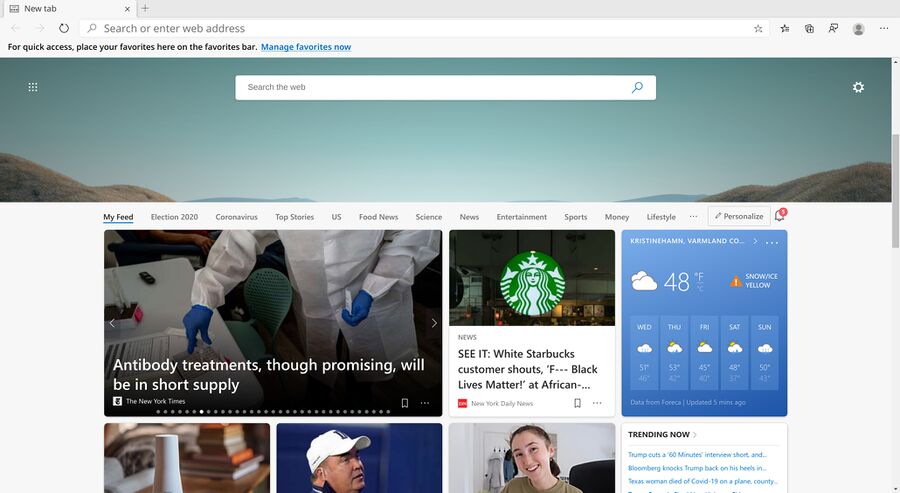 A new not very blank tab filled with one of Microsoft's websites in Microsoft Edge for Linux.
The default search engine is Microsoft's Bing product. That is what you get if type something into the address bar and it's also what you get in the search field in new tabs. It's alright, and it is overall better than Google and notably so when it comes to image-search. Bing isn't as good as Yandex when it comes to image searches, but it is way better than Google who's image search functionality seems to be intentionally crippled.
Microsoft Edge lets you configure search engines but it's not done the way you do it in other web browsers. You can type duckduckgo.com, or any other search engine, into the location bar, go there and right-click the location bar and get a handy little Edit search engines... option to add it and perhaps make it the default search engine in Chromium, NAVER whale and the Brave Web Browser. That's not so in Microsoft Edge, it makes it even simpler: Sites you visit with a search function are added automatically. Actually changing the search engine once one is added is a bit hard unless you know where to look. The option is hidden deep within it's settings. First, open the settings and click Privacy, search and services. There is an option called Address bar and search at the very bottom of that configuration page. Click on that opens a page where you can disable "search and site suggestion" spyware and the very bottom of that page has an option titled Manage search engines. You can set any site you've visited with a search function (including this one) as your default search engine on that page.
Performance
Microsoft Edge for Linux performs just like all the other Chromium-based web browsers. Microsoft Edge version Edg/88.0.673.0 is based on Chromium/88.0.4287.0. That's the "unstable" Chromium version (Chromium 87 is the latest "beta") which makes it newer than the Chromium-engine current versions of Brave and Chrome use. That does not appear to make any difference.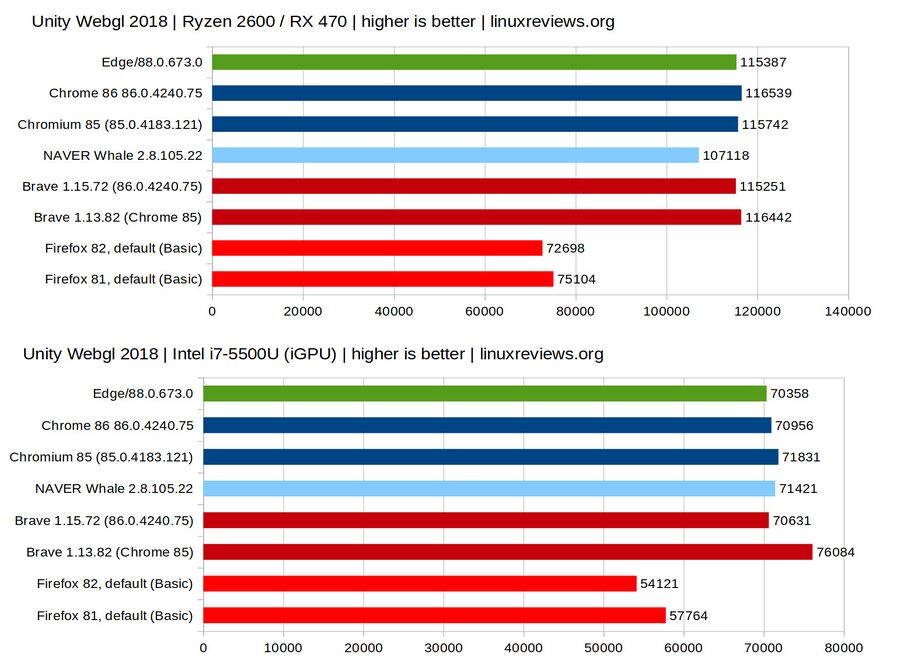 Edge's Unity WebGL 2018 performance is about the same as other Chromium-based browsers.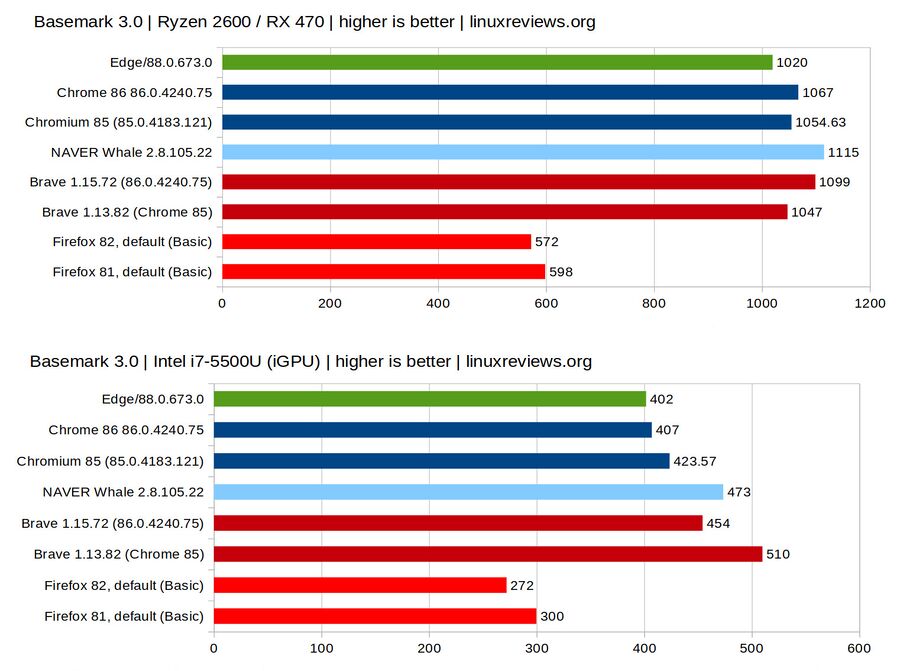 Microsoft Edge performs slightly worse than other Chromium-based browsers in the Basemark Web 3.0 benchmark. The difference is small, there is a much wider gap between Chromium-based browsers and Mozilla Firefox.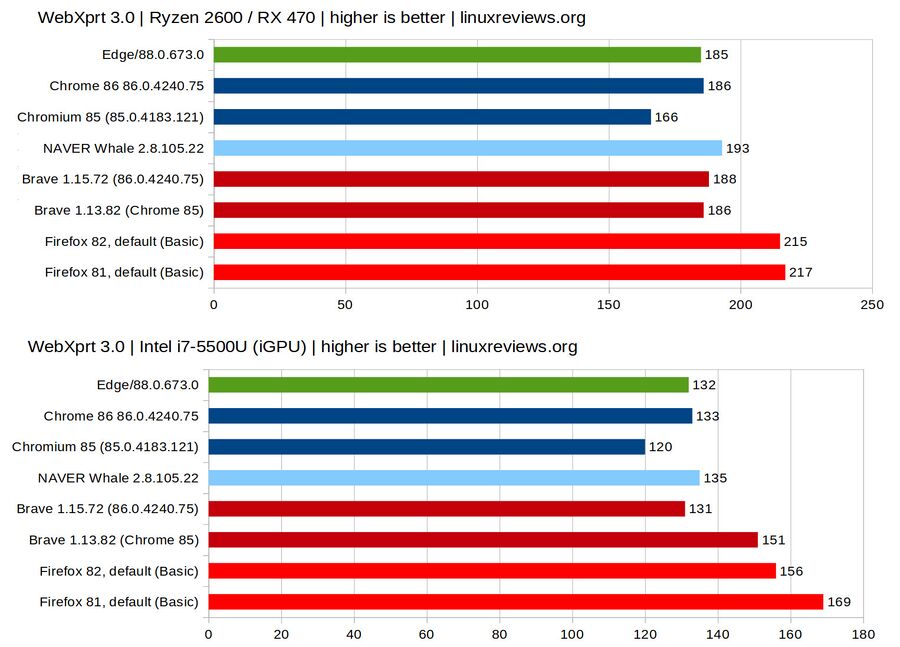 There's no difference between Chrome 86 and Microsoft Edge 88 in the Principled Technologies webXprt benchmark.
Performance isn't everything, some people see other factors like privacy as equally important. That's an area where Edge becomes a tad problematic.
Absolute Spyware
The "terms of service" you have to agree with when you download Edge is a really long document shown in a tiny box. It includes this little statement:
"Data collected from your use of the Previews, including diagnostic, technical, error reports, crash dumps and other related data from your devices running Previews may be used, stored, processed and analyzed to keep Windows and the Previews up to date, secure, and operating properly. It also helps us improve Microsoft products and services and may be used for any other purpose described in the Microsoft Privacy Statement."
Microsoft Edge ToS
That's something you need to agree to just to download it. Then there's a box that appears the first time you launch it where you have to Accept and get started. There is a little check-box you can uncheck that says "Help Microsoft improve our products by sending optional diagnostic data" in that box.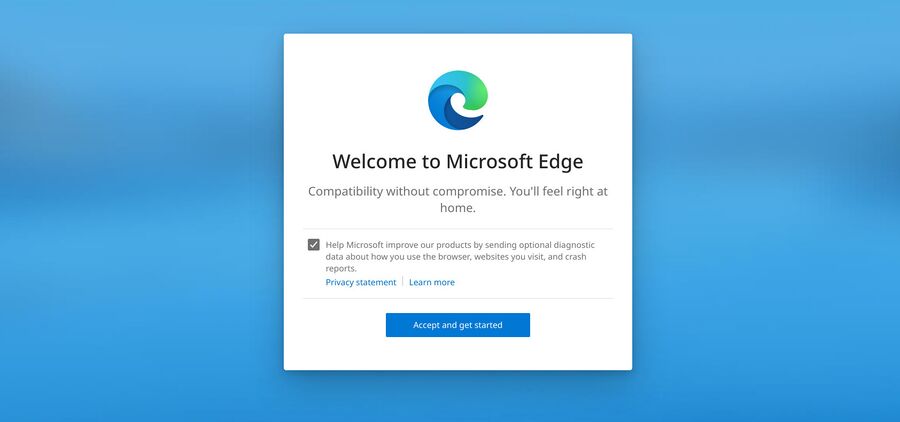 Microsoft Edge demands that you "Accept and get started" the first time you launch it.
De-selcting "Help Microsoft improve our products by sending optional diagnostic data" doesn't make a huge difference. If you install Edge and go to Edge's settings and click Privacy, search and services you'll see that it sends information anyway. You can't actually change search engine settings in that section (there is a link to another page at the bottom), but you can configure "tracing prevention" and enable the do not track browser header and some other options on that configuration page. There's also this statement among the configuration options with no off-switch next to it:
"Required diagnostic data
Microsoft collects required diagnostic data to keep Microsoft Edge secure, up to date, and performing as expected. Microsoft Privacy Statement"
edge://settings/privacy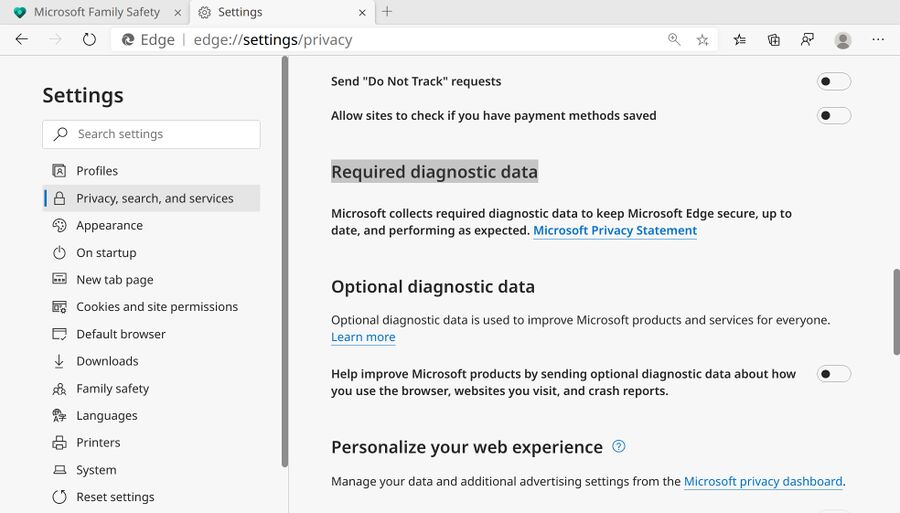 Microsoft must have their diagnostic data. There's no opting out.
It looks very much like Microsoft Edge gives you the option to opt-out of diagnostic data collection when you start it even though there is, in reality, no opting out. What Microsoft considers "diagnostic data" is somewhat unclear.
There's also some privacy-issues with some of the few special Edge-only features that are not found in other Chromium based web browsers. There is a Family safety option in the browsers settings where you can get Activity reports so you can "See what websites your kids are visiting on Microsoft Edge, and what they search for on Bing". Pressing the fine blue Get started now takes you directly to Microsoft's website where you're asked to Sign in. The data collected by this spyware feature appears to be tied to a Microsoft account and it looks very much like the data would be collected by and managed by Microsoft if you sign up for this feature.
Data collection and very long "terms of service" big corporations hope nobody reads is pretty common in the Windows world. It's not that common in the free software world so it does raise a questionmark. It is to be expected from a Microsoft product, but it's something free software users should be aware of and consider. The Edge browser is, of course, not free software, it is freeware, "free" as in zero price under a draconian proprietary software license.
You can download Microsoft Edge from the microsoft insider website's download page if you want to try it. There's a deb package for Debian and Ubuntu and a rpm package for Fedora and openSUSE. Do be aware that it installs a .repo file which is used to update it. That may be good or bad depending on how you look at it. It's not unique, Brave and Google Chrome do the same and it is a practical way of ensuring that it's updated once new versions are released. You can delete the repo file (or uninstall Edge) if you consider that to be an issue.