Mastodon 3.1.0 Is Released With Bookmarks, UI animations And More
From LinuxReviews
Jump to navigation
Jump to search

The latest version of the free Mastodon social media software has a ton of new features including follow request notifications, group actors, new animations in the web user interface, download buttons in the audio and video players and a lot more. There's also many new server-side features. Several social media websites running the Mastodon have already upgraded to 3.1.0.
written by 윤채경 (Yoon Chae-kyung)  2020-02-09 - last edited 2020-02-09. © CC BY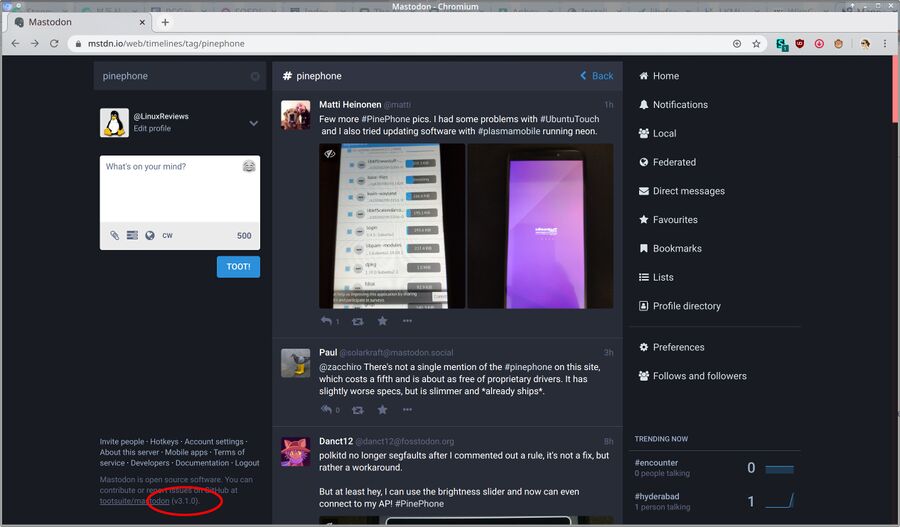 Mastodon is a free software social network microblogging platform.
Running a Mastodon social media service is not for everyone, the hardware requirements for participating in a very active federated social media network are quite high (32+GB RAM, lots of storage for media, etc) and there are a lot of software components to configure. Everyone can easily sign up to one of the many fediverse servers who are mostly running Mastodon and use that as an alternative to Twitter or other commercial social media microblogging platforms.
The latest Mastodon release has a long changelog with new features, many of which are user-facing. There are new animations in the user interface. Posts can now be bookmarked. They can still be "Favored" as they were in previous versions. The difference is that favoring a post notifies the post author, bookmarking it will silently place it in your personal bookmark list without notifying anyone. Downloading audio and video from posts is easier, there is now a dedicated download button for doing that. It won't work if a post has a video clip from a third party source like YouTube, that feature is only for videos that are uploaded to a Mastodon server.
A lot of the new features are on the administrative side of things. Those who are running their own Mastodon server can take a look at the long changelog see what changes there are when it comes to environment variables, configuration options and so on. There's also some REST API changes developers of mobile applications for Mastodon will want to look at.
mstdn.io, mastodont.cat (in Catalan language) and theres.life are among the public Mastodon instances who have upgraded to Mastodon 3.1.0. mstdn.io is the only one of those who allow public registrations. You can sign up to mstdn.io if you never heard of Mastodon and you want to see how a free software based social network compares to those controlled by large for-profit corporations running proprietary closed source software.