Kdenlive 19.04.1 released and available
From LinuxReviews
Jump to navigation
Jump to search

The latest version of the best timeline video editor for Linux fixes 39 bugs, some of which were bad. The unacceptable timeline preview problems and rendering issues plaguing the 19.x.x series are fixed in this version. Users of the 19.x series are encouraged to upgrade.
Most distributions are still shipping the Kdenlive 18.x series, so this may not affect you. You can install Kdenlive 19.04.1 through an AppImage available from the KDE servers at
You can also get it by cloning git://anongit.kde.org/kdenlive.git but that does require installing a lot of development packages.
What's new in 19.04.1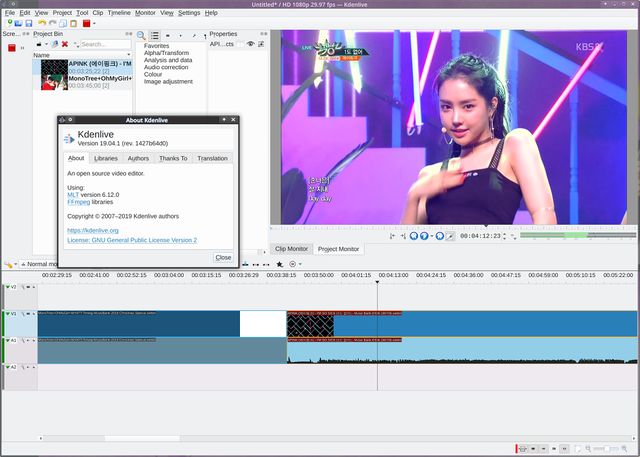 Search effects from all tabs instead of only the selected tab
Add missing lock in model cleanup.
Move levels effect back to main effects.
Fix crash closing project with locked tracks. Fixes #177.
Speedup selecting bin clip when using proxies (cache original properties).
Disable threaded rendering with movit.
Fix wrong thumbnails sometimes displayed.
Ensure fades always start or end at clip border.
Fix loading of clip zones.
Fix transcoding crashes caused by old code.
Fix fades copy/paste.
Fix broken fadeout.
Fix track red background on undo track deletion.
Update appdata version.
Zooming in these widgets using CTRL+two-finger scrolling was almost. Fixes bug #406985
Fix crash on newly created profile change.
Always create audio thumbs from original source file, not proxy because proxy clip can have a different audio layout.
Mark document modified when track compositing is changed.
Fix compositing sort error.
Fix crash opening old project, fix disabled clips not saved.
Fix crash and broken undo/redo with lift/gamma/gain effect. Fixes #172.
Fix clip marker menu. Fixes #168.
Fix composition forced track lost on project load. Fixes #169.
Fix spacer / remove space with only 1 clip. Fixes #162.
Fix timeline corruption (some operations used a copy of master prod instead of track producer).
Check whether first project clip matches selected profile by default
Renderwidget: Use max number of threads in render.
Fix razor tool not working in some cases. Fixes #160.
Better os detection macro.
Remove crash, not solving 1st startup not accepting media (see #117).
Remove unneeded unlock crashing on Windows.
Some fixes in tests.
Forgotten file.
Improve marker tests, add abort testing feature.
Add tests for unlimited clips resize.
Small fix in tests.
Fix AppImage audio recording (switch from wav to flac).
Dont remember clip duration in case of profile change. Fixes #145.
Fix spacer broken when activated over a timeline item.
Improve detection of composition direction.
Unconditionnaly reload producers on profile change. Related to #145.
published 2019-05-12 -  last edited 2019-06-22