It's Over, The Linux Journal is Gone
From LinuxReviews
Jump to navigation
Jump to search

The LinuxJournal was around from 2004 until they were forced to close their doors for good back in August 2019. Their website was kept alive, without updates, and the very large archive of articles published on the web over the many years of it's existence remained available - until late Friday when it suddenly went dark. That's a sad end for the 25 year old publication which pioneered GNU/Linux reporting.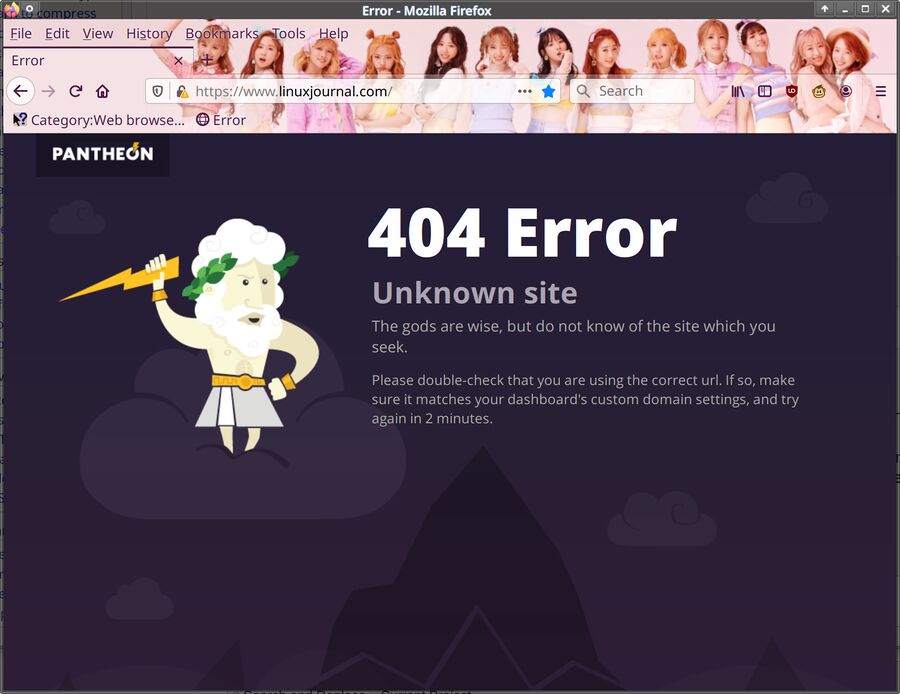 The LinuxJournal's website presents a invalid certificate. Ignoring that certificate error brings you to a dark and depressing 404 Error page.
Kyle Rankin promised to keep the website alive for "the next few weeks, hopefully longer" in the LinuxJournal's Good-Bye letter when the LinuxJournal closed down early August 2019. Those "few weeks" are apparently up leaving services like the waybackmachine as the only means of accessing all the articles the Linuxjournal published in it's 25 years of existence.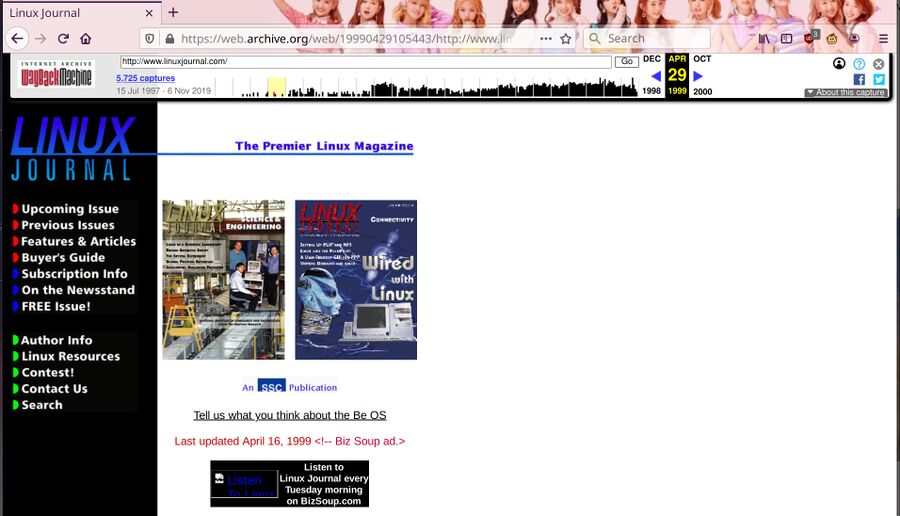 A snapshot of the LinuxJournal's website in 1999.
The Internet Archive has many, but not all, articles published by the LinuxJournal. It is possible to find the announcement of the first time they were closing down back in 2017 as well as their final good-bye letter in August 2019 after the funding from Private Internet Access, who stepped up in 2017 and kept them alive for two more years, ran out. Most of their large catalog of HOWTOs are accessible and it appears that most of their news stories are archived.
It is quite sad that The LinuxJournal's had to turn both the lights and the web servers off. But it's somewhat understandable, Free Software Enthusiasts are The Worst when it comes to AdBlocking and the market for Linux-related news is limited to begin with. Steam's numbers from their monthly hardware surveys indicate a GNU/Linux desktop market share of less than 1%. The LinuxJournal had a staff to pay and couldn't generate enough revenue to do so by writing articles about free software, and nor can we (which is why this site has remained a hobby, not a job, since it's inception in 2004). That's just the way it is.
The Linux Journal will be missed.