GNOME Maps
From LinuxReviews
Jump to navigation
Jump to search

GNOME Maps is a free software map application capable of showing a simple map using the OpenStreetMap map database. It has a regular map view, a satellite map view and a route planner which is useless for practical purposes. It has search bar on top of the map screen. There is no offline support, using the application requires a preferably fast Internet connection. There are no advanced features, no configuration options or anything beyond the bare-bone basics already mentioned. You can use GNOME Maps to lookup a location and see it on a map and that's it.
Features And Usability
GNOME Maps is, like all GNOME software, made for the tablet-like GNOME desktop environment with no regard for how it works on desktop and laptop desktop environments like Xfce and KDE Plasma. The interface is therefore very simple compared to what you would expect from a desktop application.
GNOME Maps has a search bar on the top of its window which can be used to search for streets, buildings, cities and so on. It works once you know how to get by one rather annoying bug: Adding a space after a search query is, in many cases, required to get search results. As an example, typing "Bergen" into the search box will not show that city but "Bergenspacebar" will.
The search function uses the graphhopper.com Internet service to lookup results. Just typing a letter into the search box results in Internet traffic to and from that site. The map tiles are also pulled from the Internet on the fly, tiles are downloaded from the commercial map tile provider mapbox.com when they are needed. GNOME Maps can not be used for anything at all without a Internet connection.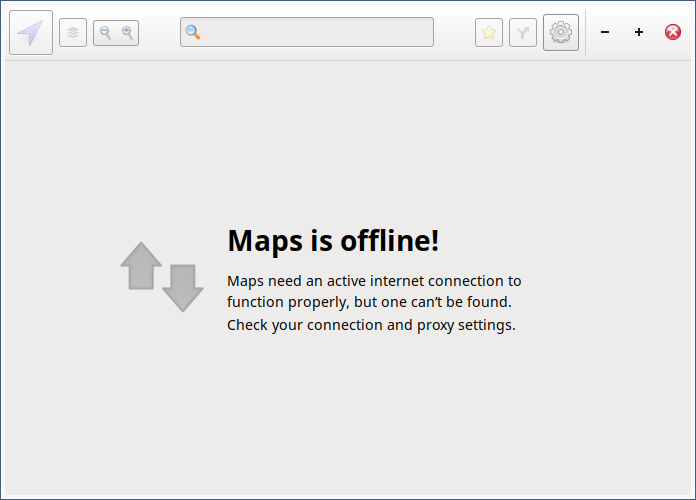 GNOME Maps is useless without a Internet connection.
The interface has a smartphone-style hamburger menu in the upper right corner with the options of logging into an OpenStreetMap account and viewing the keyboard shortcuts. There is no preferences option or anything else in that menu. There is also an icon which opens the route planner in the upper right corner. This feature is entirely reliant on the same graphhopper.com Internet service GNOME Maps uses to provide search-results.
The upper left corner has a button which can be used to switch between a plain map view and a satellite view and zoom in and zoom out buttons. Zooming the map in and out can also be done by scrolling the mouse wheel.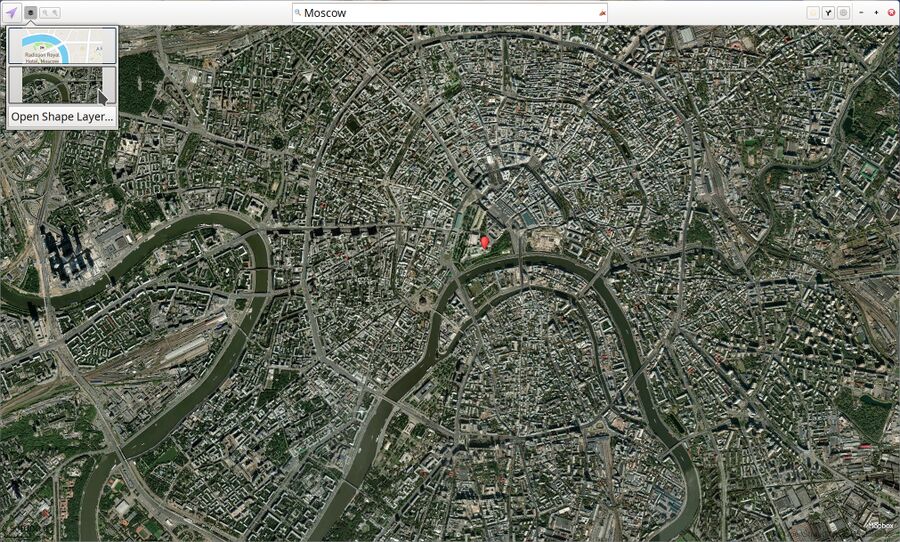 The satellite view in GNOME Maps.
Location-Support
GNOME Maps can show you current location on the map. GNOME "About Maps" story is that
""If your privacy settings allows, Maps will use the GeoClue service to find your location. And if you have a Facebook or Foursquare account we allow you to check-in there. ""
GNOME Maps does not have any such privacy settings (or any settings whatsoever). It may or may not be possible to change such a setting in some GNOME desktop setting. Your location is looked up using the GNOME GeoClue library which is essentially just a front-end for Mozilla's online "Location Service".
Planning Routes
A button in the upper right corner makes a route planner pop-out on the right side of the screen. Typing anything into the start and destination fields brings up a list of possible locations. The results are shown in a box which is limited to the narrow size of the search fields.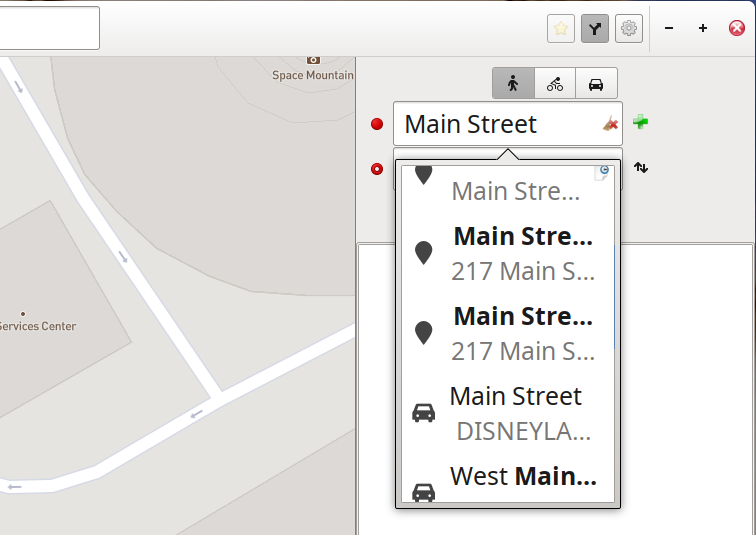 The GNOME Maps route planner.
The result of the very narrow search results view is that it is impossible to see any details. The result list is the same as the one you get in the main search box. The result list box you get when you search using the main search box is wider (since that search field is wider), it is large enough to see where in the world a street you are searching for is. The route planners search result list is simply too narrow to see important details like what city or country a street you are searching for is in. This minor detail makes the route planner completely useless for all practical purposes.
Verdict And Conclusion
GNOME Maps is fine if you want to look up some location on a map while you are connected to the Internet. Don't expect to be able to do use it for anything beyond that. You can't install it on a laptop and bring that along with you and use it to look up something on a map, GNOME Maps is barely more than a specialized web browser. The too narrow results fields in the route planner makes it impossible to get the right start and destination points set which makes that feature useless.
GNOME Maps may be worth installing, you can use it to lookup locations on a map. You can just as easily, and in many cases easier, on a number of websites. GNOME Maps is, as already mentioned, barely more than a specialized web browser anyway.
Installation
GNOME Maps is available in most GNU/Linux distributions repositories as a package called gnome-maps.
Alternatives
Marble is a "virtual globe" program written using the KDE libraries. It can be used as a map program and it does support route navigation. It is not great for either of those things.
There is no really good free software GNU/Linux desktop alternative for maps and navigation. The best option, if you have a Android phone or tablet, is to install the Android map program OSMand from the F-Droid catalog. OSMand allows you to download maps and use them for navigation and route planning without any Internet connection and it is way more advanced than GNOME Maps in every way. There is, sadly, nothing like OSMand available for desktop computers.