GIMP Starts Offering Nightly GIMP 3.0 Pre-Release Builds, But Only For Windows
From LinuxReviews
Jump to navigation
Jump to search

The GNU Image Manipulation community is rapidly moving forward to a big 3.0 release, using GTK+3, with a lot of development going on behind the scenes. It may not appear that way since the 2.10.x branch releases have been slow incremental releases with a few big and small features added for years now. Big things have been happening and the GIMP community is highlighting that by offering nightly snapshot builds of the upcoming GIMP 3.0 release. There's currently only nightly packages Windows users. Nightly Flatpak releases for GNU/Linux users are planned.
written by 윤채경 (Yoon Chae-kyung)  2020-10-04 - last edited 2020-10-04. © CC BY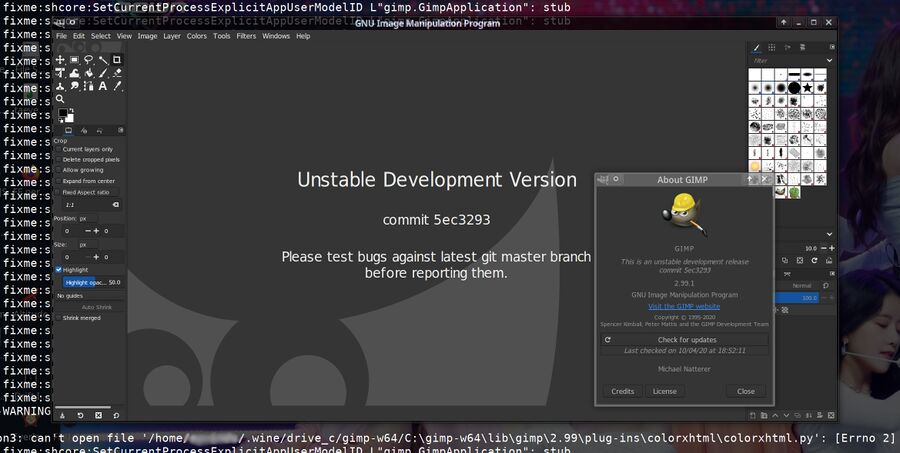 GIMP 2.99.1 Nightly for Windows in Wine 5.18.
A lot of development has been put into the next big 3.0 GNU Image Manipulation Program release behind the scenes while the stable 2.10.x branch has not seen a huge amount of change the last few years.
The GNU Image Manipulation Program team has now begun making nightly snapshots available for those who want to know what the next-generation GIMP will be like. The snapshots are, for now, only available in the form of zipped Windows 32 and Windows 64 packages.
GIMP 3.0 uses GTK+3 instead of the now aging GTK+2 toolkit. GIMP 3.0 brings a lot of new features to the table beyond that defining feature. There is a new extension format called "GIMP Extensions". These are archives with data GIMP can use to extend it's functionality. This new format can package brushes, including MyPaint brushes, dynamics, patterns, gradients, palettes, tool presets, plug-ins, splash images and themes. These new extensions will be managed by a brand new "Extension Manager". The new Extension manager, available in Edit ▸ Manage Extensions, lets users easily install, enable, disable and uninstall the new class of "GIMP Extensions".
The new extensions format does have a small downside: Older plugins for GIMP 2.10.x and below will no longer work. Extensions will have to be ported to the new API to remain functioning.
GIMP 3.0 will have full support for the Wayland display server on GNU/Linux. Xorg support will remain available for those who prefer to use that and/or desktop environments that can not be used with the Wayland display server.
"GIMP is fully community-developed"
Jehan, who is familiar with GIMP development
on #gimp at irc.gimp.org, October 4th, 2020
The GIMP community does currently not have any plans to implement high-quality up-scaling using algoritms like waifu2x or RealSR to the GNU Image Manipulation Program. They welcome any implementation if anyone wants to add such functionality.
"The GIMP developers welcomes researchers that want their research widely deployed to develop scalers that work in GIMP"
pippin, who is familiar with GIMP development
on #gimp at irc.gimp.org, October 4th, 2020
GIMP 3.0 brings multi-layer selection. It is now possible to select multiple layers in the GIMP nightly version and many tools and features have become multi-layer selection aware. That functionality required a change to the XCF file format GIMP uses. It too has gained support for multi-layer selection.
Automatic layer boundary management is another big addition coming in GIMP 3.0.
All the code in GIMP 3.0 is now fully year 2038-safe. The Year 2038 Timestamp Problem is a Unix/Linux specific problem that will affect any software storing the seconds elapsed since January 1st 1970 in a signed 32-bit integer when that integer rolls over on January 19th 2038. GIMP 3.0 will keep on working thanks to the many improvements in this area over the last year.
GIMP 3.0 brings new "Metadata Rotation Policy" and "Color Profile Policy" options to the Preferences. The "Color Profile Policy" allows users to set color policies that become available in the import dialog. The new "Metadata Rotation Policy" preference allows users to choose between Ask what to do, Discard metadata without rotating and Rotate the image then discard metadata.
The most obvious user-interface change in GIMP 3.0 is the port to GIMP ToolKit version 3 (GTK+3). But that's not all. GIMP 3.0 has proper HiDPI support which makes all widgets follow system-wide scale factor settings. There is one slight downside to the new user-interface: Older GTK+2 themes will no longer work with GIMP 3.0. There are many GTK+3 themes available, so that should not be a huge issue. GTK+3 themes can have a light and a dark variant. GIMP 3.0 supports such themes with a new Preferences ▸ Themes ▸ Use dark theme variant if available checkbox. This makes it possible to use a themes light variant system-wide and have GIMP prefer the dark variant. The CSS theme support supports icons too, symbolic icons are recolored according to the themes colors. Theme elements marked with !important are an exception.
Vastly improved device management is another big high-light in GIMP 3.0. GIMP 2.10.x requires you to have drawing tablets and other devices plugged in when you start GIMP. That is no longer the case with GIMP 3.0. It will auto-detect devices when they are connected and enable them automatically, there is no longer any need to go Configure Input Devices or do anything else; tablets just work. They can, of course, be unplugged and re-plugged while GIMP is running with no issues.
Nightly GIMP 3.0 pre-release snapshots for Windows can be acquired using the following links:
Those links acquire zipped archives that can be extracted to gimp-w64 or gimp-w32 folders with the bleeding edge GIMP master branch. The 64-bit Windows version does run in Wine 5.18 but it does not run well, it crashes if you do something as simple as opening the Preferences dialog. These packages are best suited for those who use actually use Windows.
The GitLab page gitlab.gnome.org/GNOME/gimp/-/jobs offers an overview of the build status for the nightly Windows packages.
A nightly Flatpak offering for GNU/Linux users is planned. There is also hope that nightly AppImage packages for GNU/Linux will become available in the near future.