Digital Currencies $2 Trillion Market Cap As Bitcoin And Ethereum Surge Above Key Levels
From LinuxReviews
Jump to navigation
Jump to search

The free software based digital currency Ethereum (ETH) is currently hoovering above $2000 after surging above it for the first time ever on April 2nd. The move, coupled with a surge in Bitcoin (BTC) and other smaller free software based digital currencies, has put the total market cap of alternative digital currencies right below the $2 trillion mark.
written by 권유리 (Kwon Yu-ri)  2021-04-04 - last edited 2021-04-04. © CC BY

Ethereum price chart January to April 2021.
The Ethereum (ETH) currency surged above $2,000 for the first time ever on Friday following recent gains following a Reuters announcement by the American VISA corporation that they will allow settlements in the digital "stable-coin" USDC currency on its payment network. USDC is a token on the Ethereum that is supposedly backed 1:1 with "real" USD.
The recent ETH price gains have also been helped by billionaire investor Mark Cuban, who recently admitted that he owns "many" Ethereum tokens. Cuban has praised its smart contract features that be believes will create a booking decentralized finance and non-fungible tokens sector.
"That's what changed the game. That's what got me excited. [And] that's why it's a lot like the internet."
Mark Cuban on
CNBC
, April 1st, 2021
The average transaction fee for a single Ethereum transaction has been ranging between $12 and $22, with spikes up to $38, since January 2021. It is not unreasonable to question what kind of "smart" transactions Cuban imagines that it makes sense to do on a settlement system which is that expensive to use. The reality of the fundamentals does, of course, not matter if a couple of billionaires are willing to buy everything that comes to market.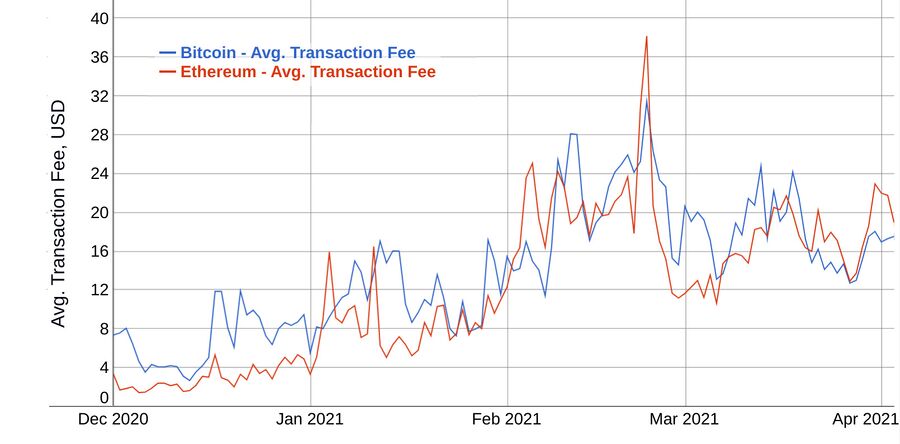 Bitcoin and Ethereum transaction fees January to April 2021. Source: bitinfocharts
Mr. Cuban's digital currency portfolio comprises 70 percent Bitcoin, 30 percent Ethereum, and 10 percent smaller cryptocurrencies.
The amount of ETH held by digital currency exchanges has, like BTC, been dropping sharply this year as larger investors have been buying and withdrawing digital currency.
Bitcoin (BTC) has been hoovering around $60,000 after surging to $61,800 in March.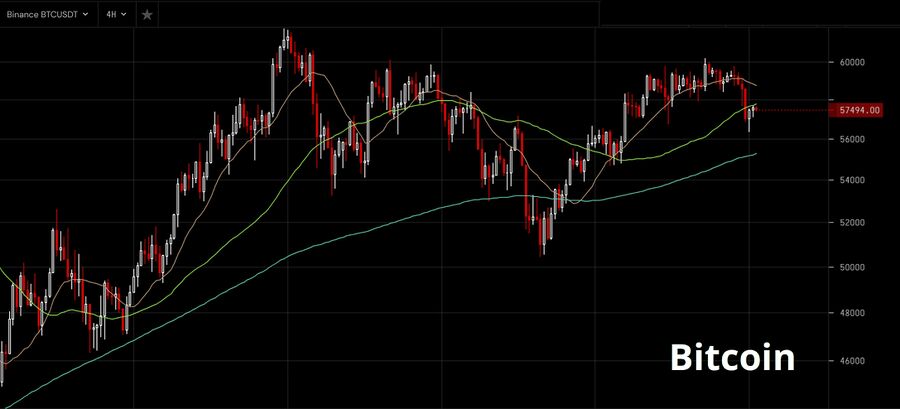 Bitcoin price March-April 2021.
The American financial firm Morgan Stanley revealed that 12 of its mutual funds have indirect exposure to Bitcoin via cash-settled futures int he Grayscale Bitcoin Trust in a SEC filing on April 1st. This helped Bitcoin's price somewhat, yet Ethereum is currently outperforming it.
The combined gains Bitcoin, Ethereum and smaller free software based digital currencies like Monero have had the last few weeks has helped push the total market cap of alternative digital currencies up right below the $2 Trillion total market cap mark.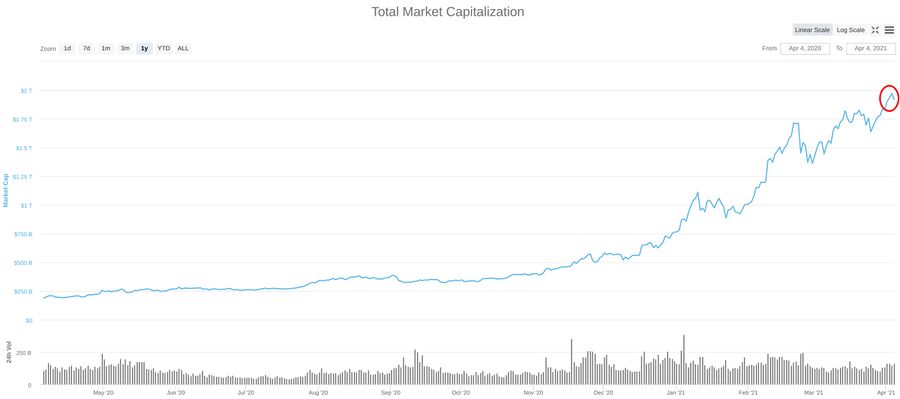 Total digital currency market cap from May 2020 to April 2021. Source: coinmarketcap.com
Bitcoin (BTC) is currently the 8th largest assets in the world, just behind silver's total market capitalization. The Bitcoin currency is now worth more than Facebook. That isn't bad for a small free software project created by an anonymous author, or authors, in 2009. Etherium is the 45th largest asset, just ahead of Coca-Cola and a hair behind Netflix.
Regardless of what you may or may not think about alternative digital currencies, or "crypto-currencies", in general: Bitcoin and Ethereum are, in terms of measurable financial value, the most successful free software projects in history. It is a shame that they have become practically useless investment/speculation vehicles for billionaires who have no idea what the free software movement is about or why the free software nature of digital currencies is what made their huge financial success possible.