deepin 20 Is Released
From LinuxReviews
Jump to navigation
Jump to search

The Chinese Wuhan deepin Technology Corporation has released a new major version their Debian-based Linux operating system featuring their custom unique deepin Desktop Environment. deepin 20 comes with a base system based on Debian 10.5 Buster with special deepin packages on top. deepin 20 offers a wide variety of user-friendly custom applications written specially for deepin in C++ using Qt and the "deepin Tool Kit" (DTK). It is available in most languages, not just Chinese. We have reviewed it and found it to be a excellent and well-polished Linux distribution.
written by 林慧 (Wai Lin) 2020-09-18 - last edited 2020-09-18. © CC BY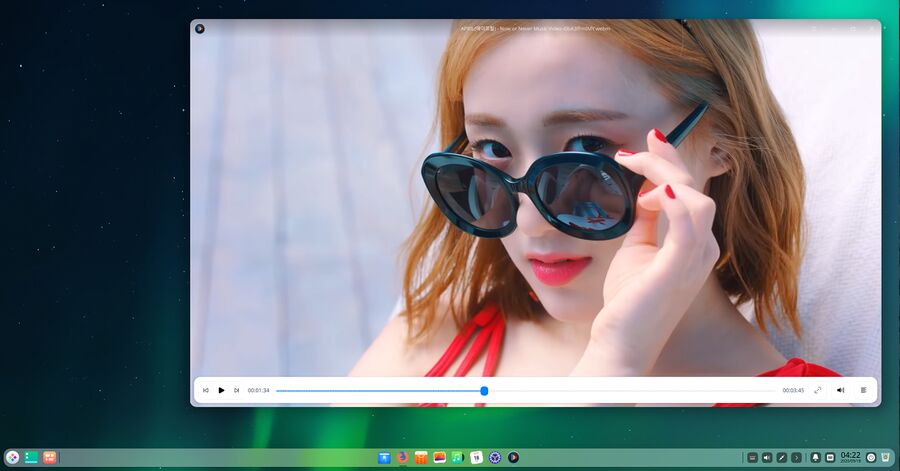 deepin 20 with the deepin Video player playing April's wonderful hit "Now or Never".
The Chinese-made deepin Linux distribution is in many ways unique when it is compared to Western-made Linux operating systems. It is also similar and familiar in some ways. The new deepin 20 has a base system based on Debian Buster 10.5 so Debian, Ubuntu and Linux Mint users will be familiar with how it works beneath the hood.
The graphical user-interface is what really separates deepin from other distributions. deepin has it's own unique deepin Desktop Environment. The desktop and the applications built for it are written in C++ using the deepin Tool Kit (DTK) which is, in turn, built using the Qt framework. DTK is in some ways similar to the KDE Frameworks the KDE Plasma desktop environment leverages.
deepin 20 brings a lot of new features existing deepin users will enjoy. There's support for dark themes the color temperature management configuration has been improved. The notification center has been re-vamped with support for playing sounds on configurable notifications and support for muting less important applications.
The deepin 20 installer lets you choose between the Linux 5.4 LTS kernel or the now upstream EOL Linux 5.7 kernel. It is a bit odd that they didn't go for Linux 5.8 instead of 5.7 as Linux 5.7 reached it's end of life before deepin 20 was released.
Those who have laptops with fingerprint scanners may or may not be happy to know that deepin 20 has a really nice new interface for adding fingerprint identification to user-accounts. Fingerprint identification can be used to login, unlock the screensaver and sudo. The Chinese claim that a "variety of fingerprint readers are supported". The sad truth is that there is also a too large variety of fingerprint sensors that are not supported by the Linux at this time. There are projects like egis0570 trying to make a working driver for EgisTec fingerprint sensors and libfprint-tod trying to create general support for touch-based sensors. None of those have come very far. The fingerprint identification features in deepin 20 are great if you happen to have a laptop with one of the few fingerprint sensors that are supported, but don't expect there to be more than a one on three chance that a fingerprint sensor can be used for anything at all on deepin 20.
Many of the special deepin applications made specifically for the Deepin Desktop Environment have been polished and updated since the last release. Deepin Screnshot and Deepin Screen Recorder has been merged into "Screen Capture". The deepin Document Viewer, Voice Notes app, Draw, Archive Manager and the App Store have all been improved.
You can read our full review of deepin 20 by clicking here.