AMD Reveals Picture Of RX 6000 Series GPU With 2 8-Pin PSU Connectors
From LinuxReviews
Jump to navigation
Jump to search

AMD has revealed a single picture of a RX 6000 series graphics card with three fans and two eight-pin power connectors. They shared no details beyond it being a "upcoming #RDNA2" card with a "brand new cooler design". What we can educationally guess from the latest Linux kernel code is that these cards will have sdma 5.2 and new a new display core called "Display Core Next 3.0".
written by 권유리 (Kwon Yu-ri)  2020-09-16 - last edited 2020-09-16. © CC BY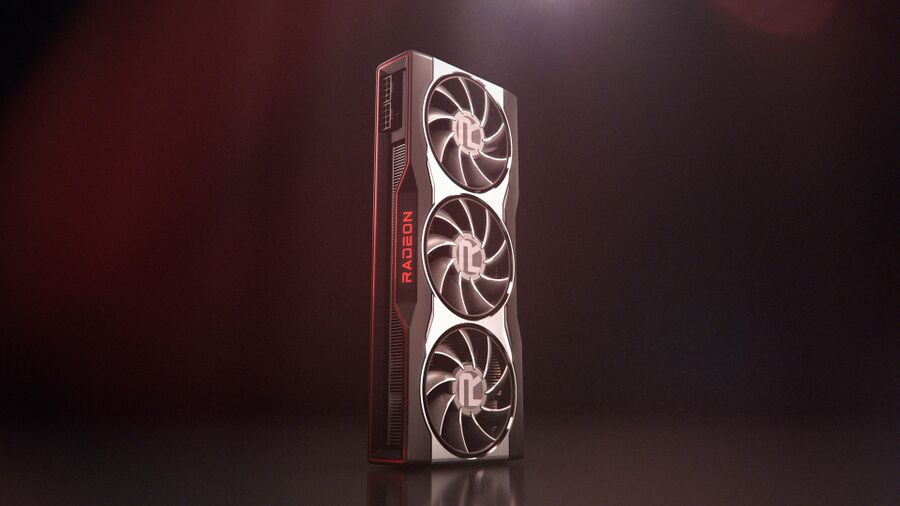 Mysterious new AMD graphics card.
AMD's marketing department had this to say about the one picture they chose to share:
"Take a first look at the design of the new Radeon RX 6000 series. Our upcoming @AMD #RDNA2 graphics cards will feature a brand new cooler design, and you can study every angle yourself on our Fortnite Creative Island. 8651-9841-1639."
"Radeon RX" On Twitter
September 14th, 2020
AMD added support for some mysterious new CHIP_SIENNA_CICHLID and CHIP_NAVY_FLOUNDER cards to Linux 5.9 rc1. Those chips use sdma 5.2 and they have a brand new Display Core Next 3.0 display core. Both are part of the Navi AMDGPU_FAMILY_NV GPU family. It seems likely that one or both of those chips is what will be marketed as "RX 6000" series graphics cards.
A screenshot sent by a proprietary software user who looked at the card on something called "Fortnite" shows that the card has 2 DisplayPort connectors, one HDMI connector and one USB type C connector on the back.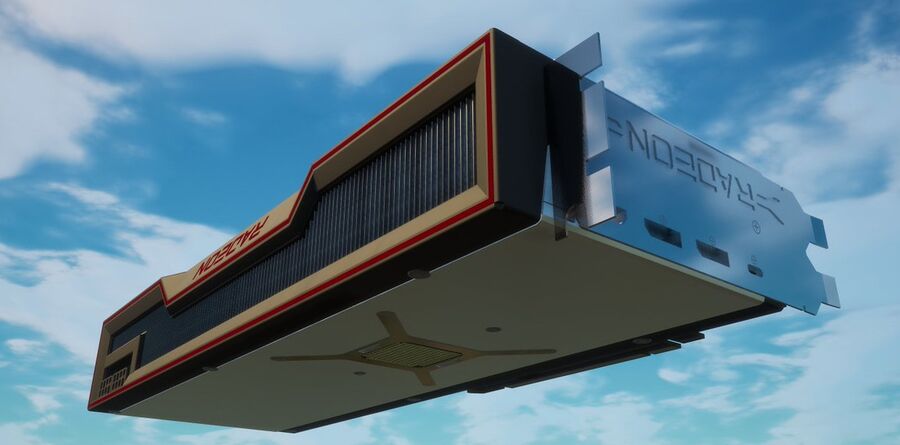 Mysterious new AMD RX 6000 series GPU in something called "Fortnite".
The RX 6000 unveiling comes about 10 years after AMD released their "HD 6000" series cards in October 2010.
The two 8-pin PCIe power connectors may indicate that the pictured RX 6000 series card will be somewhat power-hungry. A PCIe x16 slot can provide up to 75W. A single 8-pin power connector can provide 150W. That adds up to a 375W maximum theoretical power draw. That's a lot, but it's not unprecedented.
The Linux kernel support added to Linux 5.9 combined with some new Mesa in Mesa 20.2 could mean that these cards will work fine on Linux as launch. That is, obviously, just a guess since there is no way to tell before actual tangible products materialize.