Xfdashboard
From LinuxReviews
Jump to navigation
Jump to search

xfdashboard is a GNOME and macOS style application switcher and launcher written primarily for the Xfce desktop environment. It provides a application management interface similar to the GNOME shell dashboard and the "Mission Control" interface on macOS.
xfdashboard is written as a part of the Xfce desktop environment, but it does not need to be used within it. The Xfce libraries are required to build and use it, the Xfce desktop environment is not. It works fine with other desktop environments and window-managers like Fluxbox and Openbox and other desktop environments like LXQt.
Features And Usability
Xfdashboard presents an overview of all open windows on the current virtual desktop. It presents a separate launcher interface on each monitor on multi-monitor setups.
Xfdashboard shows a list of open applications in the form of icons in a toolbar on the left side and the same list of open applications in the form of previews, or black squares if windows are minimized or rolled up, in the middle. Virtual desktops are shown as a column of desktop previews on the right-hand side.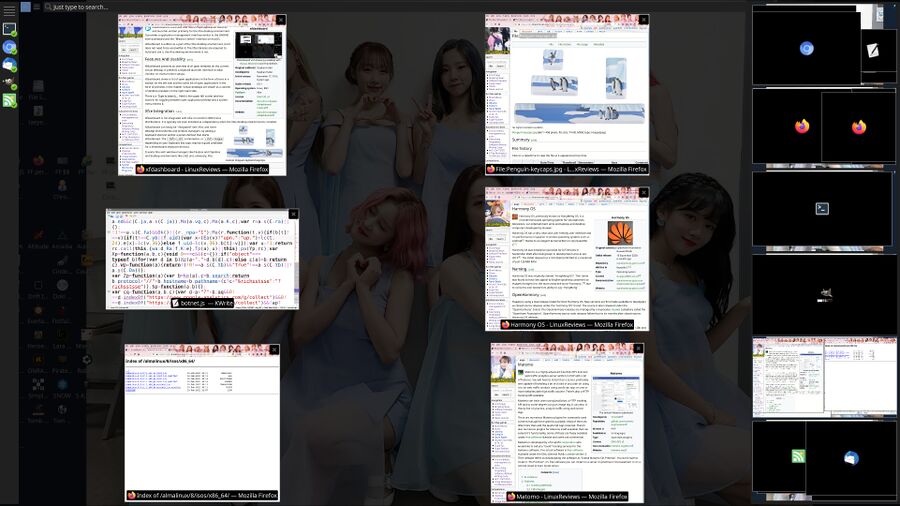 xfdashboard at git commit e3c0664c showing a desktop with several Mozilla Firefox windows, virtual desktops and a Type to search.. field in the upper left corner.
There is a Type to search... field in the upper left corner and two buttons or more for toggling between the open application preview, system menu and, optionally, plugins next to it. You do not need to click the search field to use it, you can start typing as soon as Xfdashboard appears. Versions prior to 0.9.1 had case sensitive search, typing g would not show GIMP. Later versions don't have that problem. You can use the ↑ and ↓ arrows to choose between the search results.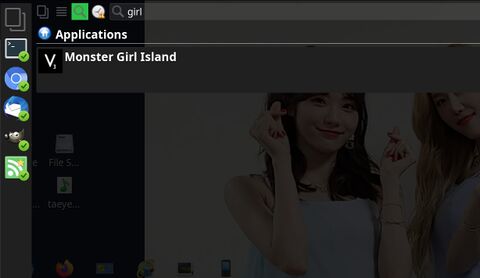 Xfdashboards "type to search" feature.
Xfdashboard has one drawback that somewhat hampers its usability: It is kind of slow. If you assign it to a keyboard combination and you press that combination you'll be able to count one, two and it's there when you get to two. It's not horribly slow, you can't count to five before it appears, but it's not instant. You have to wait something like a whole second before it shows up when you launch it.
Xfdashboard comes with a configuration tool called xfdashboard-settings. It lets you turn animations on or off, enable a workaround that makes it show the contents of minimized windows at the cost of a slower startup-time and a few other things. You can also change theme and enable and disable plugins from within the settings tool.
Xfce Integration
Xfdashboard is not integrated with Xfce on common GNU/Linux distributions. It is typically not even installed as a dependency when the Xfce desktop environment is installed.
Xfdashboard can easily be "integrated" with Xfce, and other desktop environments and window-managers, by adding a keyboard shortcut and/or a panel shortcut that starts xfdashboard. Combinations like ⇧ Shift+⊞ Win and Ctrl+⊞ Win, or ⇧ Shift+Pengiun depending on your keyboard key-caps, may be a good candidates for a Xfdashboard keyboard shortcut.
Plugins
The Xfdashboard clock plugin.
Xfdashboard supports plugins, including search plugins, for additional functionality. Four are included in the base package:
A clock
"Gnome-Shell search provider"
"Hot corner"
"Middle-click window close"
There is also a "example-search-provider" plugin in the source tree in plugins/example-search-provider. It is not compiled by default, it is only there in case you want to look at an example of how a search plugin can be written. You should use an editor with a tab width set to 4 if you play around with plugins/example-search-provider/example-search-provider.c since it uses tabs, not spaces, and a tab width of 4, not 8.
Verdict And Conclusion
xfdashboard is a really nice addition to Xfce as well as other desktop environments. It is worth installing it and assigning it a keyboard shortcut if you want a relativity light-weight GNOME-style application launcher/manager. Its only drawback is that it's not instant, there is a small perhaps one-second long lag before it appears when you press a keyboard shortcut you've assigned for it.
The Xfdashboard Developer And Future Plans For World Domination
xfdashboard is developed by Stephan Haller. He works on it if he has free time and he is in the mood to do so.
"xfdashboard was started in August 2012 by me and is developed by me since then. I think as every single-maintainer project development stops and restart from time to time as well as having not enough free time to spend in development also. So you see, currently I have some free time and I'm also in the mood to spend it for development."
Stephan Haller, March 20th, 2021
There are no specific plans for future development since it is, clearly, "the best" as it is.
What are the future plans for xfdashboard and its place within the Xfce desktop environment?
"There are no plans. I'm really happy about xfdashboard had become an official Xfce application. That is already the best, isn't it?"
Stephan Haller, March 20th, 2021
There's also no specific plans to further integrate it into the Xfce desktop environment.
Are there plans to integrate xfdashboard into the Xfce environment and layout? It seems like it is something users would have to optionally install and manually configure to have an icon and/or a keyboard shortcut as it stands.
"No, there are no plans to integrate xfdashboard directly into the Xfce environment. Users have still to find their way how to use xfdashboard, either as an icon in their panel or as a keyboard shortcut they configured. But I do not get lots of questions or bug reports or enhancement/feature request to know what the users want or need."
Stephan Haller, March 20th, 2021
There are some plans within plans, even though there are no overall plans.
What are the future plans for xfdashboard in terms of features, plugins and other developments?
"This is an easier question I have a lot of ideas but I also running out of ideas. But one plan was just completed and libxfdashboard is now really a library for other uses and does not contain the application anymore. A new feature in development currently is implementing support for gradients at outlines and as filling for backgrounds.
A future plan which has begun already is asynchronous search. At the moment is done synchronously that means that typing in a search keyword will ask all search providers for this keyword and it waits for all search providers to answer. If one search provider is really slow the user has to wait before the result is shown. Asynchronous search will still ask all search provider but will not wait for all to answer but will show the result as soon as one is ready and answers. This way it is possible to do a web search within xfdashboard as network can be slow.
I also thought of creating a new plugin which will allow to use any kind of application or scripts for use as a search provider. As lots of user do write small script, e.g. python scripts, they could extend xfdashboard with their need of search as long as their script provide the needed command-line options.
One thing I did from the beginning of xfdashboard is theming. As I'm not good in design I wanted others (being much more better than me) to be able to theme xfdashboard as much as possible. So most feature development goes into theming, like the new gradients. Maybe some day spinners and progress bars follow if we really need it."
Stephan Haller, March 20th, 2021
Links
The xfdashboard homepage is at docs.xfce.org/apps/xfdashboard/.