Whalebird
From LinuxReviews
Jump to navigation
Jump to search

Whalebird is a desktop application for social media websites running Mastodon, Pleroma or Misskey software. It has limited support for multiple sites (cross-posting and things like that are not implemented). All the features you get when you use a social media site based on the supported platforms directly are available in Whalebird. Whalebird is strait-forward and easy to use. It is a good alternative to using the websites it supports directly using a web browser.
The user-interface is rumored to have a look and feel similar to something called "Slack". Someone who knows what "Slack" is and what it looks like may or may not be able to confirm or deny those rumors.
Whalebird does not support big tech social media platforms like Facebook and Twitter.
Installation & Configuration
Pre-compiled packages for Windows, macOS and GNU/Linux are available at whalebird.social/en/desktop/contents/downloads. The Linux version is available as AppImage, Snap ( The .deb and .rpm packages area ), Debian/Ubuntu .deb and Fedora/RHEL .rpm.
Adding a Mastodon, Pleroma or Misskey account is strait forward. First, enter your username in in Whalebird. Whalebird will then open a web page at the site the account is for in a web browser and ask you to login there and authorize Whalebird.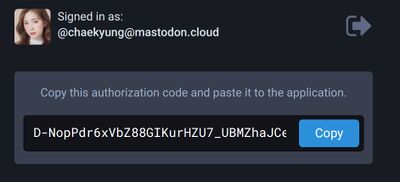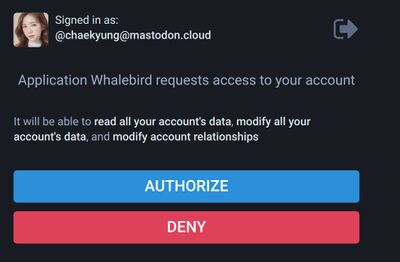 The site you are configuring will provide a authorization key once you have entered your credentials and approved Whalebird. Copy and paste that key into Whalebird and you're done.
Features And Usability
Whalebird has all the basic features you would expect from a desktop application for open source social media platforms. You can view your personal timeline, the local and global timelines, notifications, mentions, read and write direct messages, view posts you've favored, manage bookmarks, search for text and hashtags.
Clicking on individual users in a timeline (home/local/global) brings up a narrow sidebar with that users profile and the users posts. There is no way to getting an individual users timeline to appear in the main view. The initially very narrow sidebar where individual users timelines appear can be resized so that is not a huge limitation.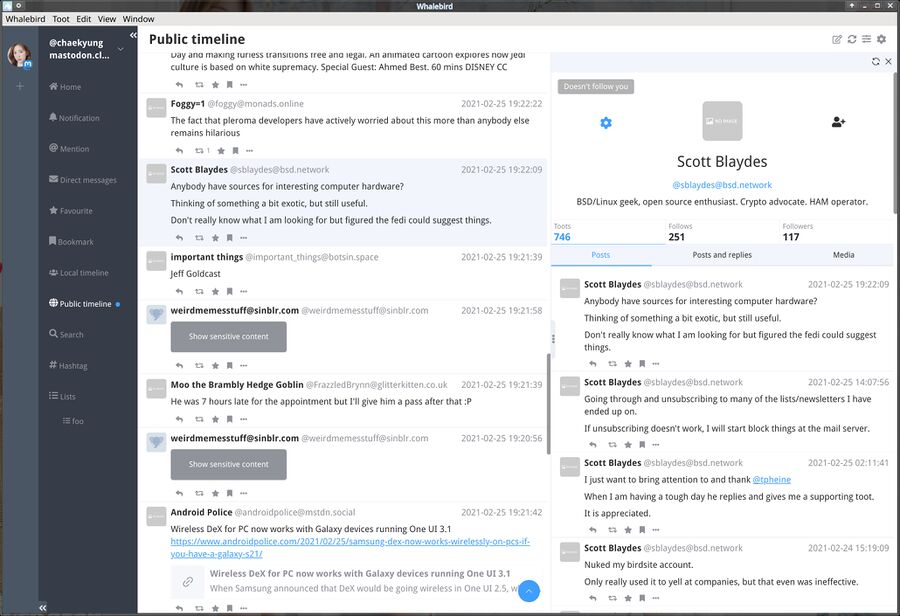 Whalebird 4.3.4 with a split view showing the public timeline and a users timeline.
You can post and send direct messages. All the standard posting features are available, you can attach images, create polls, choose visibility and add a content warning. More advanced non-standard features are not available. Whilebird does not allow you to cross-post to multiple accounts at once and you can't schedule posts to be shared at a later time. Similar commercial "social media managers" allow you to schedule posts to be posted across multiple social media platforms like Twitter and Facebook. Cross-posting does not make much sense for a program targeted as federated social media platforms, but post scheduling is something Whalebird could and should have.
Whalebird lets you view images and videos that are attached to posts but it won't let you preview or listen to audio files. Audio files are not shown as a player or even a link, all you get is a spinning icon. External links to videos on sites like YouTube are also not playable from within Whalebird, they are shown as plain links (as opposed to either a preview with a thumbnail and text or a video player).
External links to most sites are shown using a thumbnail and a headline or a brief description, depending on the site. Video sites like YouTube and Naver TV appear to be exceptions where just the plain link is shown.

Whalebird lets you add emojis to your posts.
Emojis, including custom ones on the sites that have those, are supported.
Whalebird will not let you change font size with ctrl++ and ctrl+- like you can in a web browser. It is possible to change both font and font-size in Whalebird ▸ Preferences ▸ Appearance. You can also change the theme in the Appearance preferences. It comes with Light, Dark, SolarizedLight, SolarizedDark and KimbieDark themes. You can also make your own custom theme.
Whalebird supports using either a system-wide proxy or a manually specified proxy. Both HTTPS and Socks proxies are supported.
Verdict And Conclusion
Whalebird is a really nice desktop application for social media sites running Mastodon, Pleroma or Misskey software.
Using Whalebird to access the social media sites it can interact with is not that different from using them in a web browser but the experience is overall better. For example, Mastodon limits the vertical size a timeline can regardless of how large the browser window is. Whalebird takes advantage of all the space within it's window and it lets you see both a local/home/public timeline side by side with a user - and you can choose how much space each will take up. That's something the various web interfaces for Mastodon and Pleroma don't offer,
You will probably like Whalebird if you use a social media service based on any of those and you would like to use it from a desktop application instead of a web browser. You may even find that it's the better experience even if you don't really care if you use a desktop application or a web browser when you interact with your favorite social media site.
The only possible downside Whalebird has is that it can't be used with a lot of bigger social media platforms like Twitter and Facebook. It's just not for you if those are the only social media sites you use on a regular basis.
Links
Whalebird has a homepage at whalebird.social and the code is developed at Microsoft GitHub at github.com/h3poteto/whalebird-desktop.