Xfce4-time-out-plugin 1.1.1 Is Released
From LinuxReviews
Jump to navigation
Jump to search

Xfce developer Andre Miranda is proud to announce a new version of the "time-out" panel plugin for the Xfce4 desktop environment. This plugin will lock your screen, forcing you to take a break, every X minutes. The latest release fixes a bug where the lock countdown would start if its configuration was changed.
written by 林慧 (Wai Lin) 2020-07-07 - last edited 2020-07-07. © CC BY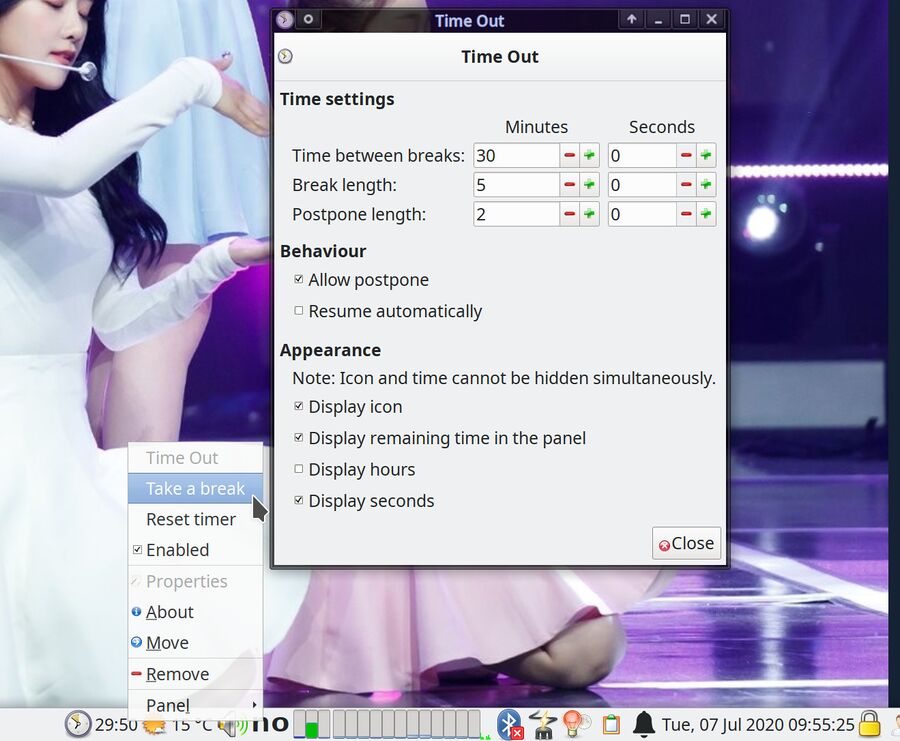 The "time out" plugin for Xfce will remind you to take a break at pre-configured intervals.
The full changelog for Xfce4-time-out-plugin 1.1.1 is as follows:
Do not enable countdown when configuration changes (Bug #16118)
Add lock button to break dialog (Bug #16317)
Update URLs from goodies.x.o to docs.x.o (Bug #16179)
Translation Updates: Albanian, Arabic, Armenian (Armenia), Basque, Belarusian, Bulgarian, Catalan, Chinese (China), Chinese (Taiwan), Croatian, Czech, Danish, Dutch, Eastern Armenian, English (Australia), Esperanto, Finnish, French, Galician, German, Greek, Hebrew, Hungarian, Icelandic, Indonesian, Italian, Japanese, Kazakh, Korean, Latvian, Lithuanian, Malay, Norwegian Bokmål, Occitan (post 1500), Polish, Portuguese, Portuguese (Brazil), Russian, Serbian, Slovak, Slovenian, Spanish, Swedish, Turkish, Uighur, Ukrainian, Urdu, Urdu (Pakistan)
The Xfce4 "time-out" plugin is very useful if you spend too much time in front of a computer and you think someone, or some thing, should remind you to take regular breaks. Employers beware.
Xfce4-time-out-plugin 1.1.1 can be acquired from archive.xfce.org. An older version is likely available in your favourite distributions repositories and most of them will have the new version available shortly.
The source code can be cloned from http://git.xfce.org/panel-plugins/xfce4-time-out-plugin/ and the official documentation can be found at docs.xfce.org: xfce4-time-out-plugin.