Twitter Posts Huge Revenue And Guidance Misses As The Free Software Based Fediverse Keeps On Growing
From LinuxReviews
Jump to navigation
Jump to search

 The heavily censored US-based social media microblogging platform Twitter crashed 21% on the New York Stock Exchange after issuing a Q3 letter to shareholders with Q4 guidance which hugely misses Q4 revenue expectations. Twitters user-base is dwindling and and it's profits are growing less than expected while the free software based Fediverse alternatives keep on growing exponentially.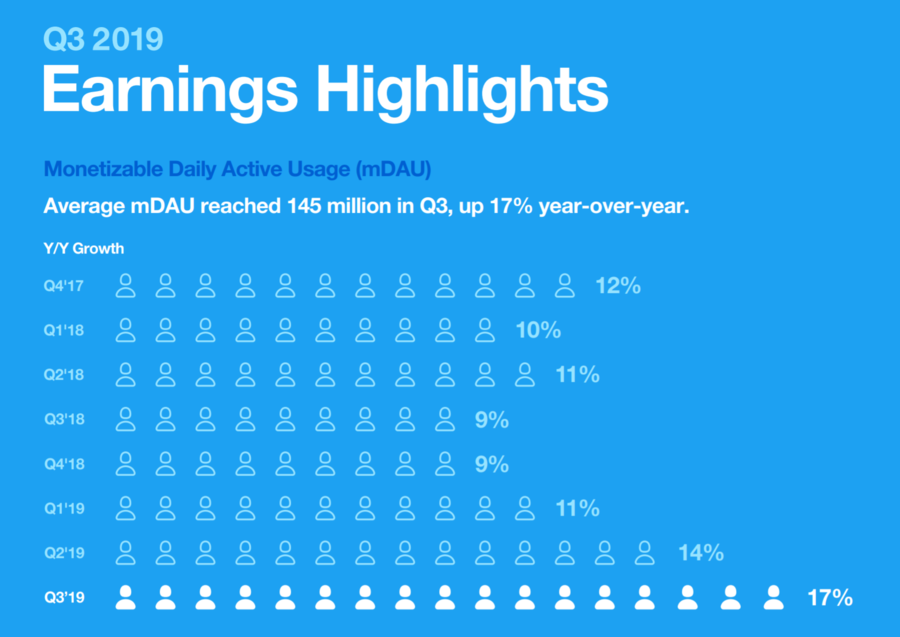 Twitter's Q3 revenue was strong but both their Q3 results and their Q4 guidance fell short of Wall Street expectations and Twitter stock crashed plummeted.
Stock market analysts guesstimated twitters Q4 revenue to be around $1.06 billion. Twitter issued guidance today which places it around $940 million. This comes after Q3 adjusted earnings per share of 17 cents vs expectations of 20 cents. Revenue rose +8.7% Q3 to $823.7 million. Wall Street pundits guessed $875.6 million so they were hugely disappointed with the Q3 numbers and they are not at all happy with the Q4 figures.
Microblogging networks based on free software such as Mastodon and Pleroma, collectively known as the "Fediverse", are taking market share away from Twitter. Some of these services are just as heavily censored and some are ever worse. However, there is a large diversity of fediverse instances. US-based GAB, which is running it's own custom Mastodon-fork, is very popular among people who value free speech. The biggest Mastodon-instance targeting Japanese people, mstdn.jp, has nearly 200 thousand users. It and most other popular fediverse services have a pro-free speech stance.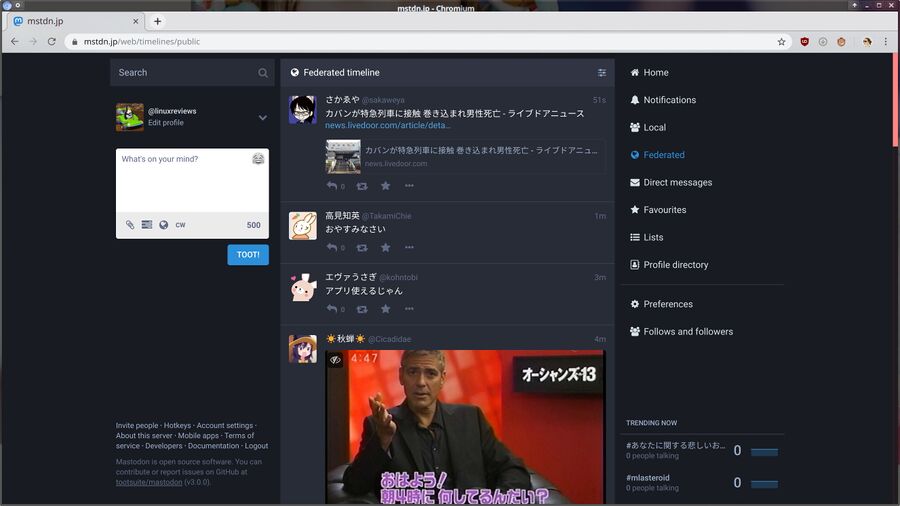 mstdn.jp is a very popular Japanese Mastodon-instance.
Twitter is, of course, not willing to admit that competing services running superior free software on servers administered by people who believe their users should be allowed to think for themselves and share their thoughts freely is eating their marketshare. Twitter is, in fact, bragging about their ability to censor and silence users:
"We also continued our work to proactively reduce abuse on Twitter, improving our machine-learning models in Q3 to detect potential policy violations and sending more flagged Tweets to agents for review. This has resulted in Twitter taking down more abusive content, doing so more proactively and faster than before. Of the Tweets taken down for abusive content in Q3, more than 50% of them were removed without a bystander or first-person report, up from 43% in Q2 and 38% in Q1."
Exactly what Twitter believes is "abusive" is somewhat unclear. There are indications that having the "wrong" political viewpoint or basic critical thinking skills falls under that umbrella.
Strong Advertisement Revenue Yet Weaker Than Expected
Twitter is, at it's core, an advertisement company and it's users are their product. The advertising market was strong in September and Twitter considered this in their Q4 outlook which fell short of Wall Street pundits expectations. Twitter had this to say about it
"Our guidance for Q4, as in prior quarters, reflects the most likely range of outcomes based on our current visibility. We have considered the rebound in our advertising business in September, the strength of our bookings, and the organic events and product and service launches expected in Q4, along with the lingering headwinds we expect from the previously discussed revenue product issues we experienced in Q3. While we are taking steps to remediate these issues, we expect them to continue to weigh on the overall performance of our advertising business in the near term.
"Specifically, we expect that, on a combined basis, moderated performance in MAP and the previously discussed issues in our personalization and data settings will likely result in 4 or more points of reduced year-over-year growth for total revenue in Q4, up from 3 or more points of impact in the third quarter. The increase reflects a fullquarter impact in Q4 vs. only a partial-quarter impact in Q3. These headwinds are incorporated in our outlook.""
The stock market was not impressed by Twitter's statements: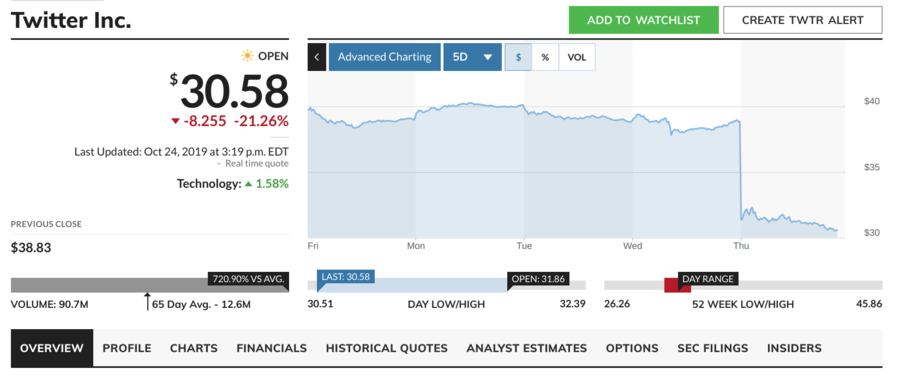 LinuxReviews is present in the fediverse at mstdn.io/@LinuxReviews. That account is primarily used to post links to articles posted here so following it is slightly pointless unless you want headlines from this site showing up in your fediverse account for some reason. We are also present on Twitter so those who haven't jumped off that sinking ship already can follow us there until Twitters inevitable bankruptcy is announced.