The Debian Project Wants You To Tell Them If And Why You Are Using Debian LTS Versions
From LinuxReviews
Jump to navigation
Jump to search

The Debian Stretch release will enter Long Term Support (LTS) mode on July 18th. It will from then on only receive security updates until it goes end of life on July 18th, 2022. The Debian developers are aware that many people prefer to keep on using the older Stretch release over upgrading to the newer Debian 10 Buster release. They would very much like to know why so they have prepared a survey that they would like you to fill out if you are using, or would like to use, Debian Long Term Support releases.
written by 윤채경 (Yoon Chae-kyung)  2020-07-13 - last edited 2020-07-13. © CC BY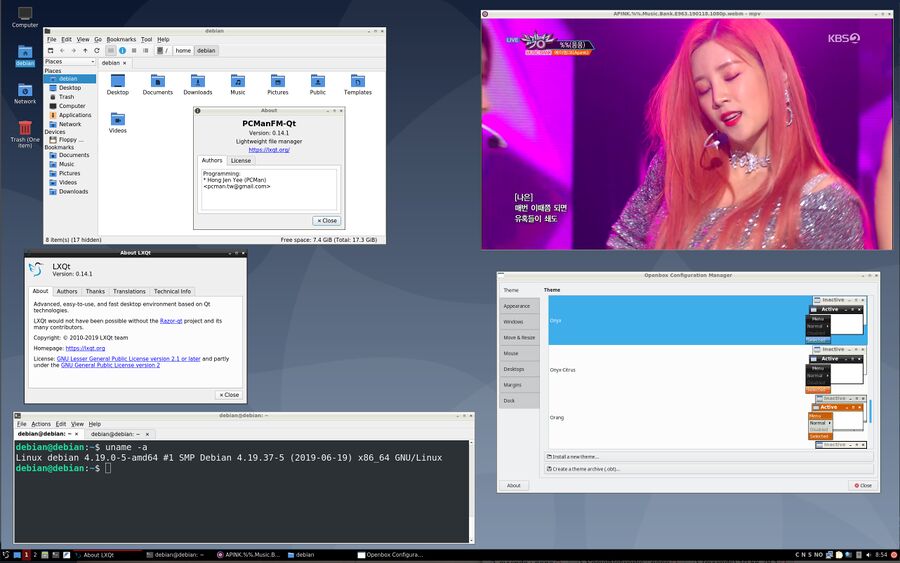 The LXQt desktop environment running on Debian 10 Buster.
The Debian survey, found at surveys.debian.net, is anonymous in the sense that they do not ask you to fill out any personal information. They do ask all kinds of incriminating personal information such as "Who are you?" (with alternatives like "LTS user", "LTS contributor/developer", "Debian security team member", "Debian Build Admin"), "How long have you been using Debian?", "How long have you been using LTS?", "Where do you use Debian LTS?" and, perhaps most importantly, "Why do you use LTS?".
Filling out the Debian questionnaire will take five to ten minutes depending on how long essays you write in the text-input fields below questions like "Do you see problems with/about Debian LTS and if so, which?" and "What suggestions/wishes do you have for Debian LTS?".
Debian is one of the few GNU/Linux distribution that are controlled by a organisation rather than a for-profit corporation. Helping the voluntary Debian developers is therefore a good thing and they would "really appreciate if" if you take the time to fill out their survey if you are a Debian LTS user.
The survey is available at surveys.debian.net. It is only available in English.
The survey will be available until July 27th.
You can learn more about Debians LTS efforts at wiki.debian.org/LTS