Recording Industry Association of America Gets Youtube-dl Kicked Off GitHub
From LinuxReviews
Jump to navigation
Jump to search

Microsoft GitHub has removed all traces of the very useful youtube-dl utility for downloading videos from YouTube and other websites, including this one, following a questionable DMCA request from the Recording Industry Association of America.
written by 윤채경 (Yoon Chae-kyung)  2020-10-24 - last edited 2020-10-24. © CC BY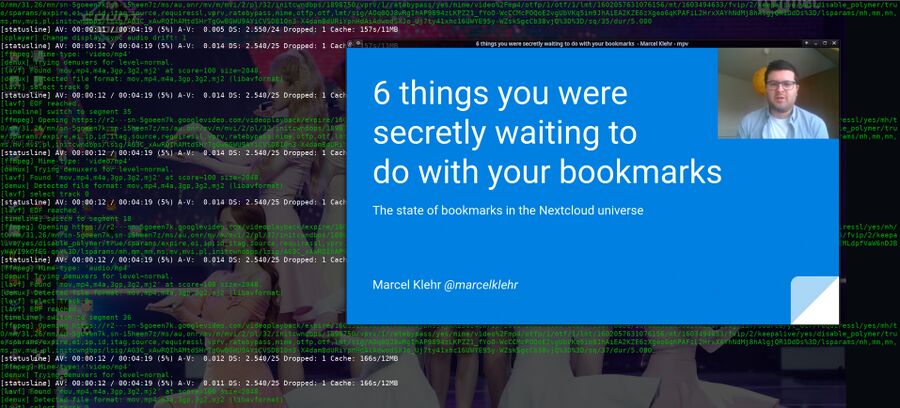 The popular video player mpv playing a YouTube-hosted Creative-Commons licensed video from this years NextCLoud conference using youtube-dl to download pieces of the video on-the-fly.
youtube-dl is a simple command-line utility that lets you easily download audio adn videos from just about any website with a file file embedded in it. It works on sites like this one. A lot of software, including the popular video player mpv, can use it to download video fragments on the fly so videos embedded in web pages can be opened and played as if they were local files.
The Recording Industry Association of America submitted a DMCA request to Microsoft GitHub demanding that youtube-dl gets removed from the Internet on October 23rd, 2020. The complaint contains this rather misleading claim:
"The clear purpose of this source code is to (i) circumvent the technological protection measures used by authorized streaming services such as YouTube, and (ii) reproduce and distribute music videos and sound recordings owned by our member companies without authorization for such use. We note that the source code is described on GitHub as "a command-line program to download videos from YouTube.com and a few more sites."
youtube-dl is not a media player and it has no uploading functionality, it's not a media player or a peer to peer network client. RIAA's claim that it can some how "reproduce and distribute music videos and sound recordings" is a bit puzzling. RIAA's DMCA complain goes on to claim that:
"We also note that the provision or trafficking of the source code violates 17 USC §§1201(a)(2) and 1201(b)(1). The source code is a technology primarily designed or produced for the purpose of, and marketed for, circumventing a technological measure that effectively controls access to copyrighted sound recordings on YouTube, including copyrighted sound recordings owned by our members."
RIAA's claim that youtube-dl is primarily designed for and used to download their extremely untalented members pathetic attempts at making music seems ridiculous. The Recording Industry Association of America does not represent anyone who's even remotely talented or worth listening to. They do not represent any south-Korean groups like ATEEZ, BlackPink, BTS, Lovelyz, Mamamoo, WJSN or anyone else who's videos are regularly removed from YouTube's "Trending" list in order to hide how popular they are in comparison to RIAA largely talentless members. There's no reason why anyone would want to download and save the noise RIAA's members try to peddle as "music".
youtube-dl is a general-purpose tool that can be used to download any kind of video from just about any website video video files, YouTube is just one of many sites it can deal with. It can also be used in conjunction with free software media players like mpv. Those who want to watch the videos we occasionally post on this site, like Intel's Jason Ekstrand presentation on the upcoming Vulkan ray-tracing API, can use mpv+youtube-dl to view those videos in a video player instead of a web browser. There's absolutely nothing wrong with that and it does not even remotely involve any "work" by RIAA or their members.
"These are the people who previously claimed damages from Napster that were higher than all money existing in the world at the time, so for them it's just medium levels of stupidity."
anonymous source within the
mpv
developer community on October 24th, 2020
Microsoft GitHub has gone along with RIAA's DMCA request. They have now removed youtube-dl and all forks of it from GitHub. The youtube-dl repository and all the forks are currently showing this statement: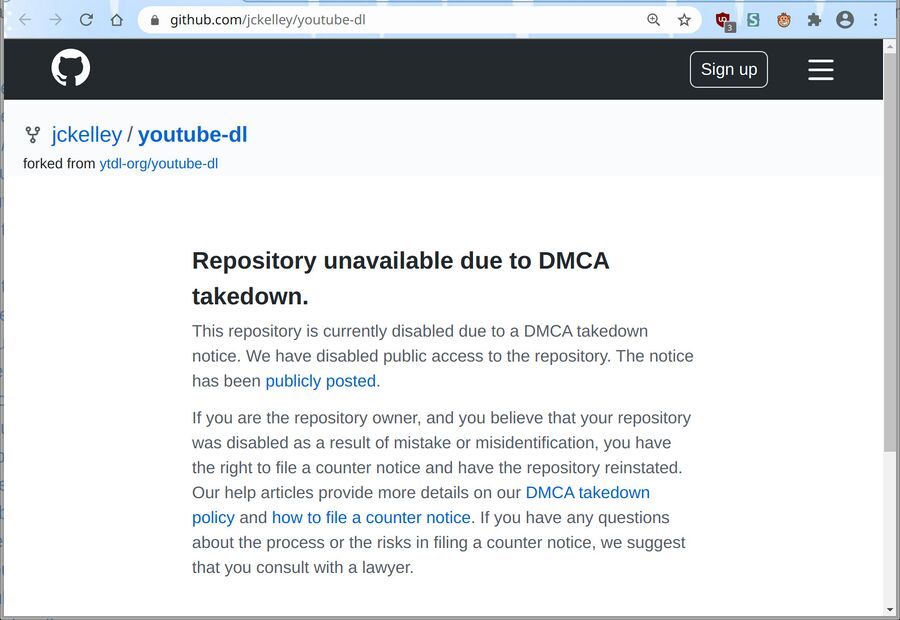 DMCA notice on a youtube-dl fork at Microsoft GitHub.
"This repository is currently disabled due to a DMCA takedown notice. We have disabled public access to the repository."
Microsoft GitHub statement on all repositories containing
youtube-dl
.
All the pages on the youtube-dl website at youtube-dl.org, except the front page, were in reality hosted by Microsoft GitHub, not the German server hosting the front page of that site. The tar.bz2 source code download link on that site is a simple redirect to Microsoft GitHub. Clicking the latest tarball download link listed on that page results in a ERROR 451: Unavailable for Legal Reasons. error from GitHub's servers.
The latest youtube-dl-2020.09.20.tar.gz youtube-dl source code archive can still be acquired from any of the Gentoo Linux distfiles mirrors such as mirror.yandex.ru/gentoo-distfiles/ (youtube-dl-2020.09.20.tar.gz).
The youtube-dl developers can follow the DMCA legal process and appeal GitHub's decision or move on to another hosting provider who aren't as willing to remove free software source code if someone asks them to.