Pale Moon v28.9.0.2 Is Released
From LinuxReviews
Jump to navigation
Jump to search

The European developer "Moonchild" has released a "major development" update to the Pale Moon web browser yesterday. New features include "promise-based media playback" and 1.25x playback of HTML media elements. There were some minor problem with that release so two more minor point versions were related today.
written by 윤채경 (Yoon Chae-kyung)  2020-02-26 - last edited 2021-04-13. © CC BY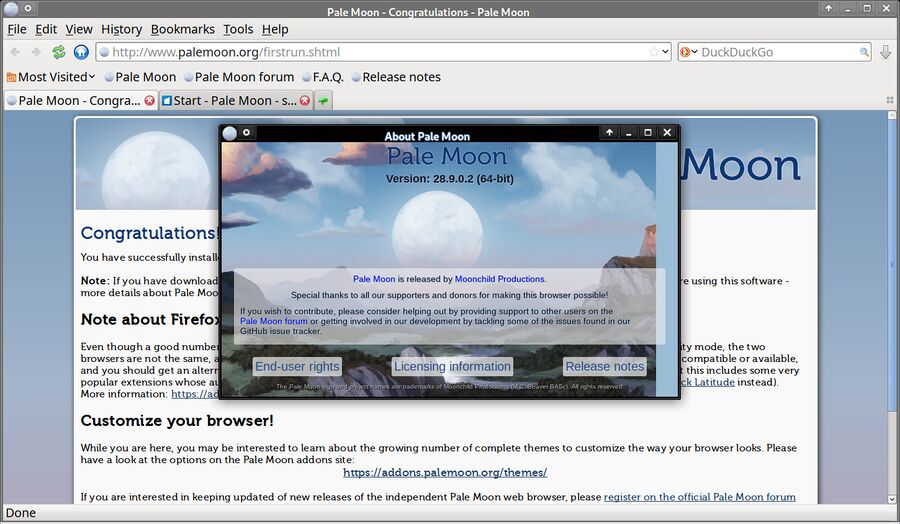 Pale Moon v28.9.0.2.
Full changelog story for Pale Moon 28.9.0, which is very long, can be found on the Pale Moon: Release notes page at palemoon.org. It is not at all interesting unless you are a die-hard Pale Moon user, the changes are rather small and mostly not user-facing. You may want to become a die-hard Pale Moon user if you want to use what is essentially Mozilla Firefox from 2009 with some cleaned up and updated code here and there.
The 28.9.0 release broke user-agent overriding as well as restoring windows and tabs after a "soft" crash so Pale Moon got two more point-releases today. Version 28.9.0.2 will likely be the last immediate bug-fix release for 28.9.0 shipped today.
Linux and *BSD distributions do not have the Pale Moon web browser in their repositories due to distribution restrictions (even though the browser is technically free software) so you will have to download it as a tar.xz tarball from linux.palemoon.org/download/mainline/ if you want to try it. There are some repositories with very old distribution-specific packages for distributions like Fedora listed at linux.palemoon.org. Those should be avoided. The source code is available at palemoon.org/sourcecode.shtml.