NVidia Cripples Proprietary Graphics Driver In Order To Sell Specialized Crypto-Mining Cards
From LinuxReviews
Jump to navigation
Jump to search

The American technology giant Nvidia has announced that their closed-source graphics driver now features a intentional digital restrictions management (DRM) bug that cripples performance on certain specific workloads such as mining digital Ethereum (ETH) currency. Nvidia story, which does not hold water, is that they are doing this to ensure retail-availability of their RTX 3060 graphics card.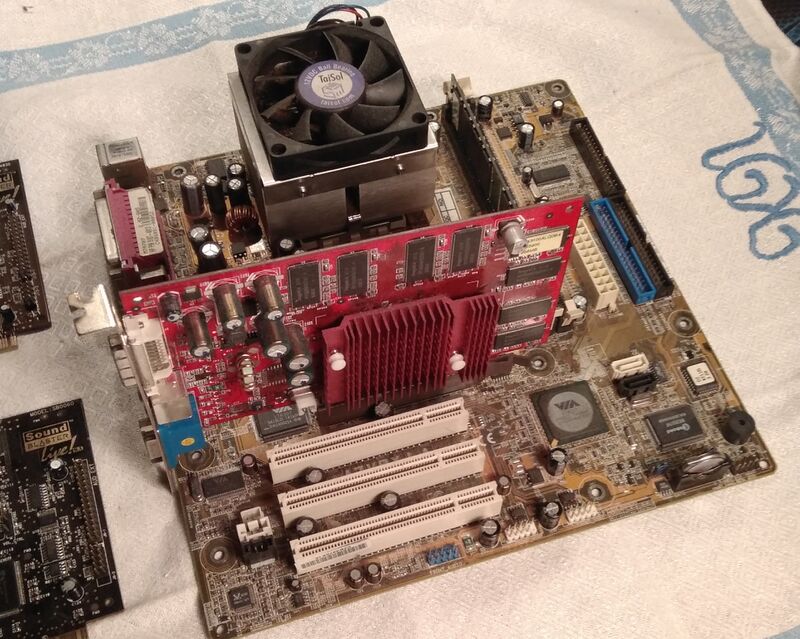 A Nvidia FX5200 AGP graphics card with 256 MB RAM.
Nvidia has announced that they have intentionally crippled their proprietary graphics driver for Nvidia GPUs in a way that dramatically reduces the hash-rate on their upcoming GeForce RTX 3060 graphics cards when those cards are used for crypto-currency mining.
Nvidia story is that they are doing this to "ensure GeForce GPUs end up in the hands of gamers".
"RTX 3060 software drivers are designed to detect specific attributes of the Ethereum cryptocurrency mining algorithm, and limit the hash rate, or cryptocurrency mining efficiency, by around 50 percent.
That only makes sense. Our GeForce RTX GPUs introduce cutting-edge technologies - such as RTX real-time ray-tracing, DLSS AI-accelerated image upscaling technology, Reflex super-fast response rendering for the best system latency, and many more — tailored to meet the needs of gamers and those who create digital experiences."
Nvidia is currently launching a special line of graphics cards called "NVIDIA CMP HX" as an alternative for crypto-currency miners. The new CMP line is marketed as being "Designed for professional mining operations".
The CMP cards will not have any graphics outputs and they will have lower peak voltage and lower core clocks. They are, apart from that, identical to the regular "gaming" cards. Nvidia is just re-purposing lower binned cards, the CMP line is not using special ASIC chips designed for Ethereum (ETH) mining. It may or may not be possible to use these cards to render graphics and use a integrated CPU graphics output under Linux.
The CMP HX will be available in variants with hash-rates ranging from 26 MH/s to 86 MH/s at rated powers between 125W and 320W. The 26 and 36 MH/s variants will be available in Q1 while the 45 and 86 MH/s variants won't arrive until second quarter 2020. Nvidia has not given any indication of the price-points these cards will be sold at.
It is fair to guess that the CMP line will not be very competitive against their existing RTX 3070 and RTX 3080 cards or the new RTX 3060 card (if it was not intentionally crippled by the proprietary driver required to use it). Nvidia would have no reason to cripple the RTX 3060 if they had planned to offer the CMP line of cards at prices offering vastly superior price/performance, crypto-currency miners are all about price/performance and performance per watt. There is no need to force miners to buy a special line of cards using artificial market segmentation if that special line of cards is the one that provides the best value.
A big obvious problem with Nvidia's story about their concern with getting RTX 3060 cards into the hands of gamers, not miners, is that the same amount of graphics chips is produced regardless of how they artificially segment the market. A chip that doesn't clock quite high enough to be sold as a RTX 3060 could easily be sold as a RTX 3060 Lite at a slightly lower price-point.
Nvida has not yet announced any future plans to further cripple CUDA and OpenCL performance on their consumer/"gamer" line of graphics cards. They have, so far, only set a precedent and made it clear that you will, from now on, need to check which specific workloads are allowed and which are intentionally crippled before you buy any Nvidia product.
The Nvidia RTX 3060 line will, in theory, become available in retail stores on February 25th. There are currently near-zero graphics cards available at the theoretical Manufacturer's Suggested Retail Prices (MSRP) in retail stores, so the availability of RTX 3060 cards will likely be limited even if their driver are crippled in a way that makes them undesirable to crypto-currency miners.
It is interesting to note that AMD would have to implement similar workload-specific performance-crippling features in hardware due to the free software nature of the graphics drivers used for AMD graphics cards on Linux systems. Nvidia is only able to artificially cripple certain workloads on certain graphics cards because their graphics driver is a proprietary binary blob, it would be pointless to do so if it was free open source software and you could just comment out some lines and re-compile to by-pass their restrictions. This is exactly what Richard Stallman warned about when he said:
"The purpose of a non-free program is to subjugate people. And typically that leads to malicious functionalities."