NAVER Whale Browser 2.8.105.22 Is Released
From LinuxReviews
Jump to navigation
Jump to search

South Korean Internet giant NAVER has made another fine version of their extensive and fully featured proprietary Whale web browser. The latest version has fixes for several small user interface glitches including one that cased "ugly" rendering of a several big websites when dark mode is enabled. The GNU/Linux version is still only available as a Debian package and they have yet to make a English translation for the built-in music player. It is otherwise a fine and quite fast web browser.
written by 윤채경 (Yoon Chae-kyung)  2020-08-10 - last edited 2020-08-27. © CC BY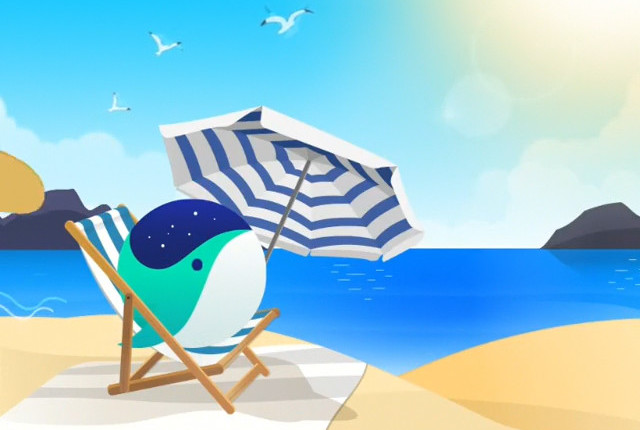 NAVER whale hanging out at the beach.
The latest whale web browser version 2.8.105.22 is still based on the older Chromium 83 code-base. The latest stable Chromium version is 84 (with beta version 85 and developer version 86 being available) so the browser engine NAVER whale uses is one version behind. That may be due to the amount of work it takes to adapt all the major changes, feature-addons and improvements NAVER adds to their Chromium-flavour to a new major Chromium-versions. And the Whale web browser has a lot of features other browsers do not have such as a built-in music player, split-window browsing and a powerful sidebar for quick access to built-in features like a calculator, calendar, timer, clock and a variety of Naver web services.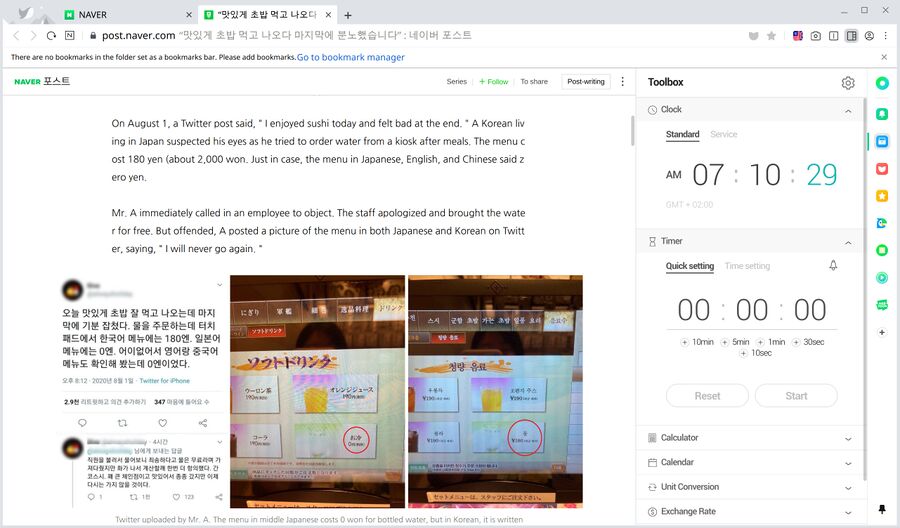 NAVER whale has a clock, timer, calculator and much more competing proprietary web browsers do not have.
The Whale browser is also more configurable than other Chromium-based web browsers. "Dark Mode", both for the browser and pages it loads, can easily be enabled by a switch under Settings ▸ Appearance where "Use Dark Mode" On Interface and web contents is readily available. Some glitches that were present when Dark Mode was used in previous versions have been fixed in Whale 2.8.105.22 but "Dark Mode" is still far from perfect. The contents of the address bar is shown as white on white when you are typing and the built-in music players progress bar is invisible when "Dark Mode" is enabled.
NAVER claims that their latest whale browser is 10% faster than previous Whale versions. While that is an interesting claim it is far more interesting to see how it compares against the latest versions of other web browsers such as Mozilla Firefox 79 and plain Chromium 84.
The latest version of NAVER whale is, on GNU/Linux, much faster than both the newly released Mozilla Firefox 79 and slightly faster than Chromium 84 out of the box in both the Basemark 3 and the Unity WebGL 2018 benchmarks.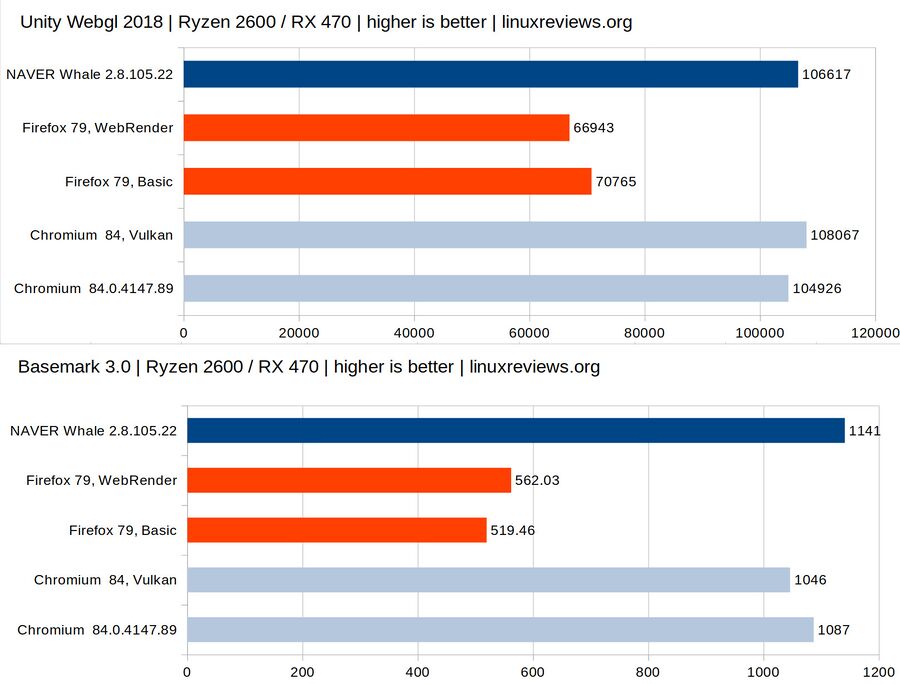 The Korean NAVER whale browser is faster than both Firefox and Chromium.
NAVER whale 2.8.105.22 can be acquired from whale.naver.com/en/download. There is only a .deb package for Ubuntu 14.04 64bit available to GNU/Linux users. Users of other distributions will have to use alien to convert it into a .rpm or a .tar.gz or other fitting package format. NAVER whale works fine on other distributions such as Fedora and Gentoo once you have converted the .deb file and installed the resulting package. There are packages for Windows, macOS, Android and iOS for those who use other devices and operating systems.
| | |
| --- | --- |
| | Warning: the NAVER whale browser is freeware, as in free to use, but the NAVER whale browser is not free software; it is proprietary software. You can download it, install it and use it free of charge but you will not get access to the source code and there is a high risk that the NAVER whale browser will not respect your freedom and/or privacy. Use at your own risk. |
You can learn more about the Whale browsers unique features in the NAVER Whale boarding guide where you will, among other things, find a "FAQ BEST" with useful like "FAQ1?" and "FAQ1". The Whale Team has a blog at blog.naver.com/whaleteam/.