Microblogging Client Choqok 1.7.0 Is Released
From LinuxReviews
Jump to navigation
Jump to search

Choqok is a very old desktop microblogging client which was initially released all the way back in 2008. Development sort-of died off in 2010 and little happened until 2016. Three new versions were released that year and then developed sort-of died with the release of Choqok 1.6.0 in October 2016. A brand new version 1.7.0 was released this week after three and a half years of silence. The latest version allows up to 280 character long posts on Twitter and that is about it in terms of new features. The social media microblogging services Friendica, open collaboration services, GNU social, Mastodon and pump.io are supported in version 1.7.0.
written by Öyvind Sæther  2020-02-07 - last edited 2020-07-10. © CC BY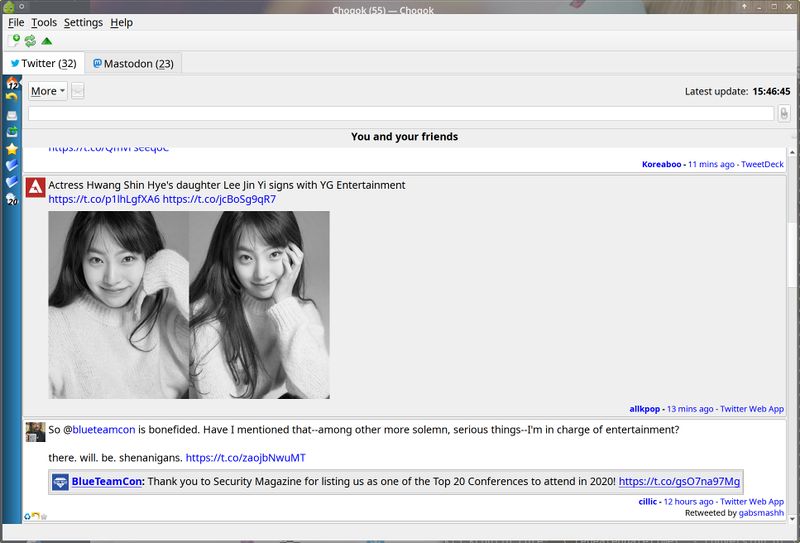 Choqok 1.7.0. It can show images, but not video clips, from Twitter. It will not show any media what so ever from Mastodon. You can't post media files to any social media service.
The list of changes since Choqok 1.6.0 was released in 2016 is not that long. QtNetworkAuth is now used instead of the qoauth library, some plugins are fixed, link-back statuses on GNU Social are hidden, the "unread" post count is now adding up posts in all configured accounts and Twitter post can now have up to 280 characters. Twitter increased the post length allowed there years ago. There are also some Twitter-specific fixes for list browsing in Choqok 1.7.0.
The new Choqok 1.7.0 release is not a very impressive microblogging desktop client. Posting images or other media to Twitter and Mastodon does not work. Images posted on Twitter show up in some feeds but not others. Images and other media attached to Mastodon posts do not show up. Choqok 1.7.0 crashes when you close it and it will also crash if you remove a configured account. Writing a review of Choqok 1.7.0 was painful.
It would be nice if the release of Choqok 1.7.0 means that development has picked up after three and a half years of stagnation because there is a whole lot of issues with it in dire need of attention. Using the websites of the various "social media" services it supports is preferable to using Choqok as it stands right now.
choqok has a homepage at choqok.kde.org and the source code can be acquired from invent.kde.org/network/choqok. Packages for 1.7.0 are not yet available in any distributions. Most do have the ancient 1.6.0 version from 2016 and those who do will probably update their choqok packages to 1.7.0 within a week or three.