Marble
From LinuxReviews
Jump to navigation
Jump to search
"Marble Virtual Globe", or just Marble, is a free geographical map and atlas program with some navigation features. It can show maps as a flat map or number of other view-modes like gnomonic. It has some navigational features which can be used for route planning. There is a offline mode but it's not useful. It is built on the KDE libraries but it does not require the KDE Plasma desktop environment. Marble is the only free software map program for GNU/Linux desktop machines which makes it the best free software map viewer available for that platform.
Features and usability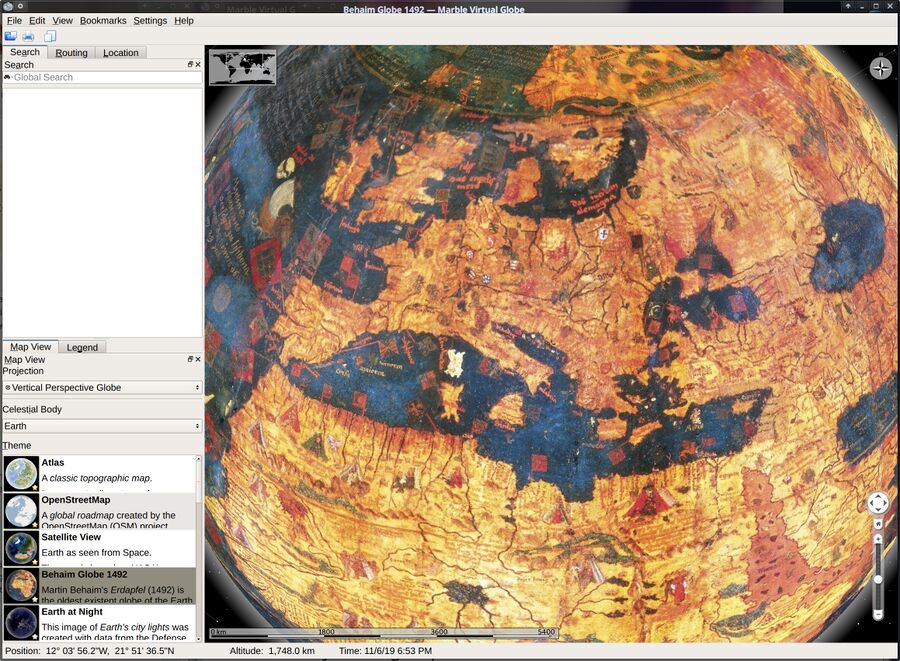 Marble version 2.2.20 the "Behaim Globe" from 1492.
Marble can be used to view a variety of simpler world maps as well as detailed OpenStreetMap maps and quite a few are available as optional downloads. The simpler maps such as historical maps can be viewed in their entirety once they are downloaded. However, there is only two maps that are actually useful for exploring a neighborhood or planning a route in Marble and those basically require a online connection. The useful detailed maps are "OpenStreetMap" and "Vector OSM" (vector-based OpenStreetMap). Using both of those maps require constant map-tile fetching from servers. "Vector OSM" is the map which gives best results on HiDPI displays. Street names and things like that are unreadable when using the "standard" OpenStreetMap map. Vector OSM is the map you want to use if you are planning a trip or looking for directions.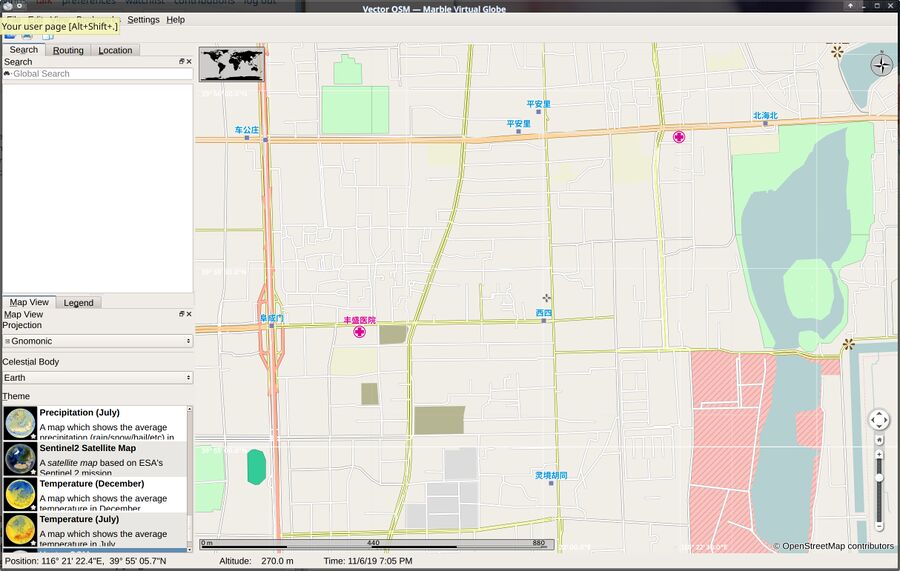 Marble 2.2.20 showing a part of Beijing using the Vectored OpenStreetMap view.
Both the plain and the vector OpenStreetMap maps allow you to zoom in to street level and see houses, places of interest such as restaurants, coffee houses, churches and a lot of other details. These are the maps that make Marble actually useful for planning a trip and most other use-cases. The "Vector" variant works best.
The included "Atlas" map is, by comparison, rather useless. If you want to know where some country is on the map then the Atlas map is fine, it can be used to see what the globe looks like - but that's about it. The same applies to the historical maps, you can see what a map from 1544 looked like but it's not practical to use for much beyond that.
The Route Planner
Marble has a "Routing" feature which can be used with the OpenStreetMap maps. You can enter a starting point and a destination using search-boxes and hope something remotely accurate shows up. It mostly does not.
A line indicating where you should go/bike/drive will show up if you click "Get Directions" on the map once you have a start point and a destination locked in. However, there will only be that line on the map - there won't be any directions. A red text indicating "No route found" will appear next to "Get Directions" even though a route does appear on the map.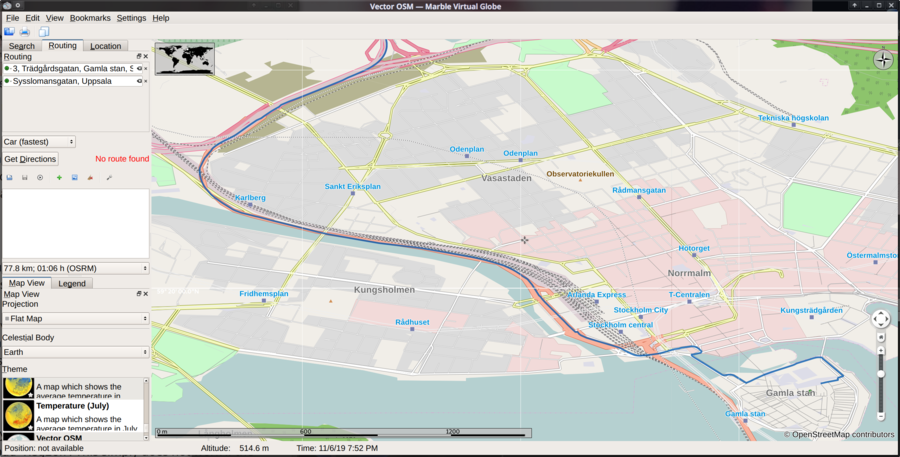 Marble's route planner will show you where to go on the map. Don't expect to get any directions or anything like that.
The route planner is not up to par with similar software for Android. You can make it draw a route on the map, get no detailed directions, and print that out and navigate by it like it's 1999. Marble's route planner and the application in general would be awesome and super advanced if it was 1999. It's not and Marble pales in comparison to what similar modern software for smartphones have to offer.
Practically useless "offline"-mode
Marble does have a offline mode and the ability to download maps. This is done using it's menu where you have to choose File then Download Region. This simply does not work if the map is zoomed too far out. Choosing this menu option brings up a pop-up where you can either choose to download the "Visible region" or specify a set of coordinates. Downloading requires specifying a "Tile level range". The default will typically not allow you to zoom in at all. This way of providing a "offline" feature is not at all user-friendly or very practical. There is, in theory, the option of downloading tiles for a route when you are using the "Route planner" feature. Marble version 2.2.20 crashes if you try to download the tiles for a route you'd like to travel.
There are some free software map and navigation alternatives for the Linux-based Android operating system. OSMand is one and it is really good (The Google App Store requires a payment to get the fully featured version, the free app store F-Droid lets you download it for free). OsmAnd allows you to choose countries to download from a easy to use interface. Just click the country you want to view or navigate and it will download a several gigabyte large file and you're done. That is a much better and a much more user-friendly way of providing a offline mode. Marble really isn't comparable in this regard, it's attempt to provide the ability to use maps without a Internet connection is just horrible. Either it is not meant for offline use or perhaps the developers didn't think it through.
KML file support
Marble supports a map file standard called KML. If you heard of it and need to open such a file then you'll care about that.
Verdict and Conclusion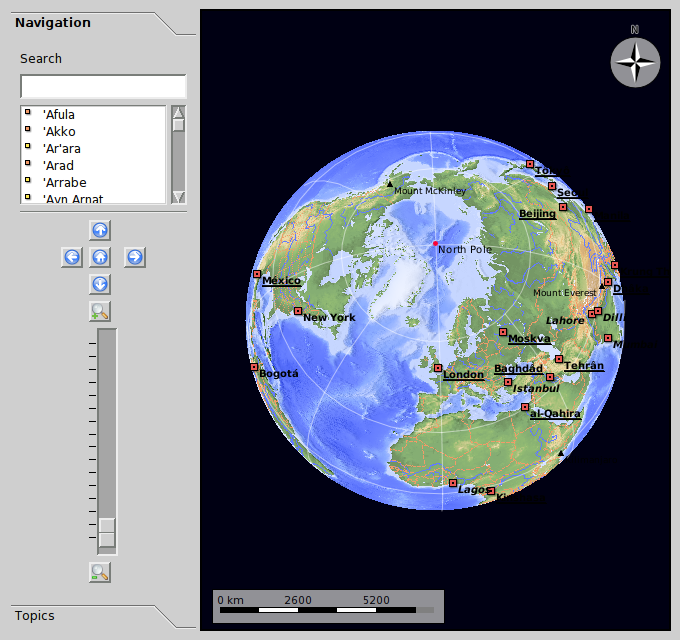 Marble version 0.3. Screenshot from 2007.
Marble came about in 2006 and we thought it was a really neat globe viewer program when first reviewed it in 2007. However, times have changed and high quality map and navigation programs for phones and tablets with a built-in GPS have become something we take for granted. Marble is nowhere near on-par with similar software available for the Android operating system. It's "offline" mode is practically useless, it's routing ability is severely limited and it is generally a bad and lacking experience compared to the norm for these kinds of programs.
If cellphones and tablets and map programs on them didn't exist then perhaps Marble wouldn't look like such a limited and unpractical program. Marble is fine if you want to look something common up on a map. But that's about it. You can't simply install Marble on a laptop and download a few map files and be ready to drive to a country you never been to and find your way around.
Alternatives
Google Earth is similar and there is a GNU/Linux version available - but it is proprietary, not free software and Richard Stallman would not approve.
GNOME Maps is a free alternative designed for GNOME and only GNOME. It does work on other desktop environments. It is really limited feature-wise. It does work fine for looking up some location on a map.
Links