Mageia 7 RC released
From LinuxReviews
Jump to navigation
Jump to search

The Mageia Community have released what they hope will be the last release candidate before the final version of Mageia 7. It's got updated packages of everything from the kernel to mesa to Xfce. We tried it out and while it's nice it needs more polish.
Mageia is a distribution with a 9 month release-cycle and 18 months of support for each release. Each release has bleeding edge versions of it's packages and Mageia 7 is no exception. It comes with kernel 5.1.5, mesa 19.1, firefox 67, chromium 73 and libreoffice 6.2.3. There are three desktop editions with either Xfce 4.13.5, Plasma 5.15.4 or GNOME 3.32.
Mageia uses systemd as a service-manager and it's package-manager is RPM-based. It uses urpmi as a terminal tool for package management and it has a nice graphical package-manager called RPMDrake for easy software installation in it's desktop environments.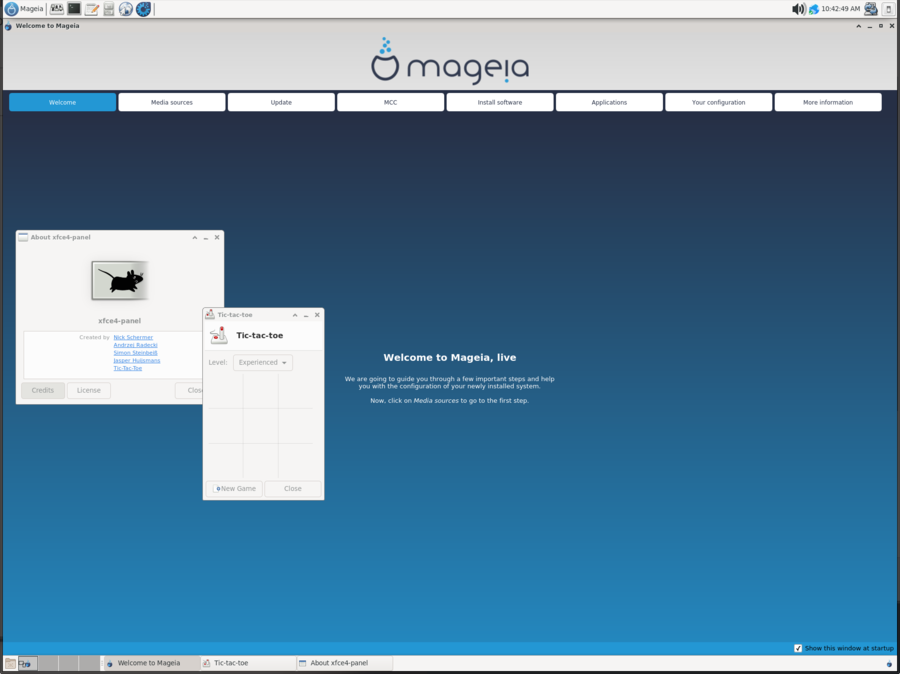 Mageia 7's LiveCD desktop with Xfce 4.13.5's secret panel Tic Tac Toe game
We tested and reviewed the Xfce desktop version and found it to be somewhat unpolished. The lack an easy way to do full disk encryption during installation is also a problem. It's fine apart from those minor details. See our full review for a more in-depth look.
The release announcement for Mageia 7 RC can be read at https://blog.mageia.org/en/2019/06/02/mageia-7-rc-released-for-testing/ and the official website is at https://www.mageia.org/en/