LibreOffice 7.0.2 Is Released With 131 Bug-Fixes
From LinuxReviews
Jump to navigation
Jump to search

The latest minor LibreOffice-release has a really long list of 131 bug-fixes. Many of them are related to third party files that can be opened in LibreOffice such as .docx, .xlxs and .pptx. 18 bug-fixes are related to various crashes and the rest of the bug-fixes seem to be all over the place.
written by 윤채경 (Yoon Chae-kyung)  2020-09-10 - last edited 2020-10-10. © CC BY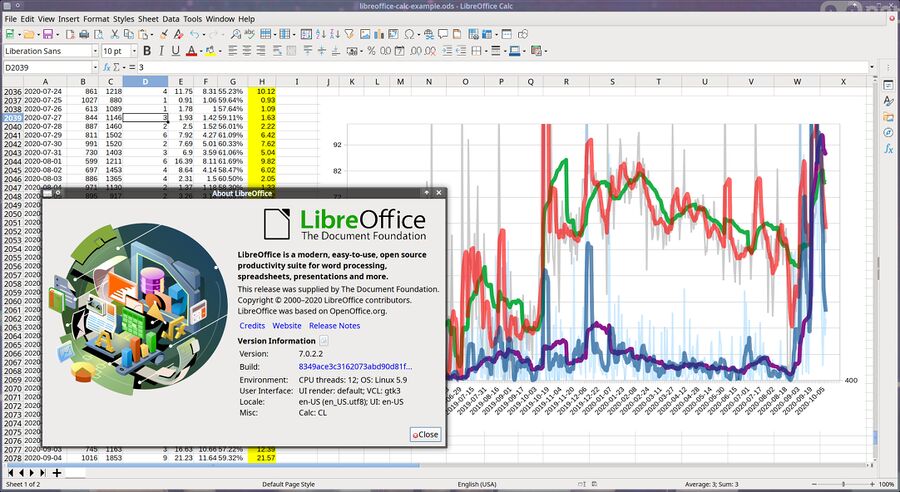 LibreOffice 7.0.2 Calc with some numbers and a chart of those numbers.
LibreOffice is now a old and very mature office suite with the majority of features professional users need and everything a casual user would need to write a letter or make a simple spreadsheet with a household budget. LibreOffice 7.0 brought a lot of new features to the table. It didn't bring Vulkan-based acceleration or Skia rendering to GNU/Linux users, but it did give Windows-users those features. What GNU/Linux users did get was OpenCL acceleration, but only for those with OpenCL 2.0 provided by something like AMD ROCm (It won't work with Mesa's Clover). The latest 7.0.2 is a minor version-bump to the 7.0.x series with no new features. That doesn't mean there's nothing to enjoy in this release, the list of bug-fixes in this "minor" release is so long it's almost mind-boggling.
The release-notes for 7.0.2 rc1 lists 122 bug-fixes and the 7.0.2 rc2 release notes has another 7. That adds up to a total of 131 bugs fixed between LibreOffice 7.0.1 and 7.0.2. You can dive into those links if you want to see the specifics. A notable amount of the fixes related to the Microsoft Office suite formats (docx, xlsx and pptx). There's also 18 fixes for various crashes.
Linux users can get the latest version from libreoffice.org/download/download/ in the form of tarballs with either .deb or .rpm packages. We don't recommend using those since they don't maintain any overlay repositories; releases are made available in the form of tarballs you can install. They work, there's no problem using them except for the fact that you'll have to manually re-download LibreOffice from there and manually update it each time a new version is released. Using the packages GNU/Linux distributions provide is therefore preferable (also, the packages from libreoffice.org have different names, so you risk end up getting two version of LibreOffice installed side-by-side if you're not careful).
There's also packages Windows and macOS can download download at libreoffice.org/download/download/.
You can learn more about LibreOffice at libreoffice.org. It's not a perfect office suite, and it's still not entirely bug-free with this release, but it's the best free software office suite there is and it's more than good enough to be a viable Microsoft Office or Google Docs alternative for most people.