Lagrange v1.3.2 Is Released
From LinuxReviews
Jump to navigation
Jump to search

Lagrange is the by far best graphical web browser for the Gemini "space" (A purely text-based web equivalent for hackers). The latest release is mostly a bug-fix for the big 1.3.0 release on March 31st. It fixes a crash for those upgrading from v1.2 caused by older now invalid CA configuration, pixel ratio detection has been improved and there's a handful of other fixes relating to the sidebar, bookmarks, the Gopher URL support and keybindings.
written by 윤채경 (Yoon Chae-kyung)  2021-04-12 - last edited 2021-04-12. © CC BY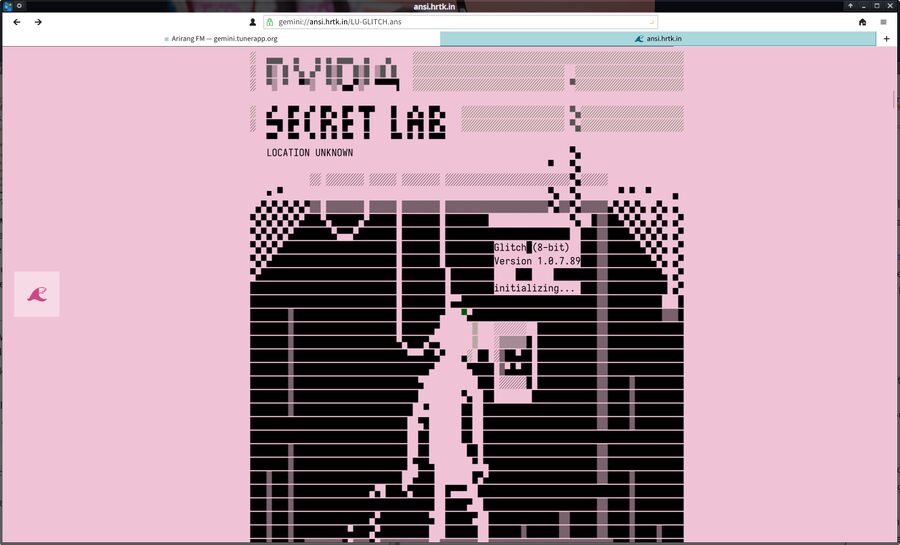 The Lagrange Gemini browser showing gemini://ansi.hrtk.in/LU-GLITCH.ans.
Lagrange is a special-purpose browser for Internet sites using the Gemini protocol. Those of you who have never heard of a Gemini protocol may wonder how the "Gemini space" differs from the regular web. There are three major differences between it and the regular web:
Gemini is a text-only protocol for a sub-set of the Markdown markup language. You can't use images, video, music, JavaScript, WebAssembly on Gemini sites.
Websites are called "websites". Gemini sites are called "capsules" though there are people like us who prefer to simply refer to them as "Gemini sites".
All the websites on the Internet are collectively called "The Web". All the sites reachable through the gemini:// protocol are called the "Gemini Space".
Lagrange is a special-purpose browser for the "Gemini Space". It has no idea what to do if you enter a regular web https:// URL in the address bar so it will simply refer that to the systems regular web browser. It does the same with regular web links on Gemini sites.
Lagrange 1.3.0, released on March 31st, was a major new release with some big improvements in a number of areas. It added the option to have pre-formatted collapse on page loads, it started showing alternative text when hovering over pre-formatted text blocks and it got code to correctly handle unknown URL schemes. Page rendering was also improved with better color themes, it got better spacing for bullets and lists, it got lager content buffers for smoother browsing on larger Gemini pages and it got smarter word wrapping. The already great graphical user-interface got the ability to apply user interface scaling immediately upon closing the Preferences (prior versions had to be restarted to make scaling settings take effect), git got soft shadows for pop-up menus, highlighted domain names in URL fields, and a few other small improvements.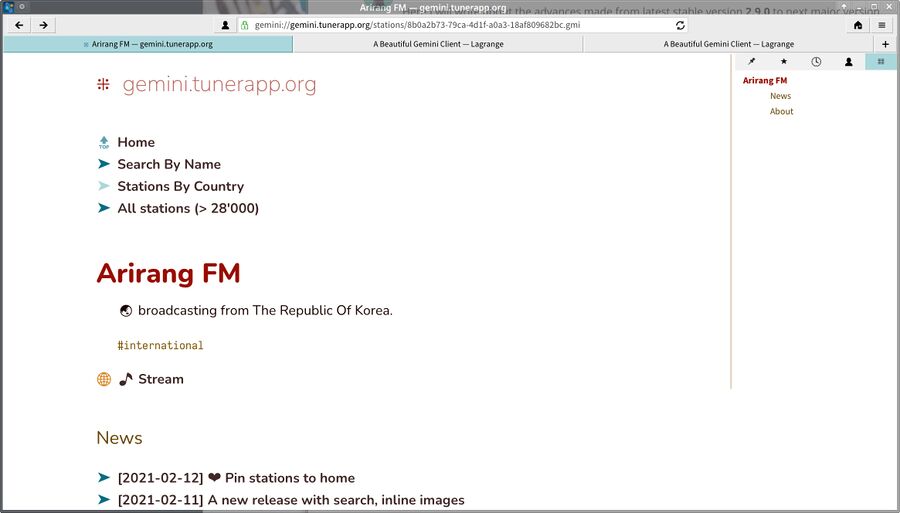 The Lagrange Gemini browser with the UI theme set to Light and content theme set to White.
The latest 1.3.2 release is the second bug-fix release for 1.3.0. There's no new features, just a list of fixes for crashes and minor problems. There is a fix for users upgrading from Lagrange 1.2 due to the CA file path that version was configured to use by default (the default was written to its configuration file in $HOME/.config/lagrange/), a fix for language-specific keybindings not appeared when the user interface language is changed, a fix for a bug that prevented the Tab ↹ key from being used in keybindings and a fix for a sidebar resizing glitch that would happen when the Lagrange window is moved from one display to another on multi-head setups.
Lagrange is, in our humble opinion, the by far best graphical Gemini browser. It is worth a look if you never heard of this "Gemini space" and you would like to to see what "a modern protocol that looks retro" looks like. Amfora is likely what you want if you would rather use a CLI browser in a terminal.
The latest Lagrange version can be acquired from https://git.skyjake.fi/skyjake/lagrange/releases. That page has binaries for Windows, macOS and Linux, in the form of an AppImage, in addition to the source code. GNU/Linux users can also install Lagrange as a Flatpak from Flathub (fi.skyjake.Lagrange, flatpak install flathub fi.skyjake.Lagrange).